New Sportradar Report Details Increase in Match-Fixing in 2021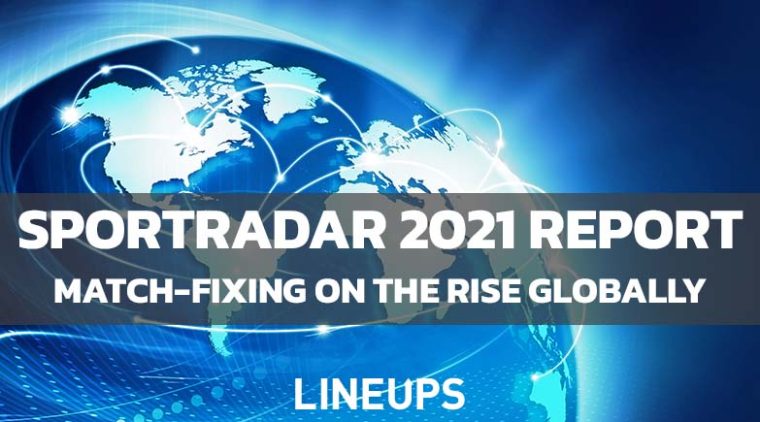 As sports betting becomes more regulated across the country, one of the biggest goals of that regulation is to identify illegal activity and corruption in the market. Sportradar, a company specializing in corruption in sports, has a Universal Fraud Detection System (UFDS) utilized by over 100 sports federations, leagues, and state authorities across the world.
Sportradar refers to "suspicious matches" or "suspicious activity" as any match that "displays evidence of being manipulated for betting purposes, either wholly or in part." Last week, Sportradar published its "Betting Corruption and Match-Fixing in 2021." This article will detail some of the findings of that report.
All graphics below are sourced directly from the Sportradar Integrity Services report
Record-High Suspcious Activity in 2021
According to the Sportradar report, the UFDS detected a record-high 903 suspicious matches across ten different sports in 76 different countries. The previous high had come in 2019 with 882 suspicious matches.
The report expressed that while this is a "very small percentage of the total number of matches played globally in sport … our data clearly shows that match-fixing remains a constant and growing threat across the world of sport."
Sportradar Integrity Services estimated that the 903 suspicious matches in 2021 accounted for an estimated profit of $173.5 million. Sportradar uses historical information, intelligence from state authorities, and a match-fixing calculator to estimate that number.
Global Betting Handle
Sportradar uses data from over 350 global bookmakers and brands as well as information from international gaming regulators to identify the overall global handle in sports betting. Sportradar estimated that the total global sports betting handle in 2021 was $1.53 trillion.
Soccer was the most prominent sport for betting, with over 51% of the total handle coming on that sport, representing $783.6 billion worldwide. Tennis and basketball ranked second and third, respectively, while American football came fifth at $61 billion.
UEFA Champions League led the way in terms of per match wagering with over $208 million wagered on matches on average. The English Premier League came in second at $187 million, while the NFL checked in at fourth with $154.6 million per game. The only other American league to make the list was the NBA at $77.8 million.
Where is Match-Fixing Most Prevalent?
In 2021, Sportradar Integrity Services detected 903 suspicious matches in ten different sports across 76 different countries. Of the 903 identified suspicious matches:
525 were identified in Europe
161 were identified in Asia
131 were identified in South America
51 were identified in Africa
32 were identified in North America
3 were identified in Oceania
The Sportradar report noted that it had detected suspicious activities in countries with no prior history of match-fixing.
What Sport is Most Affected?
Before the COVID-19 pandemic, match-fixing had been most prevalent in sports with the highest handle, primarily soccer and tennis, but the pandemic saw match-fixing be diversified into other sports and lower-profile competitions.
694 were identified in soccer
62 were identified in basketball
53 were identified in tennis
47 were identified in esports
15 were identified in ice hockey
11 were identified in table tennis
9 were identified in cricket
6 were identified in volleyball
5 were identified in handball
1 was identified in beach volleyball
Soccer represented 77% of the total suspicious matches in 2021, which isn't surprising given it is the most globally played and bet on sport. However, basketball and esports have seen a steady rise in the number of suspicious matches.
What Month is Most Common for Match-Fixing?
The Sportradar report also broke match-fixing down into a per-month basis to identify when the most suspicious activity took place in the calendar year. The months of September (105) and October (104) saw the highest number of suspicious activities, with May (84) representing the most for the first half of the year.
This trend follows the traditional soccer calendar as most global soccer leagues run from late summer to late spring. May is likely a highly susceptible month as several teams have little left to play for at the end of the league season.
How Often do Suspicious Matches Take Place?
Overall, the manipulation rate across all sports is one in every 545 matches, or 0.18%. However, some sports come in significantly higher than that. Soccer accounts for the highest prevalence at one in every 201 matches or 0.50%. That's followed by esports at one in every 384 matches (0.26%) and basketball at one in every 498 matches (0.20%).
Fans can be reassured that the vast majority of sporting events are not affected by match-fixing, as can be seen by these low percentages. However, any event of corruption in sports comes as a blow to the fight for overall integrity.
Sanctions Levied for Match-Fixing
Over the past 17 years, Sportradar Integrity Services has reported over 6,700 matches as suspicious. UFDS reports have been integral in launching and/or supporting 492 sporting sanctions and 50 criminal convictions across seven sports – basketball, darts, soccer, futsal, snooker, tennis, and volleyball.
In 2021, there were 65 sanctions delivered by sports federations and law enforcement supported by Sportradar Integrity Services. 58 of those sanctions were handed down against individuals, and seven against sporting clubs. Fifteen of those sanctions were cited as criminal. 11 total countries saw sanctions delivered with eight lifetime bans from sports enforced.
Suggested Plan of Action and 2022 Outlook
Sportradar's report calls on stakeholders worldwide to help find solutions for integrity in the sporting and betting ecosystem. The report cites bet monitoring, intelligence gathering, and athlete and stakeholder education as critical pieces of the anti-match-fixing fight.
Sportradar isn't expecting to see any decline in match-fixing in 2022. The record might even be broken once again as the disruptive effects of COVID-19 on the sporting calendar become less prevalent. Soccer is expected to continue to be the most targeted sport, with most of the suspicious activity likely taking place in Europe.
Maintaining the integrity of the sports infrastructure is integral to several aspects of the industry, and the fabric of the relevance and popularity of the sport can be irreparably harmed by match-fixing. As match-fixing continues to become more prevalent over time, the work that Sportradar is doing is all the more critical.