New Jersey's Five-Month $1 Billion Sports Betting Streak Snapped in February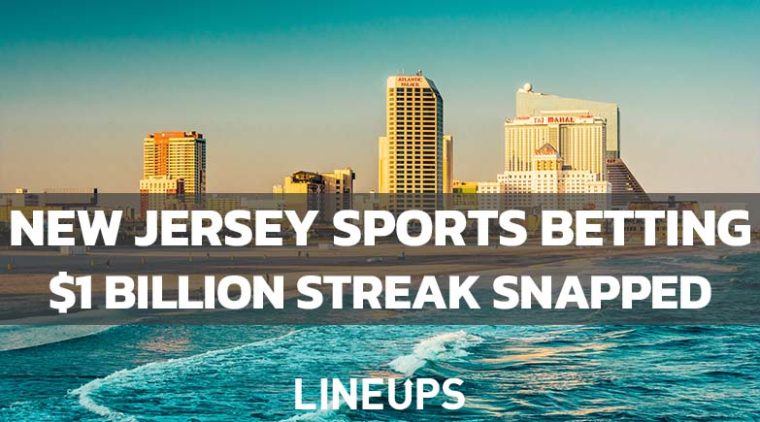 In February, New Jersey reported a decline in both its sports betting handle and revenue collected as it logged its first month with a handle under $1 billion for the first time since September 2021. Speculation will run rampant about the impact of the New York market on New Jersey as the neighboring state recently launched online sports betting, but there's more to the story than that.
Handle and Revenue Decline
New Jersey sportsbooks collected $985.6 million in bets in February, representing a decrease of 26.9% from January's $1.35 billion handle. However, that February total still represented an increase of about 32.7% from $743 million in February 2021. New Jersey sportsbooks generated $30.9 million in revenue, a decline of 48.7% from $60.1 million in January. Unlike the handle, revenue actually declined by about 33.1% year-over-year.
Last month, the unofficial hold rate for New Jersey sportsbooks was 3.1%, a decline from the 4.5% win rate logged in January. February was the first month New Jersey dipped below a 4% hold rate since February 2020, and that two-year stretch has seen most months log at least a 6% hold rate. The total of $30.9 million in revenue is New Jersey's lowest since July 2020, the month that the MLB returned to play after being shut down for COVID-19.
Football Ending is Bad News for Sportsbooks
At first glance, the 26.9% drop in sports betting handle seems massive, but it's happening in most states in the US. February has just 28 days, making it the shortest month of the year, for one, but it also had just one weekend of football compared to five weekends in January – that makes a massive difference.
The Super Bowl was a big sports betting event, but that one day doesn't compensate for the lack of multiple full football weekends. New Jersey generated $143.7 million in Super Bowl betting compared to $340.3 million in total football bets in January.
Other states have also experienced a decline in total sports betting handle in February. Iowa's February handle came in at 28.8% less than January's. Tennessee and Indiana saw a decrease of over 18% in total sports bets placed from January to February. Even New York saw a 9% handle decrease month-over-month.
Is New York to Blame?
New York launched its sports betting market in January, and it has since seen over $2.33 billion in sports bets placed over the first two months of the year. New Jersey was initially mostly unaffected by New York's launch, but it was always going to take some time to see the full impact of the new market in the neighboring state.
Concerns Over Comparatively Stunted Growth
Some sports betting analysts have voiced concerns over the disparity between New Jersey's year-over-year growth compared to other states. Iowa saw a year-over-year handle growth of 50.3%. Tennessee saw year-over-year growth of 77.7%. Indiana's year-over-year growth was 49.4%. Meanwhile, New Jersey checked in at just a 32.7% increase from last February.
It's too early to hit the panic button on New Jersey sports betting, and we should glean more insights from a whole month of March results in which March Madness drives tons of sports betting activity. In the meantime, New Jersey sportsbooks will look for ways to stay ahead of the increasing competition from New York.