New Jersey Sports Betting Slows Down in April with Lowest Single-Month Handle Since August 2021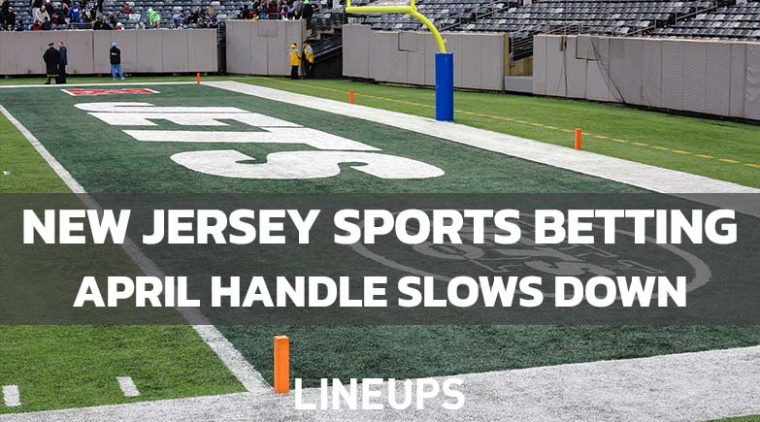 In April, New Jersey sports betting slowed down as the $926.9 million handle posted was the state's lowest single-month figure since August 2021. That figure was down 17.3% from March, but it was still a 23.9% increase year-over-year. Revenue decreased, however, as it dropped from $54.8 million in April 2021 to $50.3 million this past month. That's due mainly to the hold rate, as sportsbooks held 7.3% of revenue last year compared to 5.4% this year.
New York Swallowing Up Market Share
New York had a $1.64 billion handle compared to $1.12 billion for New Jersey in March. In April, New York's handle dropped 14.7% to $1.39 billion, which was the lowest handle the state has seen since January. However, New Jersey's slip left New York still ahead of its neighbor by over $400 million in total wagers placed.
New York also saw an above-average hold rate of 7.5% in April for $104.1 million in revenue. With a steep 51% tax rate, New York's sportsbooks paid $53.1 million in taxes in April compared to just $6.4 million in new Jersey on a blended rate of 13% for online betting and 8.5% for retail betting.
Parlays Boost New Jersey Revenue
With the sports calendar slowing down, New Jersey sportsbooks were buoyed by parlays in April with a staggering 17.9% hold rate on $197.3 million in total parlay handle (21% share) for $35.2 million in revenue (69% share). Parlays typically have a much higher win rate than straight bets for sportsbooks, so while winning tickets feature much larger payouts, they are still very profitable for operators.
Basketball was still a highly popular sport, with the NBA Playoffs and NCAA Final Four leading to $323.4 million in total handle (35%). However, with just a 2.6% hold rate on the sport, sportsbooks only generated $8.4 million in revenue on the sport. The NBA and NHL Playoffs have been the most wagered on sports across the country over the past month.
The start of baseball season wasn't incredibly beneficial as the sport saw $177.9 million in total wagers (19%) result in just $5.2 million in revenue (10%) on a low 2.9% hold rate. Football generated a loss of $1.5 million for the month on $8.4 million in total wagers on the NFL Draft and USFL games.
Online Casinos Surging but New York iGaming Coming
New Jersey's online casinos had a great month in April with $136.9 million in revenue and a daily average of $4.6 million. April's revenue for online casinos and poker was up 27% form $107 million last year, which yielded $20.5 million in state taxes. Borgata was the leading online casino with $39.9 million in revenue (29% share).
The surging New Jersey iGaming market could struggle to maintain its success levels, however, as New York is on its way to legalizing iGaming. Senator Joseph Addabo Jr., the sponsor of the sports betting bill in the state, introduced a bill to legalize iGaming in New York in February. New Jersey's market will undoubtedly be impacted if that comes to fruition.
Meadowlands Leads the Race
In April, the top sports betting licensee in New Jersey was Meadowlands Racing and Entertainment with its partners FanDuel, PointsBet, and SuperBook Sports. That license generated $33.3 million in revenue for the month (66.2% of total revenue).
Resorts Digital was second on the list for April with just $7.4 million in revenue (14.5% share) with partners DraftKings, FoxBET, and Resorts' own site. Borgata came in third with a $4.5 million revenue split between the Borgata site and BetMGM.