New Jersey Sports Betting Handle Continues to Decline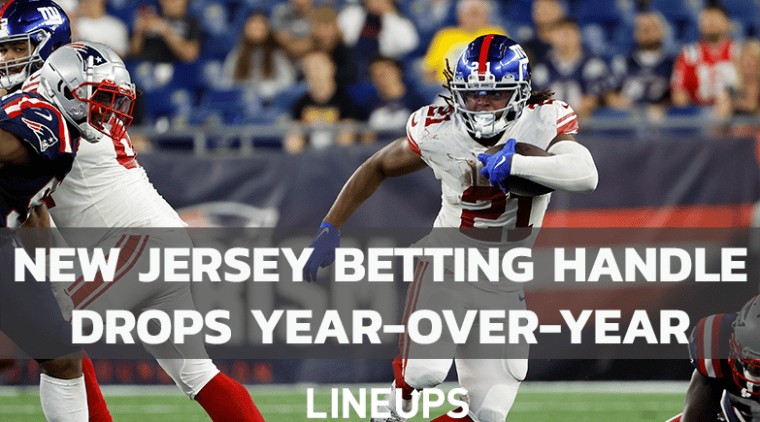 Year-Over-Year Numbers Show Big Drops
New Jersey has reported some uncharacteristic sports betting numbers recently as their July revenue reports showed the state's third straight drop in year-over-year revenue. The Division of Gaming Enforcement reported a $531.88 million handle for July which is down from June's $633.2 million handle and May's $766.4 million handle. All three of these are down from 2021's numbers as May 2021 reported a $814.3 million handle, June's $766.9 million handle, and July's $578.7 million handle. Despite the decrease, New Jersey still has the second largest year-to-date handle in the U.S. totaling $6.3 billion, behind just New York. 
93% of the month's total handle came from online sports wagering while the rest were bets placed in person at a casino or racetrack. 
July's diminished handle subsequently resulted in a 18.1% dip in revenue for the month as July 2021 brought the state $55 million and this year resulted in only $45 million. Year-to-date sports wagering revenue for New Jersey has also dropped from $423.3 million in the prior period to $353.3 million in the same period this year.
Internet Gaming & Casinos Save The Day
Both casinos and internet gaming providers madeup where sports wagering lacked this year. Total casino win for the nine casino hotel properties in New Jersey was almost $300 million last month, reflecting an 8% increase from July 2021's $276.9 million. Year-to-date total casino win has also increased on a year-to-date basis from last year by over 16%.
Internet gaming in July also reported a 15.2% growth on the month from last year, and a 26.3% increase in year-to-date revenue from last year to this year. With high growth margins from internet gaming and casinos, total gaming revenue increased year over year on both a monthly and year-to-date basis. From January 2021 through July 2021, total gaming revenue in New Jersey totaled $2.56 billion, while the same time period this year produced $2.91 billion in revenue (13.7% increase). July total gaming revenue also increased year over year from $450.6 million to $480.7 million. 
Possible Explanations
The most reasonable explanation for the drop in sports wagering is the addition of New York's market. Prior to the Empire State launching in January, New Jersey was the top dog of the sports betting market in the U.S. which is heavily attributable to New Yorkers crossing state lines to place bets in New Jersey. 
With the need for New Yorkers to leave the state (or their house for that matter) effectively gone, New Jersey revenue has taken a hit and New York has taken over the number one spot in the U.S. sports betting market. July also proved a slower month for New York as they recorded their lowest monthly handle yet, however that was still 50.5% higher than New Jersey's July handle at $800.8 million. 
The summer months are the calm before the storm in the sports betting world as most states usually produce their lower handles of the year during that time. While New York has yet to experience the craziness of a fall sports betting season, the upcoming weeks and the subsequent NFL and college football betting season in New York will be very telling for what sort of a future is in store for New Jersey sports betting.