New Jersey Gets Back Above $1 Billion in March Sports Betting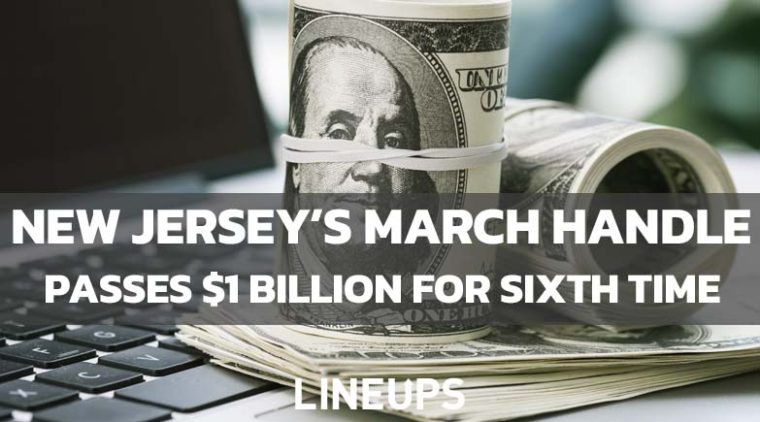 While New York has launched its full-scale sports betting market, New Jersey remains one of the top states in the country in terms of financial success. After narrowly missing the $1 billion mark in February, New Jersey bounced back in March to collect $1.12 billion in total sports bets. March saw New Jersey surpass $1 billion in total handle for the sixth time in the last seven months.
Handle Grows Year-over-Year
New Jersey's sportsbooks collected $1.12 billion in total wagers in March, a 30.7% year-over-year increase from $859.6 million in March 2021. It was also a 13.7% increase from $985.6 million in February. While New York's market has created more competition, New Jersey still grew 40.7% year-over-year in customer acquisition in January, the first month of legal wagering in New York.
While handle and overall customer acquisition continue to grow, the revenue has slowed down as sportsbooks generated just a 5.9% hold rate in March compared to 7.2% in March 2021. Sportsbooks still generated $66.4 million in revenue in March, a 9.5% increase from $60.8 million in March 2021 and a 115.1% increase from $30.9 million in February.
March Madness Dominates Sports Betting
March Madness was a highly impactful sports betting event for New Jersey. Unfortunately for New Jersey bettors, they could not profit from the Cinderella run by St. Peter's of Jersey City as the state prohibits wagers on in-state collegiate programs. The St. Peter's Peacocks became the first 15 seed to advance to the Elite Eight with upset wins over Kentucky and Purdue.
Nonetheless, the NCAA Tournament was the main draw in March as basketball (including NBA, WNBA, and women's college basketball) attracted $667.3 million in total wagers. That's a 51.1% increase from $441.7 million in March 2021 and a 32.6% increase from $503.1 million in February.
Leading Sportsbooks
Meadowlands Racetrack and its partners – FanDuel, PointsBet, and SuperBook – represented most of the state's sports betting revenue, with the group generating $36.4 million of the $66.4 million total (55.5%). Resorts International and its partners DraftKings and FOX Bet claimed $11.7 million in revenue (17.6%), while Borgata and BetMGM registered $10.6 million in revenue (15.9%).
Online Casinos and Poker Also Successful
New Jersey also found great success in the iGaming market from its online casinos and poker rooms. They crossed the $140 million threshold for the first time with a record $140.7 million in online gambling revenue. March's total was up 23.7% from a then-record $113.7 million in March 2021 and up 8.2% from $130 million in February.
March was the first month in years that New Jersey's monthly record wasn't also a United States record as Pennsylvania announced it profited $142.7 million on casinos and poker rooms. Still, New Jersey's revenue generated $24.6 million in state and local taxes as it brought in $4.5 million in revenue per day in March.
Borgata continues to lead the race for market share with a record $41.4 million in casino and poker GGR. Golden Nugget generated $38.3 million in revenue to come in second place, while Resorts Atlantic City came in third with $30.8 million in revenue. The state's highly competitive market has helped online casinos "capture an increasing share of the overall gaming portfolio in New Jersey," per David Danzis, an analyst for PlayNJ.com.
New York's Real Impact
While New Jersey's March numbers were undoubtedly impressive, gross gaming revenue (GGR) was down 16.8% in Q1 2022 compared to Q1 2021, according to the New Jersey Division of Gaming Enforcement. New York has surpassed New Jersey's handle in the last three months since its launch.
Danzis noted that "in a changing landscape, New Jersey's sportsbooks were still able to post their best handle in a month without football." He also said that "increased competition from New Jersey's neighbors is inevitably going to affect the state's sportsbooks, but it continues only to be at the margins. The state's own bettors have proven a powerful force on their own."