NBA Skills Challenge Odds: Best Bets, Analysis, Format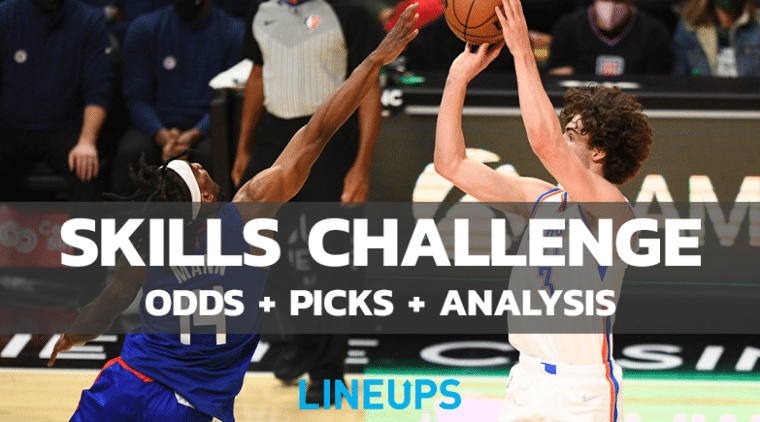 NBA Skills Challenge Odds
The NBA Skills Challenge contains three teams this year: Rooks, Cavs, and Antetokounmpos, and here are the odds for each.
Rookies -125 (Josh Giddey, Cade Cunningham, and Scottie Barnes)
Team Cavs +225 (Darius Garland, Evan Mobley, and Jarrett Allen)
Team Antetokounmpo +350 (Giannis, Thanasis, and Alex Antetokounmpo)
*Odds provided by Caesars Sportsbook, use Promo Code at registration for a $1,500 deposit bonus.
Format 
The 2022 Skills Contest is completely revamped compared to previous years. According to the NBA, three teams of three compete for three rounds in challenges that test shooting, passing and dribbling. The shooting and passing rounds are worth 100 points, while the relay round is worth 200 points. After the three rounds are completed, the two teams with the most points move on to the final round. The fastest team to sink a half-court shot wins the skills challenge. The three teams for this competition are the Rooks, Cavs, and Antetokounmpos. The Rooks have Josh Giddey, Cade Cunningham, and Scottie Barnes. The Cavs feature Darius Garland, Evan Mobley, and Jarrett Allen. The Antetokounmpos are made up of the three brothers: Giannis, Thanasis, and Alex. 
Best Bet
The Rooks are the best team for this competition. All three players dribble and pass. The shooting and passing events are each worth 100 points, but the relay event is worth 200 points. The relay event combines dribbling, shooting, and passing into one. The winner of this event is guaranteed to advance to the finals. Since the Rooks are the best overall team at doing everything well, they are looking very promising to advance. I would say they advance to the finals here 8 out of 10 times. However, the half-court shot to win it is unpredictable and essentially a random coin flip. Because the Cavs are likely to edge out the Antetokounmpos, I am picking them as my best bet. The Rooks make it to the finals more often, but the random nature of the finals means the Cavs have a solid chance to win. When looking at the odds, I am going to risk some probability of advancing in order to capitalize on the plus odds for the Cavs.
Worst Bet
The odds are not long enough for me to consider the Antetokounmpos; they are not even double the Cavs' odds. Giannis cannot carry the team because every teammate's contributions are weighted equally. Alex and Thanasis are the two weakest links in this competition, and they are on the same team. If the odds reach around +600, then it would be smart to bet on the upset. However, they do not advance enough to realistically bet on them when the Cavs are sitting there with not much shorter odds. I would take the Rooks before the Antetokounmpos even though the Rooks are not plus odds. Overall, I just cannot talk myself into this team when a safer bet and a more valuable plus odds team can be chosen.