NBA 3-Points Contest Odds: 2022 Best Bets & Analysis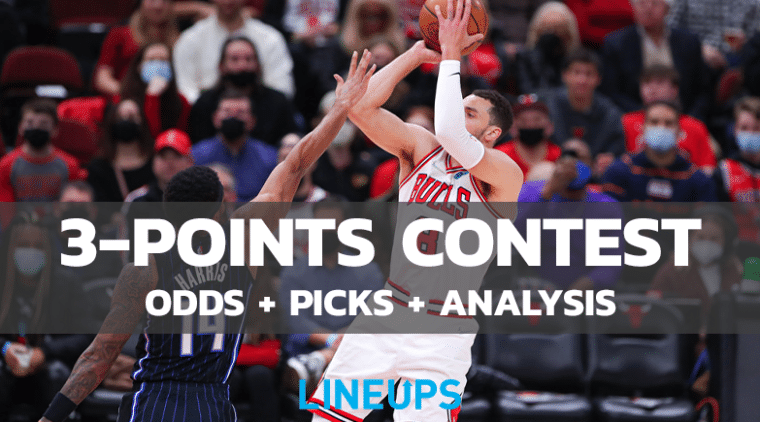 3-Point Contest Odds
The 3-Point contests have arrived and we have the best 3-point contest odds, as well as in-depth analysis on the best and worst value for this year's 3PT contest. In recent years this contest has become a major highlight of the NBA All-Star Weekend.
Contestents
The 3PT Contest will crown a first-time winner this year, as none of the players have ever shot their way to victory. Here are the contestants trying to take the crown away from 2021 champion Stephen Curry: 
Luke Kennard +450 (44.8 3PT% | 2.7 3PG)
Fred VanVleet +500 (40.0 3PT% | 4.0 3PG)
Patty Mills +500 (41.9 3PT% | 3.2 3PG)
Zach LaVine +600 (39.9 3PT% | 2.9 3PG)
Trae Young +550 (38.3 3PT% | 3.0 3PG)
Desmond Bane +600 (41.9 3PT% | 2.9 3PG)
CJ McCollum +900 (42.5 3PT% | 3.4 3PG)
Karl-Anthony Towns +1200 (40.9 3PT% | 2.1 3PG)
*Odds provided by Caesars Sportsbook, use Promo Code for a $1,500 deposit match as a new user.
Best Bets
The two players I like the most are Luke Kennard and Trae Young. Kennard leads the field significantly in 3PT% and essentially competes in a 3PT contest whenever he plays a game. 67% of his total FGA this season are three-pointers. Kennard's value comes from off-ball movement into a catch and shoot three. Two of the last three winners (Joe Harris and Buddy Heild) have been spot-up specialists with similar roles to Kennard. Also, this is the only event he will be competing in, so Kennard will try to squeeze out every second he can. Kennard's spot-up shooting and consistency gives him a great chance to win. He is favored to win, but the odds are inherently good enough to place a bet. Plus, he is coming off a 25-point performance against the Rockets where he shot 8/9 from three. In February, Kennard is shooting 58.1 3PT%.  He has momentum heading into the contest. 
The other player I think holds the most value is Trae Young. Based on his odds, he is deemed to be in the middle of the pack. However, Young's limitless range can get him the vital extra points from the two-deep threes. Also, Young's shot can arguably get the hottest of anyone else competing. He is 3rd in the NBA in Spot Up Offense at 1.37 Points Per Possession (minimum 50 possessions). Young has competed in this event already, so he knows the necessary strategy and feel required to gain an edge. Overall, Young is a great choice based on odds, range, and potential to catch fire. He is heating up recently also, with a 42.6 3PT% in February.
Worst Bets
The two players I would avoid are Patty Mills and Karl-Anthony Towns. Mills is too streaky for me to buy his stock, and he does not stack up to the other natural shooters in this competition. Mills has fallen off since his hot start shooting-wise. He's shooting 37.8 3PT% this month, a dip from his previous split. His odds are not good enough to justify taking a chance on him. If he was around +700 or +800, then it would be a different story. I think Mills will shoot decently, but he won't advance to the second round. He certainly will not come in last place. 
Karl-Anthony Towns deservedly has the longest odds of any competitor. He is the only center in this field, and there is not even a true forward either. Towns can shoot the ball extremely well, but I do not like his chances in this fast-paced, quick-release contest. He is 79th percentile in Spot Up Offense, which is impressive for a big man, but he is going up against multiple guys above the 90th percentile. Towns makes the least amount of threes per game and does not inspire confidence in this one.