Mobile Sports Betting Hits $5 Billion Mark In New York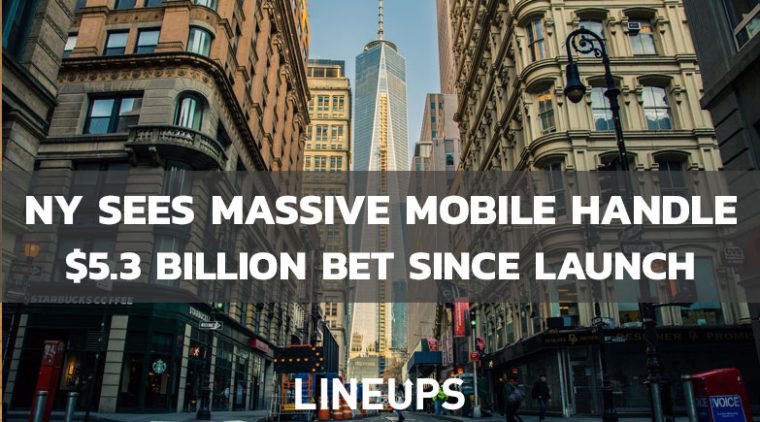 To say that New York sports betting has been a success would be a massive understatement. New York officially launched its sports betting options in January of 2022, and a number of sportsbooks are now available in the state. Bettors in the area have had a handful of different sports betting apps available in the past few months, including FanDuel Sportsbook, DraftKings Sportsbook, Caesars Sportsbook, and BetMGM Sportsbook. With even more sportsbooks coming soon, New Yorkers can choose from a wide variety of different platforms to pace bets with. Because of all these major platforms available straight from a smartphone, the mobile market in New York has been massive and continues to grow. Read on to learn all about the numbers behind the New York mobile betting market.
New York Mobile Betting Surpasses $5 Billion
As New York sports betting has been around for months now, we can check out some of the numbers behind wagering in the Empire State. According to Gambling.com, in the over 100 days since the official rollout of New York sports betting, New Yorkers wagered a massive $5.3 billion on sports from devices such as computers and smartphones. That's well over $1 billion in mobile handle per month, and has the possibility to go even higher as more sports betting options come to the state. The fact that both the Super Bowl and Mach Madness were available to bet on in New York likely accounted for a large portion of this number.
Since the launch of New York sports betting, FanDuel Sportsbook has been the dominant platform. FanDuel, which originated in the world of daily fantasy sports, has now seen over $1.96 billion in New York mobile bets. On the other hand, FanDuel's rival DraftKings, another big name from the world of daily fantasy sports, has had an overall New York mobile handle of $1.3 billion. And in third place by a very small margin is Caesars New York, which brought in $1.29 billion in mobile bets.
Empire State Bringing In Major Tax Revenue
With billions wagered in New York this year on sports, the state has been bringing in some big tax revenue. New York sports betting has now brought in over $174 million in taxes, thanks in part to the large tax number. Sports betting in New York is taxed at a 51% rate, which is the highest you'll see in the U.S. While there are some potential plans to alter the tax rate in order to bring more platforms to the area, the rate remains 51% at the time of writing.
Don't Expect Mobile Betting To Slow Down
Hitting the $5 billion mark so quickly is definitely an accomplishment for the New York betting market. Well, that number should continue its rapid climb in the near future, with the NBA and NHL playoffs and daily MLB games to wager on. Additionally, it will be intriguing to view the numbers once the 2022 NFL season kicks off, as it will be the first full season of football betting in the Empire State.