MLB Opening Day Best Bets: Pirates & Astros Start Off Strong, Total Too High In Wrigley?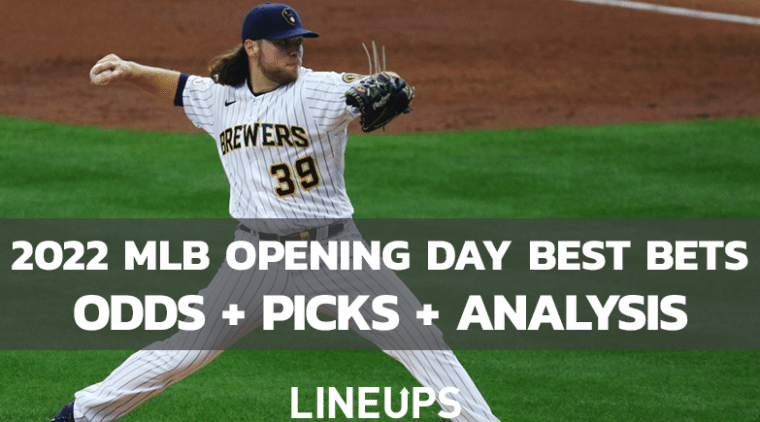 Baseball fans, we did it!
Against all odds, the 2022 MLB season will have a full 162 games. The CBA was negotiated and signed, and games are starting just six days after the originally planned start date.
To celebrate this monumental achievement, we at Lineups.com have put together our best bets for the Opening Day celebrations.
I have three best bets for the Opening Day slate. The first is a contrarian total play in a high-scoring ballpark, and the second is betting an underdog in a battle between two stripped-down NL Central teams.
Let's dive in.
Milwaukee Brewers vs Chicago Cubs under 11 (-110) at DraftKings
Wrigley Field, Chicago, IL
2:20 p.m. EST
Wrigley is a high-scoring ballpark. And with a pitching staff like the Cubs, we're going to bet a lot of overs in Chicago this season.
But this is not one of those days.
Yes, we are getting winds of 15mph or more straight out to center field, but are these two offenses that can take advantage of that? Both teams finished in the back half of the league in average launch angle, and neither offense is very explosive.
Take the Cubs at home last season. Against RHPs and at Wrigley last season, the Cubs were 26th in average (.231) and 19th in OPS (715). They produced some power, finishing 12th in ISO (.176), but the Cubbies didn't play against the Brewers every day.
Specifically, Milwaukee's Opening Day starter Corbin Burnes, the defending NL Cy Young winner and top-three pitcher in the show. And, specifically, the projected second-best bullpen in MLB per FanGraphs, with shutdown closer Josh Hader anchoring the unit.
Plus, do we trust the Brewers lineup? The Brew Crew made some positive additions, including Hunter Renfroe (Boston) and Andrew McCutchen (Philadelphia), but those two won't fix a 23rd-ranked wRC+ or Christian Yelich's unrelenting decline.
All-in-all, this number is over-inflated. This number is more suited Dodgers-Rockies matchup at Coors, not Brewers-Cubs at Wrigley with some wind.
I'll take the under at 10.5 or better.
Pittsburgh Pirates ML (+190) at Caesars vs. St. Louis Cardinals
Busch Stadium, St. Louis, MO
3:15 p.m. EST
I've already taken the Pirates over 62.5 wins and the Cardinals under 85.5 wins, so this seems as good as any wager to start the season.
The Cardinals are overvalued. They're running it back after an immensely successful 17-game win streak in September, but the roster is the oldest in the league. That starts with today's starter Adam Wainwright, who was outstanding last year but recently celebrated his 40th birthday.
I'm also high on Pirates' Opening Day starter JT Brubaker. He posted lackluster numbers last year, but he paired his 5.36 ERA with a 4.00 xFIP. His HR/FB rate was much higher than it should be last year, and that should come back down to his career average.
The Cardinals have the advantage on the offensive end, but not as much as you might think. Pittsburgh finished last season 28th against RHPs in wRC+ at 85, but St. Louis was just 17th with 92.
The Pirates will also roll out switch-hitting star Bryan Reynolds – who posted a .915 OPS batting lefty against righties – and two lefties in the top half of their lineup. That will help against Waino, who posted an xFIP .4 higher against LHBs (4.05) than RHBs (3.69).
I think +190 is a little too generous for this matchup, so I'll bet on the Pirates to claim their first victory towards the end goal of a 63-99 season.
Houston Astros ML (+115) at WynnBet vs. Los Angeles Angels
9:38 p.m. EST
Angel Stadium, Anaheim, CA
The Astros have won nine straight Opening Day games, and one more would break a 130-year-old record.
The Astros have won 9 straight Opening Day games, tied for the 2nd-longest streak in history with the 2007-15 Mariners, 1983-91 Reds, 1975-83 Mets & 1937-45 Browns

Record, which they can tie tomorrow: 10 straight, 1887-96 Boston Beaneaters

(h/t @EliasSports)

— Sarah Langs (@SlangsOnSports) April 6, 2022
The narrative is there, but it's not the only reason I see value on the Astros Thursday.
Even without Carlos Correa in the lineup, the Astros are still a top-three lineup in MLB. The top six hitters are expected to post an OBP above .340, and that doesn't include promising young prospect Jeremy Peña, who is ranked top-30 in most prospect lists.
The Astros will face heralded youngster Shohei Ohtani, the defending AL MVP for what he did on the mound and in the batter's box last season. But he's probably overvalued as a pitcher in the betting market, considering he's made the Angels a public team.
For example, the Angels are pulling in over 60% of the betting tickets on Opening Day. But over 95% of the handle is with the Astros, a.k.a., the smart money.
Moreover, in five career starts against Houston, Ohtani has posted a whopping 6.86 ERA. He's allowed 15 earned runs on 21 hits over 19 ⅔ innings against Houston, and he posted an 0-2 record in those starts.
Moreover, Houston has dominated this series altogether. The Astros have won four of the last five meetings, and Houston has a run differential of +20 in those five meetings.
I think the Angels are in a prime position to take the division crown away from Houston – if not this year, then soon – but with Ohtani on the mound, plus-money odds, and an MLB record on the line, I'll bet the Astros to reign supreme over the AL West for one more game.