MLB Futures Betting Picks: Predictions For Cy Young, MVP, & World Series Winners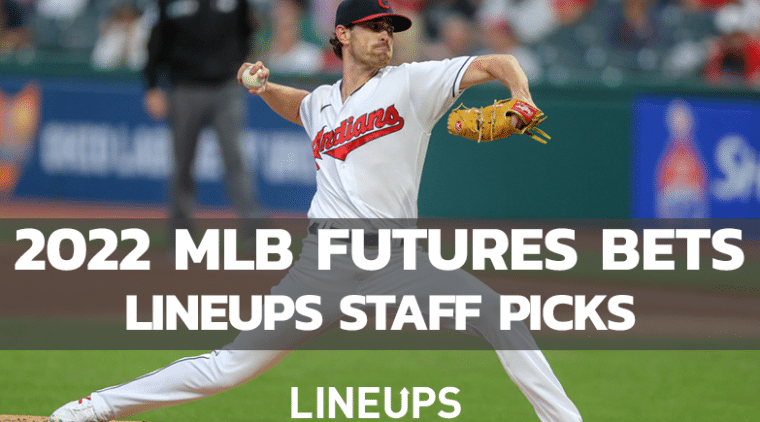 The MLB is back and ahead of Opening Day, we check out our staff's favorite MLB futures betting picks for the upcoming season. We dive into our favorite values for the AL & NL MVP, AL & NL Cy Young, Rookie of the Year, and World Series winners.
2022 World Series Futures Predictions
Philadelphia Phillies +4000 (MGM) 
While the bullpen is still a big question mark, Philadelphia has bolstered their starting lineup by adding Nick Castellanos and Kyle Schwarber to a lineup that already has Bryce Harper, J.T. Realmuto, and Rhys Hoskins.
The dangerous 1-2 punch behind Zack Wheeler and Aaron Nola gives their rotation a lift. Philly should be in the market to add another start or additional bullpen help mid-year, and this lineup can contend with anyone in the league right now.
This is great value for a team that is aggressively adding. 
Author: Jason Guilbault
Milwaukee Brewers +1600 DraftKings
The Brewers back-half of the rotation will regress. Both Eric Lauer and Adrian Houser posted 3.20 ERAs but xFIPs over 4.30. 
But Brandon Woodruff and Corbin Burnes will be dominant, no question about it. And Freddy Peralta will be a top-tier No. 3 starter. The Brewers are still projected to have a top-three rotation in 2022, per FanGraphs. 
Meanwhile, I think we could see some positive regression for the lineup, which was pathetic last season. This will be a bounce-back year for guys like Kolten Wong and Lorenzo Cain. Plus, Hunter Renfroe (Boston) and Andrew McCutchen (Philadelphia) are solid adds. 
So, the combined positive and negative regression will be a wash, and the Brewers will likely cruise through a stripped-down NL Central. 
The X-factor is – obviously – Christian Yelich. His decline is perplexing, but if we can see even slight bounce-back, there is no ceiling for how high the Brewers can fly. 
Good pitching and timely hitting wins World Series. The Brewers have half of that, and I believe they'll find the other half in time to win the Fall Classic. 
Author: Tanner McGrath
Chicago White Sox +1100 (DK)
Last season the Chicago White Sox won the American League West, eventually losing to the Houston Astros 4-2 in the Division Round.  I like the Chicago White Sox to win their first World Series title since 2005.  This team is loaded offensively with Eloy Jimenez, Luis Robert, Yoan Moncada, Tim Anderson, Jose Abreau; who's an RBI machine and new acquired A.J. Pollack.  Luis Robert is an MVP candidate in 2022; his 20 21 season was hampered by a right hip flexor tear, causing him to be out from May 3 through Aug. 9. From that point until the end of the year, Robert slashed .350/.389/.622 with 12 home runs, 13 doubles, 35 RBIs and 31 runs scored in 43 games.
The White Sox pitching staff is solid, led by Lucas Giolito.  Lance Lynn, who was 11-6 with a 2.69 ERA last season, will be out for at least a month with a knee injury.  Dylan Cease, in 2021 went 13-7 with a 3.91 ERA and 226 strikeouts in 32 games.  If he can bring down his ERA and limit the hits he allows, he could be a dark horse Cy Young candidate.  Liam Hendriks is one of the most dominant closers in the game and gives Chicago a huge advantage in the late innings. 
Author: Scott Steinberg
Los Angeles Dodgers +500 (DK)
Yeah, this is boring. It's also a massive homer pick. However, I still think there's value in this number at 5-1 odds on this Dodgers team. Los Angeles fell just short of beating the Braves in the NLCS last year for the right to smack around the Astros in the World Series, but they will be back with a vengeance this season. 
The Dodgers had the best pitching in the MLB last season by a sizable margin with a 3.01 team ERA. Losing Max Scherzer and Kenley Jansen hurts, but the addition of Craig Kimbrel is huge for the bullpen while Walker Buehler, Clayton Kershaw, Julio Urias, Andrew Heaney and Tony Gonsolin still make up arguably the best starting rotation in the MLB. Buehler and Urias are on the watch list for the Cy Young this season.
Losing A.J. Pollock in the Kimbrel trade isn't a big deal with Gavin Lux, who hit .360/.467/.500 in 60 plate appearances last year, ready to step into the full-time starting lineup. Trea Turner, who led the MLB in hits last season, was an awesome add in the Betts trade and he is an easy replacement for the departed Corey Seager.
Sniping Freddie Freeman from the World Series Champion Braves gives the Dodgers yet another elite weapon in the outfield, and the former NL MVP pushes this team over the top for the best offensive roster in baseball. With another former MVP in Mookie Betts, Cody Bellinger primed for a bounceback season, and plenty of depth on this roster, the Dodgers are loaded up for a World Series push.
Author: Jacob Wayne
Toronto Blue Jays +900 (CZR)
Canada might be desperately waiting for a Stanley Cup win, but the country might have to settle for a World Series win instead. The Toronto Blue Jays are high on a lot of people's lists this season, and for good reason. The team has some spectacular talent on the roster, with Bo Bichette, Teoscar Hernandez, and Vladamir Guerrera Jr. being the major standouts. I was lucky enough to see Guerrera take home the All-Star MVP live at Coors Field last year, and needless to say he and the rest of the Toronto roster have grabbed my attention since then. Plus, the All-Star MVP is looking to take his game even higher this season after dropping 22 pounds in the offseason. 
An offense that generated the most home runs in the league last season (262) is enough for me to like this squad. But the Jays also have a great collection of pitchers on the roster. José Berrios and crew will be a headache for batters, and even with average pitching, Toronto should be able to generate enough runs to keep up with division rivals like the Tampa Bay Rays and New York Yankees.
Originally, I really liked the value of the Milwaukee Brewers, a team I had a small future on last year. And, while I like the team's pitching and ability to limit runs as a whole, I just don't see the team having enough offense to get very far into the postseason. Unless Christian Yelich and company start putting up more runs, I'm sticking with the Blue Jays as my World Series pick. 
Author: Anthony Elio
2022 AL MVP Predictions
Rafael Devers +2500 (CZR)
Picking against Shohei Ohtani certainly feels like burning money in this department, but Rafael Devers has a ton of value and could be the x-factor for Boston making it to the postseason this year.
Their pitching is a bit suspect and they will need to rely heavily on the offense. Devers will be in a prime position to top 100+ runs and RBI again this year and is also a threat to lead the league in HRs.
He continues to make strides on the defensive side and has quickly turned into one of the top bats in the AL. If Devers is leading the charge for the Sox in a stacked AL East, the MVP buzz will be there. 
Author: Jason Guilbault
Byron Buxton +2500 DraftKings
All he needs to do is stay healthy. 
That's no guarantee with Buxton, who's played 100+ games in just one of his seven MLB seasons. 
But when he's in the batters box, he's a top-three hitter in baseball. 
In 61 games last year, Buxton posted a whopping 169 wRC+. That included 19 home runs and a .647 SLG. He accumulated 4.2 WAR in a third of the season, that's good for a 12 WAR pace. A full season of that and he'd be the consensus AL MVP. 
Of course, we shouldn't expect him to keep up that kind of pace. But there's a better chance he's a MVP finalist than the 25-to-1 odds we're being offered. 
Author: Tanner McGrath
Wander Franco +1800 (DK)
I really wanted to pick Vladimir Guerrero Jr. to win the American League MVP as he hit .311 with 48 home runs and 111 runs batted last season and is a threat to win the Triple Crown in 2022, but I'm going with another young star that plays in American League East to win the AL MVP, Tampa Bay Rays shortstop/third baseman Wander Franco; who has great value to win the award (at +1800 on DraftKings).  Coming up to the majors last June, Franco hit .288 with seven home runs, 39 runs batted in and a .810 OPS: finishing third in the Rookie of the Year voting.  In the postseason, the 21-year-old hit .368 with an OPS of 1.158 in the Divisional Round loss to Boston; this opened my eyes to see his potential.  Franco is a future superstar and poised for a big season for the Rays. 
Author: Scott Steinberg
Luis Robert +2500 (CZR)
At just 24 years old, Luis Robert is on the verge of becoming a full-stop superstar in the MLB, and I believe he's primed for a phenomenal season. After returning from his torn hip flexor last year, Robert had a 173 wRC+ was the best in the American League among players with 180 or more plate appearances. His 3.6 WAR over 68 games in 2021 would have put him in the MVP conversation over a full season. Robert plays the pivotal position of center fielder, making his value immense on defense as well. He has the ability to produce a 30-30 season while maintaining an elite level of defense. The White Sox look to be one of the best teams in baseball this season, and Robert is a big reason why. If he can stay healthy, he should be very much in the conversation for AL MVP in what should be a massive breakout season. 
Author: Jacob Wayne
2022 AL Cy Young Predictions
Shane Bieber +700 (DK)
When healthy, Shane Bieber is one of the top arms in the league. He has a career 30.9% strikeout rate and might be AL's version of Jacob deGrom with how bad the run support will be around him to rack up wins.
In addition to his strikeout numbers, he doesn't allow a ton of hard contact and the walk rate is average. He was top-ten in SwStr% last year and the AL Central boasts a few lineups that are strikeout-prone. Here's to hoping Gerrit Cole hasn't figured out how to pitch without Spider Tack. 
Author: Jason Guilbault
Lucas Giolito +1000 (DK)
Chicago White Sox righthander, Lucas Giolito will be making his third straight Opening Day start this season; the last White Sox right-hander to do so was Jack McDowell from 1991-94, per MLB.com.  For the last two seasons, Giolito has been the ace of the Chicago staff.  In 2021, the 27-year-old started 31 games going 11-9 with a 3.53 ERA with 201 strikeouts.  The 16th overall pick in the 2012 draft also threw 178.2 innings with a 1.103 WHIP last year.  In his six-year career, Giolito is 42-38 with a 4.19 ERA in 667.2 innings pitched.  Over the three seasons, he has struck out 526 hitters and finished in the top 11 in Cy Young voting in each of those seasons; he was as high as sixth in 2019.  With Lance Lynn out due to a knee injury for at least a month and Carlos Rodon now pitching for the San Francisco Giants, the White Sox will be leaning heavily on Giolito, I feel confident he will deliver and win the first Cy Young of his career.
Author: Scott Steinberg
Nathan Eovaldi +4000 Caesars
With Chris Sale sidelined for 60 days minimum, Eovaldi is now Boston's ace. 
But he's not the "default" ace, he's earned that honor. He led all AL pitchers in WAR last sesaon, compiling 5.6 to Gerrit Cole's 5.3. And he did so with an FIP under 2.8 and an xFIP under 3.5. 
Eovaldi was amazing at limiting walks and long balls last season. He held his BB/9 under 1.75 and finished second in the AL in HR/9 at .74, trailing only Lance McCullers Jr. It's a bit counterintuitive because he's not a softball pitcher (97mph fastball), but he can produce weak contact with the best of him. 
Eovaldi is going to post plenty of quality starts and accrue as much WAR as any AL pitcher. It's worth taking a shot with him at this hyper-inflated line. 
Author: Tanner McGrath
Justin Verlander +2000 
The AL Cy Young is wide open this year, and I agree with Jason that Shane Bieber is the best bet at 7-1 odds. However, Justin Verlander is now 18 months removed from his Tommy John surgery, and the former two-time Cy Young winner could be primed for a bounceback season. At 39 years old, it's hard to have extreme confidence in his ability to handle a full workload, but this league is so open that he could win the award with only 180 innings like Blake Snell did in 2018. It wasn't that long ago that Verlander was pitching in the mid-2.5s for ERA, and while his 2019 Cy Young feels like ages ago, he can reclaim that form if he's able to stay healthy.
Author: Jacob Wayne
2022 NL MVP Predictions
Trea Turner +1400 (DK) 
Three Dodgers are listed within the top 6 for NL MVP Odds. Turner has the longest odds out of all three and he finished 4th in WAR last year. He is someone who can post a 30/30 season and is in an out-of-this-world spot to produce Runs + RBI around hitters like Betts, Freeman, Turner, and Muncy. I would love to see LA allow Turner to run wild and add to his SB totals, but 30-40 is likely a reasonable range. With Tatis/Acuna set to miss the start of the season, Turner is well worth a look at these odds. 
Author: Jason Guilbault
Pete Alonso +2800 (DK)
Last season, his third year in the big leagues, Pete Alonso smashed 37 home runs, drove in 97 runs, hit a career high .262 with an OPS of .863.  The Mets first baseman is averaging 46 home runs and 109 RBI with a .542 slugging percentage in a full 162 game schedule.  For his career, Alonso is at 9.8 wins above replacement (eight plus for a single season, is regarded at MVP level).  With Francisco Lindor, Jeff McNeil, Robinson Cano, Starling Marte and the underrated Mark Canaha in the lineup, Alonso will have a lot of opportunities to drive in runs.  If the Mets are to contend for the National League East crown and/or wild card spot, the fourth-year slugger will be at the center of the Mets offense.   I expect Alonso to drive in close to 100 runs and pound 35-45 home runs in the 2022 season. 
Author: Scott Steinberg
Marcell Ozuna +15000 (CZR)
With Fernando Tatis Jr. and Ronald Acuna Jr. both injured to start the season, Juan Soto has been boosted to as high as +275 on some sportsbooks, and I don't like that value for a long-term future bet. Instead, I'm searching for a longshot and I believe this value for Ozuna is excellent. For one, other sportsbooks have Ozuna at +7500 or +8000, so +15000 value on Caesars is immense. According to BetMGM, Ozuna is receiving 13.8% of the NL MVP handle which is the most of any player on the board – I'll always be interested in chasing the sharp money. Ozuna missed time last year due to domestic violence charges, but in his last full season, he crushed with 89 RBIs. In a wide open NL MVP race, I love this value on a player in a loaded lineup turning in an excellent batting season.
Author: Jacob Wayne
2022 NL Cy Young Predictions
Aaron Nola +2000 (DK)
With the Mets duo still sitting high on the odds tables, I am not buying in given their health at this point. Instead, I will turn to a divisional rival, where Nola finished 6th in WAR among NL starting pitchers. The 4.63 ERA looks to be rather unlucky when you look at his 3.37 xFIP and a LOB% 10% less than his career norm. His strikeout stuff has been terrific this season and he has a chance to post 16-20 wins. If he can combine the strikeouts with the 2018 ERA and win numbers, Nola is going to be worth looking at for voters. 
Author: Jason Guilbault
Carlos Rodon +2200 (DK)
Throwing two darts at this one, because I love the idea of a fully-healthy Carolos Rodon pitching in San Francisco. The Giants have an incredible staff and have made some excellent tweaks to help guys progress of late. Injuries have plagued Carlos Rodon's career but we got a healthy look at him in 2021, where he had a career-high K% and 2.37 ERA. His walk rate dropped to a career-low and velocity was up. If Rodon can push close to 30 starts, his numbers have the potential to be among the best in the NL. 
Author: Jason Guilbault
Walker Buehler +800 (DK)
Walker Buehler is now the unquestioned leader of the Dodgers pitching staff as he gets the ball to start his first opening day and in a "ceremonial" passing of the torch from long-time Los Angeles ace Clayton Kershaw to Buehler.  Last season, Buehler finished fourth in the National League Cy Young voting; he was 16-4 with an ERA of 2.47, 212 strikeouts, WHIP of .968 and 6.7 wins above replacement.  Entering his sixth season in the big leagues, he has a career 40-13 record with an ERA of 2.90 and a WHIP of 1.006.  In a 162-game regular season, the right-hander from Vanderbilt is averaging a record of 14-4 with an ERA of 2.90 and 218 strikeouts.  The Dodgers are the team to beat in the National League and Buehler will be leading the staff.
Author: Scott Steinberg
Sandy Alcantara +2500 Caesars
Say hello to the Marlins new ace. He's just the third Marlin ever to make three straight opening day starts, joining Florida legends Josh Johnson and Josh Beckett. And after two years of dominating hitters with one of the best fastball-slider combos in the league, the Face of the Fish is ready to reach new heights this year. 
He should lead the league in starts again (33 in 2021) and again reach the coveted 200 IP/200 K mark. The other two to accomplish the latter were Walker Buehler and Zack Wheeler, who both received Cy Young votes. 
His ability to make batters chase may improve, too. He finished in the 95th percentile among pitchers in chase rate last year and posted a career-low walk rate (2.19 BB/9). 
Sandy also finished 2021 strong. Over his final 10 starts, Alcantara posted a 2.21 ERA and 2.55 FIP while striking out 80 batters in 69 ⅓ innings. He pitched more than seven innings in six of those starts, continually hitting triple-digits on his fastball late in the game. 
Alcantara will be the face of a much-improved Marlins team and should prove he's a top-three pitcher in the NL. 
We're also getting good value with this line. The +2500 at Caesars is a hanger, as DraftKings and FanDuel have already moved the line to +1600. 
Author: Tanner McGrath
Max Scherzer +600 (MGM)
I'm the last person putting in futures in this article, and as such, I fully expected Mad Max to be well off the board for the NL Cy Young. However, Scherzer is still available and the former three-time Cy Young winner is in a phenomenal position to win again as he heads to one of the most pitching-friendly parks in the MLB in the Mets' Citi Field. The hamstring injury is worth monitoring, but I don't forsee it being a major long-term issue. Scherzer may be 37 years old entering this season, but he finished 3rd in NL Cy Young voting last year with a 2.46 ERA. His ERA in seven starts for the Dodgers was 1.98, and the Mets should be among the best teams in the NL this season.
Author: Jacob Wayne
2022 NL Rookie Of The Year Predictions
Seiya Suzuki +500 Caesars
This is my favorite futures bet on the board for 2022. 
Suzuki is a 27-year-old MLB ready rookie. You don't get that often. He's also already confirmed to be in the middle of the Cubs' stripped-down lineup, and he'll get more ABs than any NL ROY competitor. Specifically, O'Neill Cruz, who won't be on the Pirates opening-day roster.  
His Japanese numbers are staggering. I don't expect it to translate 100% to the MLB, but it's worth recapping anyway. 
Suzuki has posted a 1.000+ OPS in four of his last five seasons.
He hit 38 home runs last year. 
He has a 524:631 BB:K ratio over nine NPB seasons.
He stole 25 bases in 2019. 
But the projections are more staggering. 
FanGraphs is projecting him to post an .878 OPS. 
Steamer is projecting him to accrue 3.8 WAR – which would put him in the MVP conversation. 
Steamer is also projecting him to walk 70 times to just 99 strikeouts, which would translate to a .388 OBP. 
ZiPS is projecting him for 86 RBIs. 
These are numbers that won't be matched by any NL Rookie. And we're still getting him at 5-to-1 at Caesars and WynnBet, which feels like a gift from the Betting Gods. 
Author: Tanner McGrath