Michael Rubin Taps Out Of Sports Ownership, Taps Into Sports Betting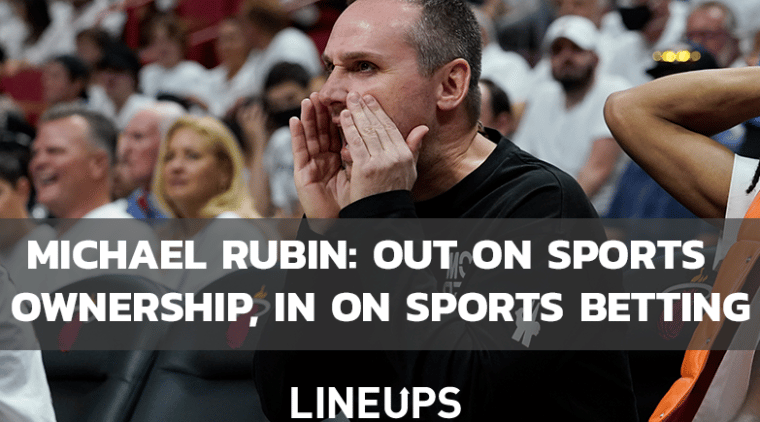 Fanatics and Michael Rubin Making Changes
CEO of Fanatics and partial owner of the Philadelphia 76ers and New Jersey Devils, Michael Rubin, is selling his 10% stake in Harris Blitzer Sports and Entertainment (HBSE), the company that owns these two teams. 
This comes just about a month after Fanatics announced that they filed a trademark for the name "BetFanatics" with the U.S. Patent and Trademark Office. The timing is deliberate – by selling his stakes, worth approximately $300 million, Rubin has paved the way for the launch of Fanatics' sportsbook which he couldn't have done otherwise. Per league ownership rules, an owner can not own any part of a team and operate a gambling platform simultaneously. 
"With the launch of our trading cards and collectibles business earlier this year — which will have individual contracts with thousands of athletes globally — and a soon-to-launch sports betting operation, these new businesses will directly conflict with the ownership rules of sports leagues," said Rubin via Twitter. "Given these realities, I will sadly be selling my stake in the Sixers and shifting from part-owner back to life-long fan."
BetFanatics Outlook
Prior to filing for their trademark, Rubin went on the record to express his aspirations and expectations for a Fanatics sports betting platform. He even went as far as to say that he expects Fanatics to be the number one sports betting platform in the U.S. ten years from now. "From our perspective," he continued, "we have probably the most digitally-oriented, transactional commerce brand, and we have the best database in all of sports. So that's a real structural advantage to help Fanatics become the ultimate leader in this business, and at the same time, give a better experience to the fan."
In other good news for the company, Fanatics recently posted dozens of sports betting-related jobs on their LinkedIn, reading for the launch. Concurrently, the Maryland Lottery just gave Fanatics initial approval for a sports betting facility operator license in the state. However, the location of the facility is unknown and Fanatics would still need approval from the Maryland Sports Wagering Application Review Commission, before starting any sort of concrete steps. This would be the 10th franchise in Maryland to receive such a license. 
BetFanatics may also want to look into legalization in New Jersey and Pennsylvania. Rubin's obvious loyalty to the 76ers and the Devils could bode well for him in terms of sports betting partnerships to establish authority in the industry. The Devils currently hold sports betting partnerships with Caesars, Betway, Unibet, and PlayUp while the 76ers have deals with BetMGM, DraftKings, and FoxBet. 
California could be huge for BetFanatics too, depending on the midterm elections in November. With two sports betting initiatives on the ballot, one of which would license online operators, it would give BetFanatics a bit more leverage by starting in a state with no established operators. Aside from experience in the industry, other big operators like DraftKings or FanDuel wouldn't necessarily have that much power over BetFanatics. But first, California voters would need to pass that bill, which seems like a stretch at this point.