MGM NY Bonus Code: LINEUPS $1,000 for NFL & NBA (NEW!)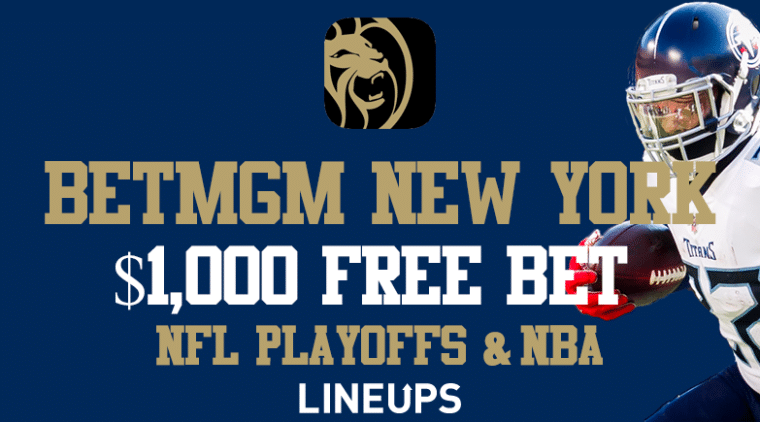 Check out our BetMGM New York page! You'll find promos, reviews, legal info, and much more.
BetMGM Bonus Code New York: Get A $1,000 Risk-Free Bet
With New York sports betting up and running, BetMGM is now fully available in the Empire State. The sportsbook is offering a major signup bonus that new users should definitely take a look at. Right now, when you sign up using the BetMGM Bonus Code NY, you'll get a $1,000 Risk-Free Bet. All you have to do is sign up using the BetMGM NY Bonus Code , deposit into your new account, and place your first bet up to $1,000. If you don't win, no worries since you'll get a full refund in free bets. Not a bad way to start wagering with BetMGM at all.
MGM NY Promo: Free Parlay Boosts!
Now that you've signed up with your BetMGM Bonus Code New York you should check out some of the other promotions being offered by the platform. BetMGM offers a large number of promos, such as first scorer insurance and free bets from the Monday Money Club. Additionally, the sportsbook's free parlay boost, also known as Parlay Plus, is another promo bettors enjoy. After you opt in, you'll get a percentage boost based on how many legs are included in your parlay paid out in free bets. For example, a four-leg parlay will give you a 15% boost while a seven-leg parlay will give you a 40% boost.
These parlay boosts are perfect for the upcoming NFL Divisional Round. The one game that many bettors are eagerly watching comes on Saturday night between the Green Bay Packers and San Francisco 49ers. Additionally, the Tampa Bay Buccaneers are looking to host the Los Angeles Rams while the Cincinnati Bengals are taking on the Tennessee Titans. However, I've got my eye on the late Sunday game, when the Buffalo Bills go to Arrowhead Stadium to try and upset the Kansas City Chiefs. Here's one bet I'm liking for that matchup.
Best Bet: Buffalo Bills First Half Moneyline
This might be my favorite game of the NFL Divisional Round, mainly because there are so many ways it could go. Many are expecting the winner of this game to head to the Super Bowl, and it's tough to argue with that sentiment. And, frankly, I could see either team squeaking out with a last-second win. However, I believe the real value lies in the first half, and you can find some great numbers for Buffalo to win the first two quarters of this clash of AFC powerhouses.
The Chiefs have had some slow, and often bizarre starts this season. While they were able to turn it around, the team looked lost throughout the first quarter in the Wild Card Round last week. And then there was the first half of the final game of the regular season when the Chiefs were bafflingly outscored by the Denver Broncos in the first half. Kansas City can't afford another slow start, but I'm seeing it happening as the team makes adjustments facing the top defense in the NFL. Plus, the Bills fielded the best first-half defense in the NFL this year, holding opposing teams to just 8.6 points per game. I could definitely see Mahomes and the Chiefs having a slow first half and a massive second half, so this is my play for this much-anticipated game.