MaximBet & Charlie Blackmon: First MLB-Sports Betting Deal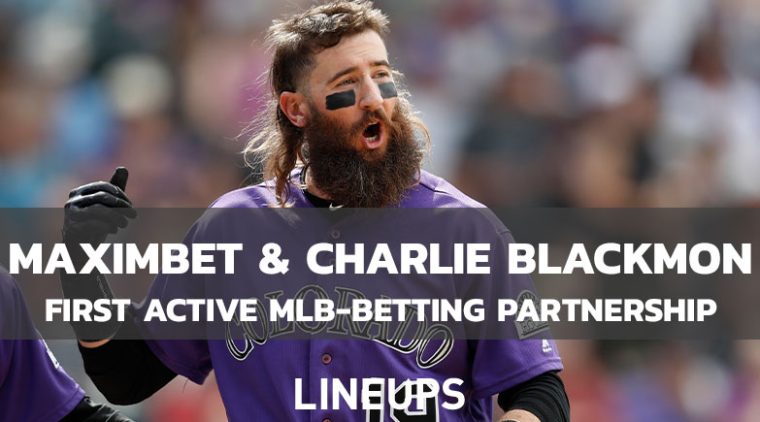 First of Its Kind
Just weeks after the MLB and its players association reached the terms of their collective bargaining agreement, MaximBet and Colorado Rockies outfielder Charlie Blackmon inked a deal, making this the first partnership in history between an MLB player and a bookmaker. 
He is the first player to use the new terms of the collective bargaining agreement to his advantage, which now allows players to enter into marketing and sponsorship deals with sportsbook operators. This was previously prohibited per MLB rules but was one of the many things that changed after the months-long debate between the MLB and the MLBPA over a new collective bargaining agreement. The two caveats to the deal per MLB guidelines are that Blackmon cannot promote betting on baseball in particular, and he cannot bet on baseball himself. 
Blackmon, otherwise known as "Chuck Nazty" is the second athlete of North American's big four sports (baseball, football, hockey, basketball) to enter into a sponsorship deal with a sportsbook operator. First was Edmonton Oilers star Connor McDavid who inked a similar deal with BetMGM earlier this year. 
Last year, sportsbook operator WynnBet announced that they would be the official sports betting operator of the Colorado Rockies. With both of these active partnerships in place, it is unclear how the two will coexist as it relates to Blackmon. 
The New Partnership
While specific details of the deal were not released, the four-time All Star is expected to be involved in marketing campaigns, fan engagement opportunities, social media content, promotions, merchandising, and more. Blackmon is already set to receive several customized items from MaximBet ranging from a glove to hats and even fishing gear for his time off the field. 
The two parties seem to have a mutual interest and benefit in the partnership. "Charlie is one of the most revered Rockies players of all time, and his style and career success makes him a perfect fit for MaximBet," MaximBet CEO Daniel Graetzer said.
Blackmon followed up: "As I learned more about MaximBet, I knew this absolutely was the right brand for me. MaximBet has really attached itself to the local Colorado community, and I cannot wait to have some fun with MaximBet and surprise fans with incredible 'money can't buy' experiences all season."
About MaximBet
This partnership is yet another example of the growing popularity of sports betting in the country. It has now been legalized in over 30 states and counting and for MaximBet in particular, this partnership makes perfect sense as it is currently only legal to operate in the state of Colorado, though they have announced plans to expand into Iowa, Ohio, New Jersey, Pennsylvania, Arizona, and Indiana. 
Signing Blackmon comes about a year after Maxim entered into a colossal deal with privately-owned sports betting operator, Carousel Group in an effort to combine and elevate the sports betting and iGaming experience for customers. Carousel Group, formerly known as Sportsbetting.com took the media company, Maxim and created an entity known now as MaximBet, which is headquartered in and operated out of Colorado.