Mattress Mack Details His Biggest Sports Bets, Texas Sports Betting, and Betting Limits at 2022 SBC Conference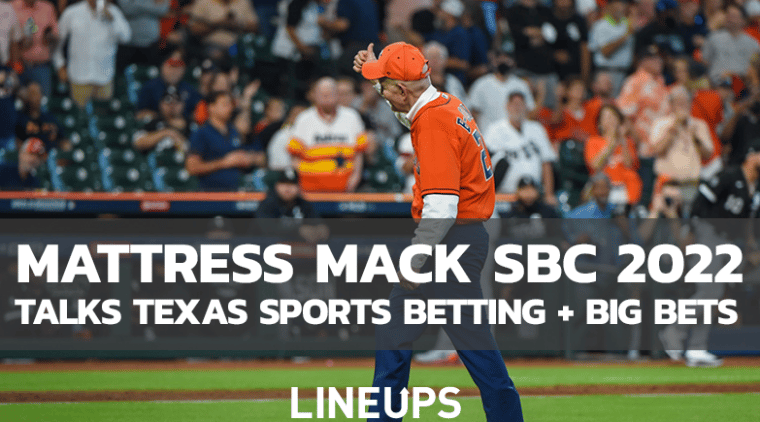 Mattress Mack: The Millionaire
"I'm a huckster. I'm a promoter. And I'll be a huckster and a promoter till the day I die." Those are the wise words of sports betting legend Jim "Mattress Mack" McIngvale at this year's SBC Conference, where he detailed his sports betting strategies to a room full of interested listeners. 
"I'm almost always taking the underdog," said Mack. 
Mattress Mack is known for his big-money, often crazy bets and related furniture sales promotions at his Houston-based store, Gallery Furniture. To offset the risks of placing these multi-million dollar sports bets, he holds promotions at his store that will give qualifying customers at his store their money back, if his bet wins, which often it does not. Over the years, he has lost some outrageous bets including a $17 million bet on the Astros to win the 2021 World Series, $6.5 million on Alabama beating Georgia in the CFP National Championship, and most recently, $12 million on the Bengals to beat the Rams in this year's Super Bowl. That being said, his incentivized furniture sales recoup his losses and while the sportsbooks may be millions of dollars ahead of him, the marketing dollars are not. His marketing team estimates that the publicity from the Super Bowl alone made him roughly $20 million. 
"Winners are the best advertising in the world," Mack said. "Winners make the business."
Even more recently, Mack walked away with about $14 million after the Kansas Jayhawks cut down the nets in this year's March Madness tournament. In 2017, his beloved Astros won the World Series and he was able to give his customers back approximately $17 million spent on furniture at Gallery Furniture. Right now, Mack has a cool $4 million on the Astros to win this year's World Series, and at roughly 10-1 odds, this would bring him around $41 million. He has already sold through $40 million worth of furniture related to that bet. 
"We are the fun furniture store. Buy furniture here and you might get your money back."
Thoughts on Betting Limits
As much fun as Mack and his furniture store is, he was also introduced as an often "polarizing" figure by his interviewer, ESPN sports betting writer David Purdum. For the everyday successful sports bettor, a common frustration is betting limits that are put in place by commercial sportsbooks. So when sportsbooks and media outlets publicize these monster, multi-million dollar bets from Mack, it leaves the everyday sports bettor feeling disadvantaged. To those sportsbooks, Mack says "open up those windows" and take bigger bets. "Every time I bet, you get as much publicity as you want and people can live vicariously through what I bet." 
Outlook on Sports Betting in Texas
When asked by Purdum what he thinks the sports betting future in his home state of Texas looks like, Mack was optimistic. He believes that sports betting will be legalized in the next five years in Texas, and if there was an over/under on it, he'd certainly take the under. He is contributing to this reality by running "thousands of ads" to support sports betting legislation in Texas, which already has support from its major sports teams like the Dallas Cowboys, Dallas Mavericks, and Texas Rangers. From an economic standpoint, Mack said of his state that "we need to have legal bookmakers that supply jobs for Texans and Americans."
Sports betting in Texas looked to be of serious inquiry last year during the state's 2021 legislative session but it stalled, leaving at least another year from now before the legislation can be revisited. Democratic nominee for Texas Governor Beto O'Rourke voiced his potential advocacy for sports betting in the state should he be elected in November. However, this wouldn't come without hurdles as the current governor, Gov. Greg Abbott and his counterpart, Lt. Gov. Dan Patrick both staunchly oppose any and all sports betting in the state. 
What's Next? 
As far as what's next for Mattress Mack, he's looking for people to join in on his Astros bet for the 2022 World Series. If you're interested, head to Gallery Furniture in Houston, he would love to chat with you. 
Otherwise, he'll be continuing his new found interest in future bets (on the Astros, of course) and looks forward to the World Cup. FIFA just announced locations for the 2026 World Cup, Dallas being one of them; if Mack's under 5 years-pick on Texas sports betting legalization is correct, he may just be able to make a live bet at the game.