Masters Betting Odds 2022: Outright Favorites, Predictions, & Picks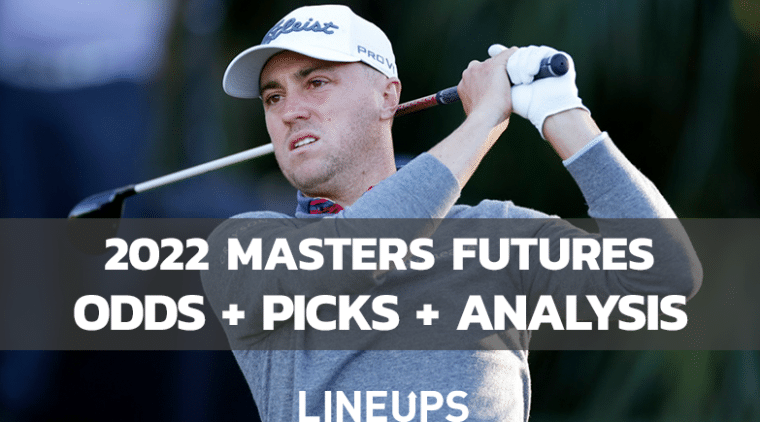 The Masters, the greatest four days in golf, is upon us once again. The first round begins this Thursday, April 7th, and the number one question surrounding golf fans right now is whether or not Tiger Woods will be playing. Woods broke the silence around his potential comeback, stating that he would be a "game-time decision" on Thursday. Woods' peers seem to feel good about where his game is, especially Billy Horschel, who claims that Woods' swing and swing speed look nearly how they did before his accident.
Regardless of whether or not Woods plays, it will be a fascinating tournament with several players more than capable of wearing the green jacket this year! Something to acknowledge is that Augusta is playing longer this year; two holes have been lengthened, pushing the course to over 7,500 yards. Below, I will cover a personal favorite as well as a few longshots that could have a chance of shocking the golf universe!
Masters 2022 Betting Odds
Past 10 Masters Winners
2021: Hideki Matsuyama – Driving Distance That Season: T92
2020 (2021): Dustin Johnson – Driving Distance That Season: 6th
2019: Tiger Woods – Driving Distance That Season: 44th
2018: Patrick Reed – Driving Distance That Season: T61
2017: Sergio Garcia – Driving Distance That Season: 18th
2016: Danny Willett – Driving Distance That Season: T109 (Thru Masters)
2015: Jordan Spieth – Driving Distance That Season: T55
2014: Bubba Watson – Driving Distance That Season: 1st
2013: Adam Scott – Driving Distance That Season: 10th (Thru Masters)
2012: Bubba Watson – Driving Distance That Season: 1st
Note: Driving Distance ranking was calculated from the beginning of that season until the Masters unless otherwise noted.
Who Does Augusta National Benefit?
In recent years, we have seen big hitters win, with Dustin Johnson finally getting his green jacket in the 2020 Masters and Bubba Watson securing two wins in three years in 2012 and 2014. Adam Scott, Tiger Woods, and Sergio Garcia were also big hitters off the tee in the years they won the Masters! With Danny Willett being the sole exception, every Masters winner in the past decade has been inside the top 92 in distance off the tee (for that season) until the Masters. Furthermore, four of the past ten winners ranked in the top ten in driving distance (and five of the past ten ranked in the top 20) from the beginning of the season until the Masters!
The fact that two holes have been extended further pushes the narrative that you have to hit the long ball well at Augusta. The greens at Augusta are also astonishingly fast, making it imperative to hit into them with shorter irons, which create more loft. With that being said, there are a few players that I will eliminate based on their driving distance this season, including Cameron Smith, Patrick Reed, Daniel Berger, Louis Oosthuizen, Justin Rose, Jason Day, Tommy Fleetwood, Webb Simpson, Abraham Ancer, Brian Harman, and Billy Horschel.
Except for Smith, most of these players have fairly long odds already, so this more or less just weeds out a ton of longshots. Matt Fitzpatrick is a player who also qualifies under this category. Still, his game everywhere else has been so solid this season, and his odds are so long, that I will make an exception as an additional longshot choice.
2022 Masters Outright Favorites
Favorite: Justin Thomas +1400
Could it finally be Justin Thomas' year to bring home the green jacket? It certainly feels like it could be. Thomas has finished 22nd or better in five straight tournaments at Augusta, including a fourth-place finish in 2020. This season, JT is 16th in driving distance, making him a strong candidate to be left with short irons in on many Par 4s.
Thomas has the putter working through the first few months of the season, as well, ranking eighth in total putts per round and sixth in one-putt percentage. I think +1400 odds for a Thomas outright are great odds for a player who is more than capable.
Longshot: Adam Scott +6000
Sometimes the best pick to win a green jacket is a player who has already won a green jacket. Not really. However, Scott makes for quite an intriguing sleeper/longshot pick for the Masters, as he is as familiar with Augusta as virtually any other player on tour. He won his first and only green jacket in 2013 and was tremendous off the tee that season.
There are few swings prettier than Adam Scott's in golf history, and he's another candidate for our long-driver theory, currently ranking 19th in driving distance. Another thing: Scott does not miss cuts at Augusta.
Longshot: Matt Fitzpatrick +6000
I will make one exception and one exception only to my rule of not betting on players at Augusta who are less than 300-yard hitters off the tee. Matt Fitzpatrick is the exception, and World No. 24 has something to say about these +6000 odds.
This season, Fitzpatrick ranks fourth in scoring average, fifth in strokes gained tee-to-green, and first in strokes gained total. Additionally, he is fourth in scrambling, which is huge for a course like Augusta, where things can go sideways in a hurry.