Massachusetts Compromises on Sports Betting with Ban on In-State College Teams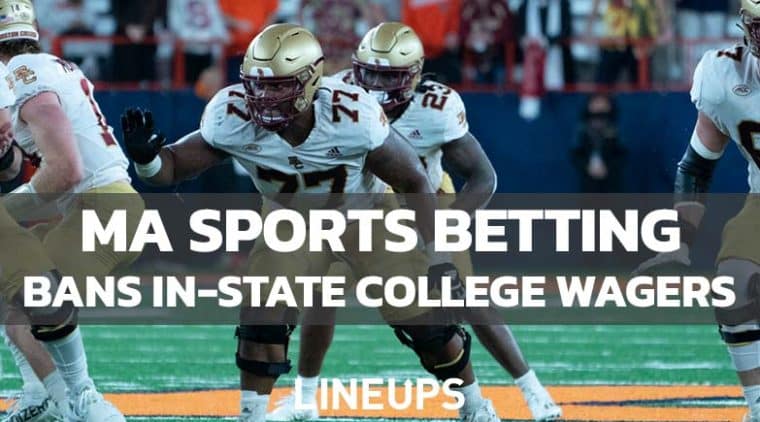 On Monday morning, the Massachusetts General Court came to an agreement to allow licensed sportsbooks in the state to allow wagering on professional and amateur sports. Governor Charlie Baker, who has previously expressed support for sports betting legislation, has ten days to act on the Massachusetts Sports Wagering Act after it passed by a vote of 36-4.
House Speaker Ronald Mariano announced that the Sports Betting Conference Committee had reached an agreement on the legislation early on Monday morning as he thanked other lawmakers for "recognizing the incredible economic opportunity that legalized sports betting presents."
I am proud to announce that the Sports Betting Conference Committee has reached an agreement on legislation that will legalize wagering on professional and collegiate sports in Massachusetts, bringing the immense economic benefits of a legal sports betting industry to MA. (1/2)

— Speaker Ron Mariano (@RonMariano) August 1, 2022
In-State College Sports Betting Prohibited
However, Massachusetts college sports fans will be disappointed to learn of the ruling on collegiate sports betting in the state. The Sports Wagering Act prohibits betting on events involving in-state colleges unless the teams are taking part in a "collegiate tournament" such as the NCAA's college basketball tournament.
Sports bettors in Massachusetts will be allowed to place wagers on out-of-state collegiate teams in an apparent compromise between the House and Senate. Less than two weeks ago, the two chambers were said to be "far apart" in negotiations on legislation, per Speaker Mariano.
House and Senate Disagreement
Over the past several months, the primary sticking point in negotiations on sports betting legislation has been the topic of college sports betting. The House has been in favor of college sports betting while the Senate has been opposed.
Speaker Mariano had previously said that a bill without college sports betting would "probably be enough to lose [his] support" as he couldn't imagine "trying to justify going through all of this to not include probably the main driver of betting in the commonwealth."
Mariano believes college sports betting will be a larger driver of revenue than wagering on highly popular in-state teams such as the Boston Red Sox, Boston Bruins, Boston Celtics, and New England Patriots.
House leaders had estimated that legalized sports betting would represent $60 million in annual income with college sports betting included along with $70 million every five years in sportsbook licensing fees.
However, the Senate Ways and Means Committee had been following the guidance of in-state collegiate leaders in regards to sports betting after a 2020 lobby of administrators at some of the most prominent universities in the state had pushed lawmakers to ban college sports betting.
The seven universities in the lobby included Boston College, Boston University, the College of Holy Cross, Harvard, Merrimack College, Northeastern, and the University of Massachusetts. They cited "unnecessary and unacceptable risk to student-athletes, their campus peers, and the integrity and culture of colleges and universities in the Commonwealth."
Beating the Buzzer
It appeared unlikely that the two chambers would reach an agreement before the end of the current Massachusetts legislative session on July 31, but they were able to move things forward in the nick of time.
Representative David Muradian, a member of the six-person Sports Betting Conference Committee, expressed his belief on Thursday that "if we don't get a deal done, we have failed the citizens of the commonwealth. I mean, it's been abundantly clear – for sessions now – that they want it."
College sports betting is currently legal in about half of the 32 states with live legal sports betting markets, so this wasn't a debate unique to Massachusetts. New York, New Jersey, Washington DC, Illinois, South Dakota, Virginia, and Washington are among the states that have banned wagering on in-state college teams.
While Massachusetts residents hoping to place bets on Boston College or Northeastern will be out of luck, for the time being, there is an outside chance that sports betting could arrive in the state in time for the start of the 2022 NFL season.
We will continue to have you covered with the latest news on the upcoming launch of legal sports betting in the state of Massachusetts.