Maryland Reports Over $16 Million in Sports Bets Placed in First Month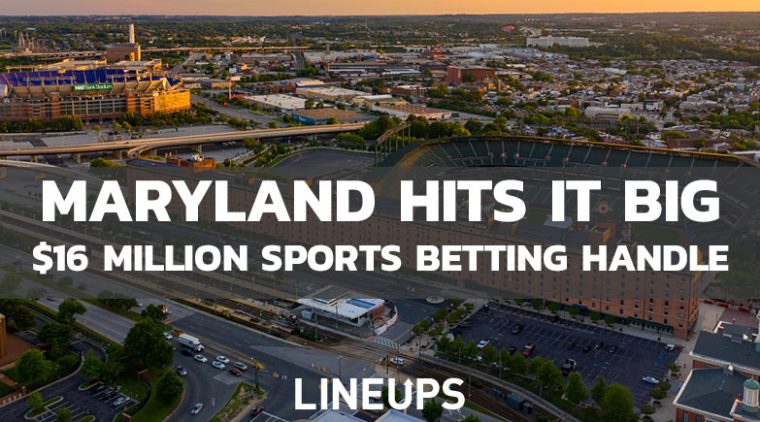 Maryland is one of the states we are closely monitoring here at Lineups, and the state has seen great success from its recently launched sports betting market. Maryland reported over $16.5 million in total sports bets in December, a month during which five operators conducted retail sports betting for the first time in the state. With more sportsbooks expected to be added and an online market in the works, Maryland's sports betting industry is firmly on the rise.
Sportsbooks Launch Timeline
The following is a timeline of the launch of the five sports betting operators in Maryland, including the retail outlet where each national sportsbook is housed:
December 9 – BetMGM via MGM National Harbor
December 10 – FanDuel via Live! Casino Hotel
December 10 – Caesars via Horseshoe Casino
December 17 – TwinSpires via Ocean Downs
December 23 – Barstool via Hollywood Casino
Financial Success
In December, sports betting operators cleared $3.2 million in revenue on over $16.5 million in total bets, representing a win rate of just over 19%, which is well over the national average. Maryland taxes its sports betting revenue at a rate of 15%, meaning just under $470,000 went to the Blueprint for Maryland's Future Fund, which supports state public education programs.
It can be interesting to compare Maryland's first retail sports betting month to Louisiana, the other most recently launched state. Maryland has about 1.5 million more people than Louisiana, but Louisiana had 60% more sports bets placed with $27.6 million in handle during its November launch. However, Louisiana has more venues accepting wagers and was also open for the entire month of November, compared to a staggered launch for Maryland in December.
Most Successful Sportsbooks
FanDuel was the most successful operator in Maryland as the massive national brand brought in $7.1 million in total wagers, 43% of the market, and $1.4 million in revenue. FanDuel was the only sportsbook in the state to produce a seven-figure revenue total. BetMGM came in second with just under $6 million in total wagers, representing 36.2% of the market, and just under $1 million in revenue for a 16.5% win rate.
Caesars came in third with $2.6 million in handle (15.6% market share), but it had the highest hold rate of any sportsbook in the state at 20.9%, meaning it brought in over $540,000 in revenue. TwinSpires had the highest overall win rate at 30.6%, allowing it to finish with just under $170,000 in revenue despite only having about $555,000 in total bets placed.
More Sportsbooks on the Way
Three additional sportsbooks are awaiting final approval in Maryland and are expected to be added to the state's market – Long Shot's, Riverboat on the Potomac, and Greenmount Station. In addition, the Maryland Sports Wagering Application Review Commission is working through standards and regulations for approving mobile sports betting licenses. The Maryland legislature must also approve those standards and regulations before a mobile launch in the state. The state will have up to 30 retail and 60 mobile licenses.
There is still legislative work to be done before mobile sports betting can launch in Maryland, but the expectation is that it will become a strong possibility by the end of 2022. In the meantime, we have you covered with the latest news and updates on Maryland sports betting. ​​