Maryland Reports Over $32.5 Million in Total Sports Bets in January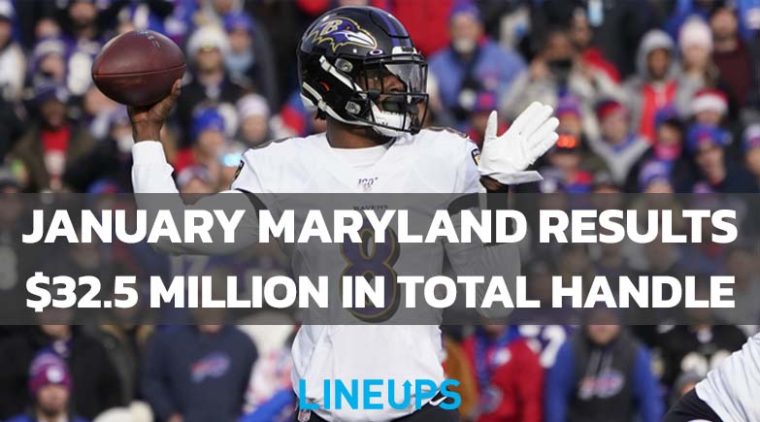 The early returns from Maryland's legalized retail sports wagering market have been impressive, and we recently got word of a highly successful January return. The Maryland Lottery and Gaming reported that Maryland collected $32.5 million in total retail sports wagers in January, the first full month of sports wagering in the state. January saw Maryland generate nearly double the return of $16.5 million in December when the state's five sportsbooks underwent a staggered launch.
Revenue and Taxes Generated
For the second straight month, Maryland's five retail sportsbooks posted a double-digit hold rate at 13.5%. On the strength of that hold rate, which is higher than the general industry standard of around 7%, Maryland sportsbooks claimed around $4.4 million in gross gaming revenue and $4.3 in adjusted gross revenue.
Maryland enforces a tax rate on sportsbooks' adjusted revenue of 15%, so the state collected $644,098 in tax receipts. Those tax dollars are earmarked for the Blueprint for Maryland's Future Fund, supporting public education. Many states have focused on public education as the primary place to invest tax dollars from sports betting.
Since launching in December, Maryland sportsbooks have seen just over $49 million in total handle with a 15.4% hold rate leading to over $7.4 million generated in revenue. That revenue has led to over $1 million in tax dollars for the state, which legislators will see as a massive win due to their efforts.
Leading Sportsbooks in Maryland
For the second straight month, Live! Casino, operated by FanDuel, claimed the top spot in the state for sports betting handle. Live! Casino's handle more than doubled from $7.1 million in December to $14.3 million in January. However, it cleared just a 9.94% hold rate as the only one of the five sportsbooks in the state to fall short of the 10% mark. However, it more than made up for the lower hold rate with its impressive volume and still generated over $1.4 million in gross gaming revenue.
MGM National Harbor was the only other casino in Maryland to hit eight figures in sports betting handle as it brought in $10.6 million in total sports wagers. With a staggering 16.4% hold rate, MGM generated over $1.6 million in gross revenue. Caesars came in third in both handle and revenue, with $4.7 million in total bets generating $840,000 in revenue on the strength of a 17.82% hold rate, the highest in the state.
TwinSpires at Ocean Downs followed closely behind Caesars with a 17.8% win rate, but its $1.4 million in total handle led to just over $250,000 in gross gaming revenue. Barstool Sportsbook, based out of Hollywood Casino in Perryville, rounded out the five sportsbooks with $210,124 in revenue. However, it had a higher handle than TwinSpires at $1.5 million in wagers.
Updates on Mobile Sports Betting Timeline
Maryland sports bettors will be most intrigued about the potential launch of mobile sports betting in the state, although there are still several legislative barriers to overcome before this can become a reality. Maryland's Sports Wagering Application Review Commission met in late January to discuss an update to the state's disparity study for sports betting. Until that study is finished, the commission can't start putting licensing rules into place.
Maryland Lottery and Gaming Control Agency Director John Martin previously said that a mobile launch should not be expected until late 2022 despite Governor Larry Hogan signing legislation into effect in May 2021. You can follow along with us at our official Maryland sports betting page, where we'll have the latest news and information on the potential for a 2022 mobile sports betting launch.