Maryland Governor Larry Hogan Criticizes Regulators for Delayed Sports Betting Launch in Scathing Letter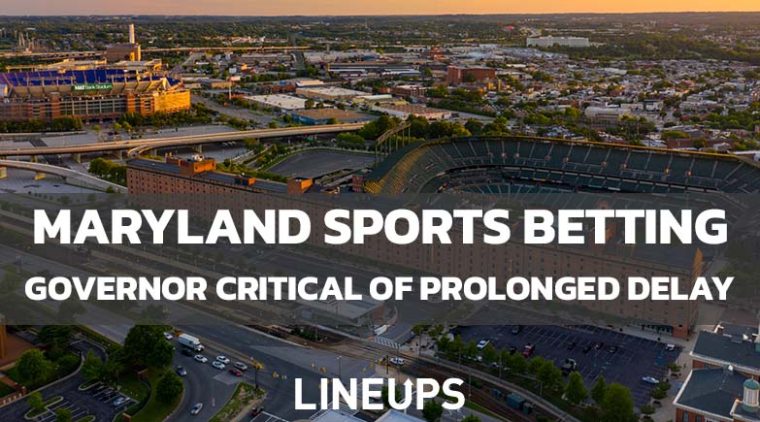 On Wednesday, Maryland Governor Larry Hogan expressed his frustration regarding his state's delayed launch of sports betting. Maryland voters first approved sports betting in November 2020, and Hogan signed it into law in May 2021, but the Sports Wagering Application Review Commission (SWARC) is still working through regulation.
Hogan expressed that "sports fans in Maryland simply want to be able to place bets on their mobile devices," and the SWARC has been unable to make it happen, leading to immense frustration among Maryland residents.
Among Maryland Gov. Larry Hogan's requests to regulators for the state's online sports betting launch:

– Set a firm launch timeline
– Award licenses on a first-come, first-served basis
– Prioritize licenses for sportsbooks already partnered with casinos, sports teams and OTBs

— Ryan Butler (@ButlerBets) June 15, 2022
Disparity Study Causing Delay
In his letter, Governor Hogan cited an "overly complex piece of legislation that was skewed to appease special interest groups" and "bureaucratic hurdles and legal obstacles placed by the Office of the Attorney General." While Hogan didn't mention the disparity study by name, he alluded to the requirement placed on the SWARC to promote diversity within the sports betting industry.
The Maryland SWARC must base its final regulations on an industry analysis conducted through the Attorney General's office designed to address disparities in the new marketplace regarding minority groups. The study only began on March 16, 2022, per Ryan Butler of Wagers.com, and no timeline was provided as to when it would be completed.
Hogan criticized the SWARC for not defining a "clear pathway or timeline for mobile sports wagering implementation." He continued to say it's "simply inexcusable for that to be the case more than a year after the bill was signed into law."
Hogan Makes Specific Requests
In his letter, Hogan urged the SWARC to award mobile licenses to entities that have already been granted retail licenses, including Barstool, BetMGM, Caesars, and FanDuel, all of whom are among the top operators in the country. There are 17 total entities found to be qualified by Maryland Lottery and Gaming in the state's original bill.
Hogan also elaborated on the idea that if the big-name operators are moved along in the regulatory process, the SWARC and lottery would have more time to work with the minority-owned groups toward becoming operational. In other words, Hogan believes the delay is actually hurting the cause of elevating minority groups.
Start by NFL Season?
In his letter, Hogan urged the SWARC to "act immediately so that mobile sports wagering can begin in the State of Maryland before the start of the National Football League (NFL) regular season on September 8, 2022." The NFL is consistently the most popular sport for wagering, so, understandably, Hogan would not want to lose out on the state's potential revenue for another year.
Hogan applauded the Maryland Lottery and Gaming for going "above and beyond to make this launch happen," while calling on the SWARC to operate with the "same level of urgency and clear the way for sports betting." Maryland is losing millions of dollars in sports betting tax revenue due to this prolonged delay in the market launch.
Whether or not the SWARC accomplishes that goal of launching by September 8 is another question, but Hogan shares the same frustrations of many Maryland residents. Follow our site for more updates on the Maryland sports betting legalization process.