Maine Sports Betting Bill Signed into Law – Expected Launch on July 31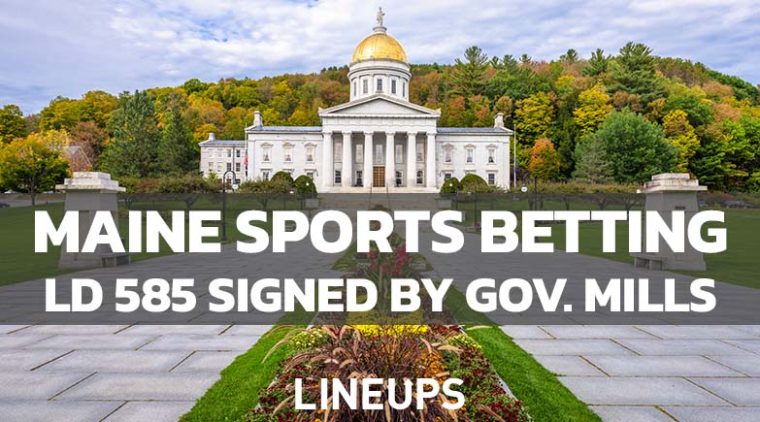 On Monday, May 2, there was incredibly exciting news for all sports fans in Maine – the legalization of sports betting has finally arrived. Governor Janet Mills signed LD 585 into law and it will go into effect on July 31. Maine is now the first state in 2022 to pass a sports betting legalization bill per Ryan Butler of WagersUSA.
Maine Gov. Janet Mills earlier today signed into law legislation that will allow certain state tribes to offer statewide mobile sports betting and other gaming facilities to open retail sportsbooks; Maine becomes the first state in 2022 to pass a sports wagering legalization bill

— Ryan Butler (@ButlerBets) May 2, 2022
Timeline of Maine's Legal Process for Sports Betting
January 10, 2020 – Governor Janet Mills vetoes LD 553 citing the need for more studies on sports betting before rushing into legalization
February 6, 2020 – Maine's Senate narrowly votes to override Mills's veto
February 11, 2020 – Maine's House of Representatives fails to override the veto, resulting in LD 553 dying
April 9, 2021 – SB 1352 introduced by Senator Louis Lucchini, advances the notion that mobile sportsbooks don't need to be tethered to Maine-based entities
June 1, 2021 – Maine Senate passes SB 1352 and sends it to the House of Representatives for approval
June 23, 2021 – Maine House of Representatives approves SB 1352, putting it in front of Mills's desk
July 2, 2021 – SB 1352 is sent back to the Appropriations Table for financial approval before governor's signature
July 20, 2021 – 2021 Maine legislative session ends before SB 1352 can pass through the Appropriations Table
April 14, 2022 – Maine's House of Representatives passes LD 585
April 19, 2022 – Maine's Senate passes LD 585
May 2, 2022 – Governor Janet Mills signs LD 585 into law
Sovereignty Issues in Maine
Maine's sports betting legislation is unique in that it essentially gives its Native American tribes a monopoly over the new market. LD 585 enacts the Tribal-State Collaboration Act which requires Governor Mills to hold and attend a Tribal-State Summit every year as well as government agencies to designate a tribal liaison and work towards positive relations regarding legislative issues.
LD 585 allows for up to ten sports wagering facilities to be awarded licenses for sports betting, including off-track facilities and commercial tracks like the Bangor Raceway and Oxford Casino. Each of the four federally recognized tribes in the state can apply for a single mobile sport betting license – that includes the Penobscot, Passamaquoddy, Micmac, and Maliseet tribes.
Many legislators and companies with competing interests have pushed back on the tribal exclusivity, with Steven Silver, the chair of the Maine Gambling Control Board, citing his concern that the tribal "entities have no experience in Maine operating gambling."
Financial Implications of LD 585
Under the new legislation, Maine's sports betting operators will have a license term of four years. Tribal entities will be required to pay $200,000 every four years for license renewal while commercial partners will pay an additional $40,000. Retail betting licenses will cost $4,000 every four years and will be extended to the state's two casinos. In addition, tribal entities will be required to pay a 10% tax on all gross gaming revenue (GGR).
Neighboring state New Hampshire, which legalized mobile sports betting in December 2019 and has a similar population to Maine, has collected $3.9 million in GGR per month over the last twelve months. If Maine can reach a similar number, the state could generate somewhere around $390,000 per month in tax revenue.
Please visit our Maine sports betting page for more information on the recently passed legislation, the expected timeline of launch, and the best new-user bonuses in the market.