Maine Passes Sports Betting Bill in the Senate, Heads to Governor's Desk for Signature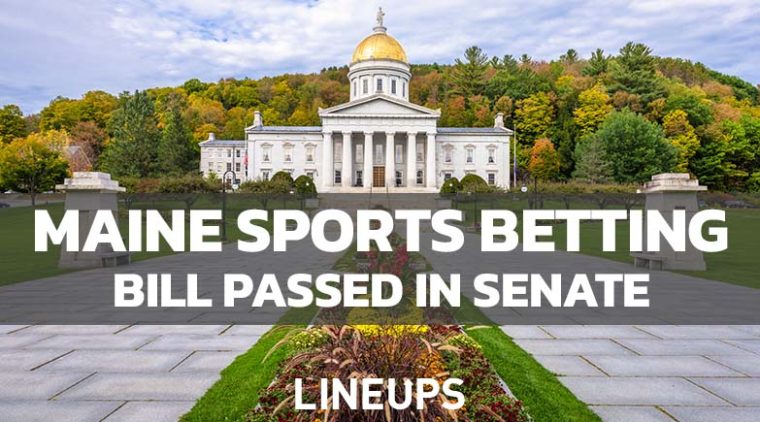 On Tuesday night, the Maine Senate approved LD585, which would legalize sports betting in the state. The bill will give native tribes exclusive access to mobile sports betting licenses, while commercial casinos will only be permitted to have licenses for retail sportsbooks.
LD585 will now hit the desk of Governor Janet Mills, who vetoed a sports betting bill over two years ago. Should the bill be signed by Mills, Maine would be in line to launch its sports betting market later this year.
Complicated Legislative Path
Maine has been working through the legislative process for sports betting for quite some time now. Last year, both legislative chambers advanced LD1352, including mobile licenses for both casinos and tribes. However, Governor Janet Mills doesn't support the bill. Maine has now passed multiple sports betting bills since 2019 to no avail.
Mills used sports betting in a negotiation for a broad tribal sovereignty package earlier this year, so she is expected to approve the new bill, which grants tribal control over online sports betting licenses.
Although it's still technically alive, LD1352 is unlikely to move forward as Representative Steve Moriarty expressed that he has "lost confidence because it has lingered for so long with no immediate attention or resolution."
After years of just falling short, looks like Maine will finally approve statewide mobile sports betting; bill will allow tribes statewide mobile wagering licenses; commercial caisnos will be permitted on-property retail sportsbooks https://t.co/G5kVRHqqOB

— Ryan Butler (@ButlerBets) April 20, 2022
Tribal Monopoly over Online Sportsbooks
Under LD585, Maine's Penobscot, Passamaquoddy, Micmac, and Maliseet tribes would be granted one online license with a commercial provider, which sets up the state for up to four online sportsbooks.
Tribal sports betting agreements are usually reliant on approval from the Department of the Interior. Still, Milton Champion, executive director of the Maine Gambling Control Unit, told Action Network that's not the case with Maine as it has "nothing to do with any type of federal compact."
While the tribes control mobile sports betting, commercial casinos are now included in the bill as of an amendment on Tuesday. The Hollywood Casino Hotel & Raceway (Penn National/Barstool Sports) and Oxford Casino Hotel (Churchill Downs) will be able to apply for licenses for retail sports betting.
Pushback on Tribal Exclusivity
Many legislators have pushed back on the advent of the tribal exclusivity aspect to Maine sports betting. Online sports betting was conservatively estimated to amount to 85% of the potential Maine market, so casinos were upset at the potential of lost revenue.
Steven Silver, the chair of the Maine Gambling Control Board, expressed his concern to SportsHandle over the lack of experience tribal entities have in online gaming regulation compared to casinos.
"We've seen the casinos employ a lot of Mainers, contribute tens of millions of dollars in taxes, and operate responsibly for all these years through a pandemic and everything else. And now you're gonna say 'Hey, we have this new product that we're really concerned about, how it's gonna affect our population, so we're just gonna hand it over to entities that have no experience in Maine operating gambling.' That doesn't make sense."
LD585 Details
Each of the four tribal entities with online sportsbook licenses will pay a 10% tax on gaming revenue and $200,000 every four years to renew their respective licenses. Any commercial partner will pay $40,000 every four years as well.
Meanwhile, retail betting licenses will last four years and would only cost $4,000. Those licenses would be extended to the two in-state casinos, although they will likely still be pushing for mobile licenses of their own.
If Governor Janet Mills approves LD585, Maine would become the 34th state to legalize sports betting. With Massachusetts and Vermont being the only other New England states yet to legalize sports betting, there is plenty of regional pressure on Maine as they lose potential tax revenue to neighboring states.
This was the scene outside the State House a moment ago as the Wabanaki nations call on Governor Mills to sign a bill that would give the tribes their sovereignty.

I have that plus reaction to the start of the sports betting era in Maine today on @WMTWTV. pic.twitter.com/1fnBycQrsM

— James Corrigan (@RealCorrigan) April 20, 2022