Louisiana Reports $39.5 Million in Total Sports Bets in December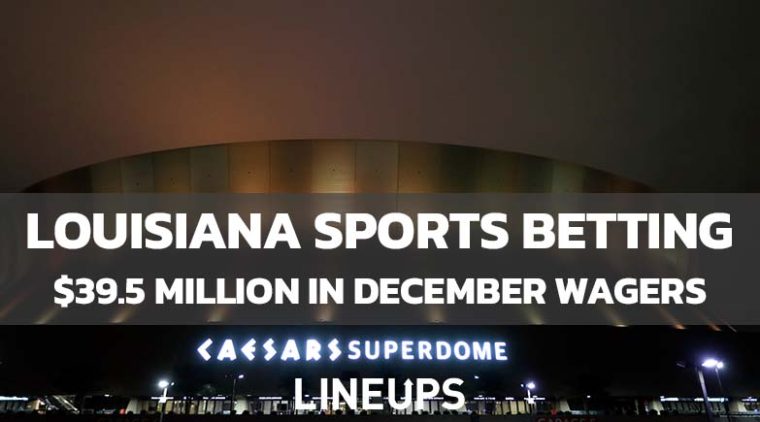 Louisiana is on its way to launching its legal mobile sports betting market, but in the meantime, retail sports betting has been very successful in the state. In December, the second month with in-person sports betting available, 11 retail sportsbooks generated $39.5 million in total wagers. That handle generated $4.38 million in total revenue, leading to $438,000 in taxes on a 10% rate. Mobile sports betting is expected to launch in time for the Super Bowl, but more work is still done before that can be finalized.
Increases from November
In November, Louisiana generated a sports betting handle of $27.6 million, representing an increase of about 43% month to month. Louisiana brought in close to $5.7 million on those wagers, meaning December decreased tax revenue from $568,571 in November. The cause of the decrease in profitability for sportsbooks in December is unclear, although a hold rate of over 20% in December meant sports betting operators were still very successful.
When Will Online Sports Betting Be Available?
According to Kimberly Chopin, director of communications, the Louisiana Lottery is looking for a "turnkey sports betting solution," and the deadline for responses is February 15. The current expectation is that online sportsbooks will launch in late January or early February, ideally in time for the Super Bowl. Online sports betting will be taxed at a 15% rate, and a much greater handle will likely lead to significant revenue for the state. Six sportsbooks have already been approved for launch – DraftKings, FanDuel, BetMGM, Caesars, Betfred, and BetRivers.
Other gaming operators with existing retail sportsbooks will likely pursue mobile licenses shortly. The likely candidates include Penn National (Barstool Sportsbook), Churchill Downs (TwinSpires), and Boyd Gaming (Boyd Sportsbook). Louisiana will have as many as 41 distinct mobile sports betting operators, with each of the 20 gaming operations in the state permitted to partner with up to two sports betting skins.
Daily Fantasy Sports Also Reported
In addition to the retail sports betting numbers, Louisiana also reported Daily Fantasy Sports financial results for the first time since launch. DraftKings launched in July, and FanDuel launched in October, making DFS available from the two largest national providers. DraftKings reported $1.3 million in revenue leading to $107,000 in taxes, while FanDuel trailed with $74,000 in revenue, leading to just $6,000 in taxes. Those numbers are closer to giving the two platforms an even market share on a per-month basis.
History of Louisiana Sports Betting
Governor John Bel Edwards first approved sports betting in June 2021, signing SB247 into law. Louisiana is the first state to authorize sports betting on a county-by-county basis, or in this case, a parish-by-parish basis, with 55 of 64 parishes approving retail and mobile sports betting. In October 2021, retail sports betting became available for the first time, with Caesars Sportsbook the first operator to open registration. Caesars is also expected to be one of the first mobile sportsbooks to become available, and its partnership with the New Orleans Saints should give it an immediate leg up in the market.
Pre-registration is currently available in Louisiana, and you can visit our official Louisiana sports betting page for exclusive welcome bonuses. We also have you covered with the latest news on the legislative process, including updates on when you can expect mobile sports betting to launch.