Louisiana is Launching Mobile Sports Betting on Friday!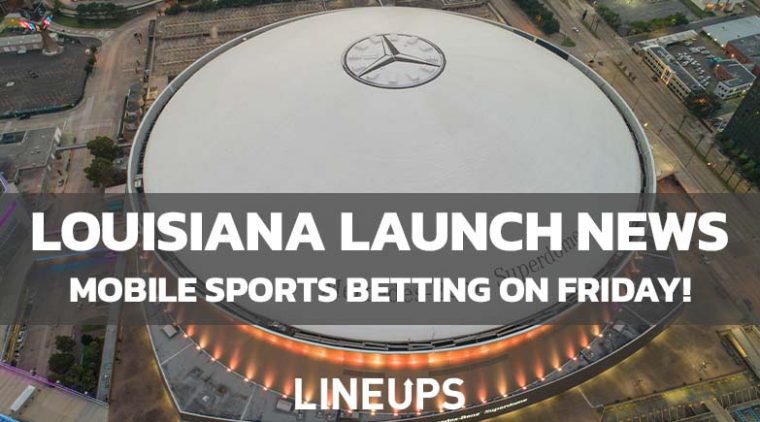 Louisiana sports bettors can breathe a sigh of relief as the state is finally expected to roll out its mobile sports betting industry this week. The Louisiana Gaming Control Board is expected to issue temporary digital sports betting licenses and launch operators on Friday, with the first sportsbooks becoming available. Several sportsbooks have launched pre-registration offers in the state, with new customers having the opportunity to access amazing bonuses ahead of the official launch of the platforms.
Louisiana is launching its mobile sports betting platforms just in time for the divisional round of the NFL playoffs, and the two games on Sunday between the Chiefs and Bengals in the AFC and the Rams and 49ers in the NFC should be extremely popular for new sports bettors. There was initial concern over Louisiana's ability to launch mobile sports betting in time for the Super Bowl on February 13, but those concerns can be put to rest now.
Louisiana Sports Betting Background
In June 2021, Governor John Bel Edwards signed Louisiana's sports betting regulation bill into law. Louisiana is the first state to legalize sports betting on a parish-by-parish (county-by-county) basis, with 55 of 64 parishes approving sports betting on the 2020 ballot. The parishes surrounding major population centers in New Orleans and Baton Rouge are among those that have approved sports betting.
It's worth noting here that not every parish has approved sports betting. If you live in any of the following parishes, you are out of luck for mobile sports betting – Caldwell, Catahoula, Franklin, Jackson, LaSalle, Sabine, Union, West Carroll, and Winn. However, you can drive to a parish nearby that has approved mobile sports wagering as the sportsbooks verify your physical location, and it's not dependent on where your residence is located.
On October 31, 2021, the Harrah's casinos in New Orleans and Bossier City became the first retail sportsbooks to take legal sports bets. Penn National Gaming began operations at two of its five Louisiana properties on November 1. DraftKings and FanDuel have also since opened physical sportsbooks in Louisiana.
Rules to Know
Louisiana has established a free market operation with several sports betting licenses available. In addition, the 15% sports betting tax for mobile bets will allow many more operators to enter the market, which is ultimately very beneficial for consumers. This is not the case in New York, which recently launched, with its 50% tax rate – many operators have eschewed that market due to the high tax rate.
You can bet on college sports teams, including those in-state, exciting news for LSU fans. In states such as New York and Illinois, bettors cannot place wagers on in-state collegiate programs. In addition, you should know that you must be 21 years old to bet, and you must be physically located in one of the 55 parishes in Louisiana that have approved sports betting when you place your wager.
What Sportsbooks Will be Available?
Per the approved regulations in Louisiana, there could be as many as 41 mobile sportsbooks operating in the state, with each of the 20 brick-and-mortar gaming locations issued up to two licenses along with the Louisiana Lottery's platform.
Penn National has five brick-and-mortar locations in Louisiana and is partnered with Barstool Sportsbook. Boyd Gaming, partnered with FanDuel, has five locations, and Caesars has four locations in the state. DraftKings, Golden Nugget, TwinSpires, and WynnBet have also agreed to contracts for market access in Louisiana.
Six sportsbooks have been approved to launch on Day 1 – DraftKings, FanDuel, Caesars, BetMGM, BetFred, and BetRivers. With their approved market access deals, Barstool, Golden Nugget, TwinSpires, and WynnBet are expected to launch soon after the initial start date.
For more information on pre-registration bonuses, which sportsbooks will be available, and general information on legalized sports betting, check out our official Louisiana sports betting page.
SportsbookBonusStart Betting$3,300 Bonus$3,000 Deposit Match + $300 FREE LINEUPNEW Activate Promo Code Claim Bonus$200 FreeGet $200 Free Pre-Launch Offer LINEUPS Reveal Promo Code Claim Bonus$100 Free BetPre-Launch Offer $100 Free Bets PROMO ACTIVATED Activate Promo Code Claim Bonus$100 BonusPre-Launch Offer $100 Free Bets PROMO ACTIVATED Activate Promo Code Claim Bonus

By www.lineups.com