Louisiana Generates $238 Million in Total Sports Bets in February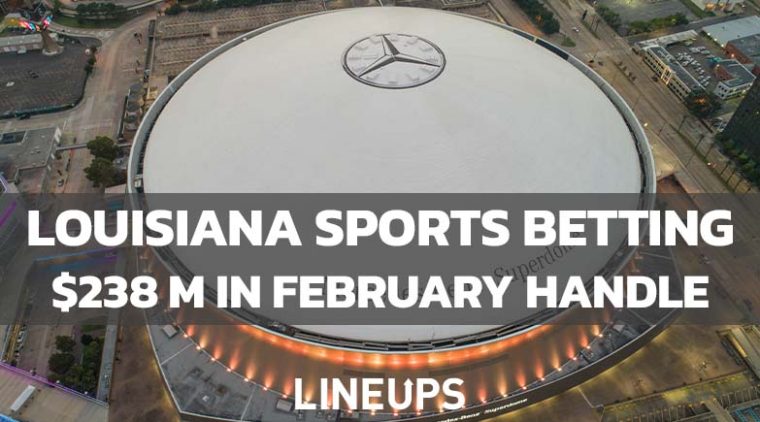 On Monday, the Louisiana Gaming Control Board reported its February sports betting numbers which included an overall handle of over $238 million. Louisiana online sports betting launched on January 28, and in the first four days of sports betting, sportsbooks collected a whopping $40.5 million in legal wagers. Six sportsbooks are currently live in Louisiana, including Barstool, BetMGM, BetRivers, Caesars, DraftKings, and FanDuel.
First Month of Success in Louisiana
In February, the four gaming sectors in the Bayou State increased their total revenue by 5.7% to $268.1 million. Sports betting was a significant part of that success, with the six sportsbooks in the state combining for $16.7 million in adjusted gross revenue. Mobile wagering made up $211 million in total wagers in February, about 88% of the entire handle. Louisiana collected $2.21 million in tax revenue in February, an increase of over $1.5 million from January.
With $17.3 million in sports betting revenue in February, the state's growth was a welcome sight after it lost $3.6 million in January. That initial loss wasn't shocking as sportsbooks doled out lofty promotions to boost customer acquisition. As the Louisiana market matures, sportsbooks should continue to increase their profitability. In February, sportsbooks reported a hold rate of 7.3% compared to -4.1% in January.
Born in the Bayou – Bengals Betting in Louisiana Aids Sportsbooks
Part of Louisiana's February success in sports betting came from Super Bowl LVI, which took place in Los Angeles between the LA Rams and the Cincinnati Bengals. Two former LSU players in Joe Burrow and Ja'Marr Chase headline the Bengals' roster, so plenty of big bettors in Louisiana placed wagers on Cincy to win the game. Louisiana hosted the single biggest bet in the history of sports betting, with Mattress Mack crossing into the state from Texas and placing $9.5 million on the Bengals to win the game.
The LGCB reported that the state brought in $9.1 million in revenue from football wagers. The Bengals covered the spread, but that stark amount of revenue suggests that more bettors placed money on the Moneyline than the spread. The LGCB doesn't report specific handle and revenue numbers for the Super Bowl, and it's possible that Mattress Mack wager made up a large chunk of the state's profit.
Casino Increases Help Compensate for Retail Sports Betting Decline
As online sports betting has become more widespread and accepted in Louisiana, bettors have placed fewer wagers at in-person retail sportsbooks. In February, the retail handle dropped to $27.4 million, a decline of 44.4% from the January total of $49.3 million. With six different online sportsbooks available in the state, each of which offers unique welcome bonuses and ongoing promotions, it's not surprising to see much less action at retail sportsbooks.
It's fair to note that part of the success in retail sports betting came from the twelve NFL playoff games and College Football Playoff National Championship, and we don't know exactly how the Super Bowl compares to those other football games in terms of handle and revenue for in-person versus online betting. Casinos saw increases across the board, however, with revenue and handle growing in Louisiana with no real money online casino options for the time being.