Los Angeles Dodgers vs San Francisco Giants (6/10/22) Odds, Prediction, Betting Pick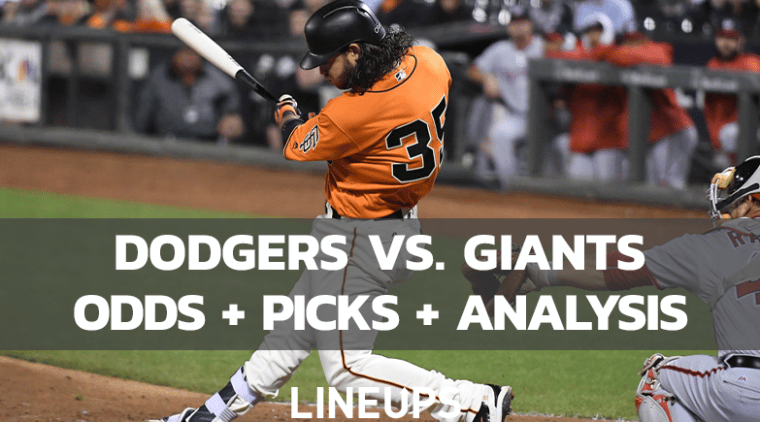 The Los Angeles Dodgers and San Francisco Giants have built up quite the NL West rivalry over the years. Last season's divisional race was one of the most exciting in recent memory.
This season, the Dodgers are similarly dominant. The lineup is stacked as it can be, the younger pitchers are developing faster than expected, and the front office brought in key contributors (Freddie Freeman).
Meanwhile, the Giants have slipped. Kevin Gausman is lighting the world on fire in Toronto while Buster Posey is enjoying retirement. The Giants have dug themselves a 5.5-game hole in the division and are even trailing the Padres for the time being.
So, this home series is rather important for San Francisco. It could be a good opportunity for the Giants, too, as the Dodgers have dropped five of their last 10 games.
Which team has the edge?
Read on for the starting lineups, betting odds, and my prediction for Game 1 of this three-game set.
Los Angeles Dodgers vs San Francisco Giants Odds
The Dodgers at -160 or more is too big a price to pay. Buehler still gets the ace treatment from Vegas, but he's not pitching like an ace right now.
The total at 8 also might be too low. Buehler is confused and Junis is due for negative regression. Both pitchers are overvalued in the market.
Los Angeles Dodgers vs Jakob Junis
It's amazing what the Giant pitching coaches do. This is the most impressive group of coaches in MLB. The way they turned around Gausman's career was insane.
After three straight years of posting an ERA north of 5.00, the Giants are also fixing Jakob Junis. He's posted a ridiculous 2.51 ERA through eight appearances and six starts this season.
Junis is due for some negative regression, but he's never posted an xERA below 5.00 in his career. Right now, that number sits at a solid 3.98. The improvement is almost unbelievable.
The Giants just re-worked his pitch mix. They got rid of his cutter and four-seam, and now Junis throws almost exclusively a slider (54.5%) with a sinker (30.1%) and a changeup (13.9%) mixed in.
Image credit: Baseball Savant
That slider has a whopping -7 Run Value so far this season, and opponents are hitting just .168 off the pitch with a .391 xSLG. He's picked up a bit of additional horizontal movement on it, but the velocity and spin rate have stayed largely the same. Junis is just out-smarting hitters now.
But good luck getting past the Dodgers. They just put up double digits Dylan Cease and the White Sox, while Mookie Betts leads the league in fWAR (3.5).
If there's a time to out-hit the Dodgers, this is as good a time as any. L.A. has just a 115 wRC+ over the last two weeks, good for 12th in the league.
San Francisco Giants vs Walker Buehler
Walker Buehler is the biggest anomaly in baseball. After posting a ridiculous -19 Run Value on his four-seam fastball last season, that number is a differently ridiculous +11 this season.
Image credit: Baseball Savant
Buehler has cut the usage on his four-seam severely and switched to a cutter, which has been successful. Put together his cutter, curveball, slider, and changeup – which have a combined -16 Run Value this year – and Buehler is a plus pitcher still.
His 3.84 ERA has led to a 0.8 fWAR, so Buehler isn't close to the pitcher he was last season. But there's still plenty of season left to turn it around.
Over the last two weeks, the Giants have posted bottom-10 marks in OBP (.296), wOBA (.304), and wRC+ (97). If Buehler wants to get back on the right track, Friday is the day.
However, the Giants are the third-best fastball hitting team in the league (29 Weighted Fastball Runs Created). So, maybe stick to the secondary stuff today, Walker.
Los Angeles Dodgers vs San Francisco Giants Pick & Prediction
My picks: Giants ML (+136 at FanDuel Sportsbook)
The Giants as a home underdog coming off a series loss to the Rockies?
That's a super undervalued team.
Moreover, there's no reason to trust Buehler right now. His fastball is a mess, and he seems confused about his pitch mix right now.
Junis is due for regression, but not enough to take the value out of this line.
At anything better than about +120, I'll be on the Giants.