Lineups Super Bowl Futures: Staff Picks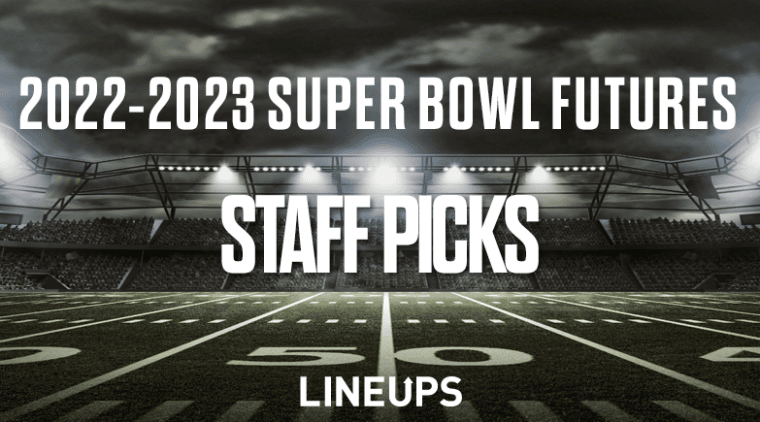 Lineups Staff Super Bowl Futures
Baltimore Ravens +2000 (DraftKings)
While the strength of their receiving corps, or lack thereof, remains a consistent talking point this offseason, the reality for this Ravens team is that they've never needed the passing game to be a contender.
With arguably the most explosive rushing attack in football and a secondary that, on paper, could be one of the best we've seen in the last 3-5 years, they are stylistically set up to control the flow of every game they're in.
Though this franchise is seemingly always in "win now" mode, this season feels markedly different after a year that many deem a missed opportunity in 2021. Factor in that Lamar's playing for the bag, and, at +2000, you're getting a solid number on a team that will more than likely have a crack at it come January.
Author: Patrick Monnin
Los Angeles Chargers (+1400 DraftKings)
The Chargers are the most talented team in the NFL. Justin Herbert is a premier quarterback who can make every possible throw, and defenses must pick their poison against Keenan Allen, Mike Williams, and Austin Ekeler. The offensive line is finally sturdy, and rookie Zion Johnson will make an immediate impact.
On the other side of the ball, Los Angeles possesses a lethal pass rush duo of Joey Bosa and Khalil Mack. They also boosted their porous run defense by adding Sebastian Joseph-Day. If opposing quarterbacks do get enough time to throw, they must contend with defensive backs JC Jackson and Derwin James.
Injuries have haunted the Chargers in recent years, but they have a promising chance to win the Super Bowl with good health.
Author:Braxton Reynolds
San Francisco 49ers (+1600 Caesars)
I was a bit on the fence on this one as, like pretty much every sports bettor, I've been wary of QB Trey Lance heading into the season. However, the news that QB Jimmy Garoppolo will be coming back to San Fran in a backup role has me ready to back this team. Garoppolo is 31-14 with the team, so if Lance underperforms or suffers an injury, he'll be able to step in without missing a beat.
No matter who is under center, this team is stacked with weapons. WR Deebo Samuel is back with a new contract, TE George Kittle is a consistent threat, and I feel like you could be me in the backfield in Kyle Shanahan's offense and I'd gain 1,000 yards. (DMs are open, Kyle.)
And let's not forget about the smothering defense from coordinator DeMeco Ryans. DE Nick Bosa, LB Fred Warner, and offseason acquisition CB Charvarius Ward highlight a unit that ranked seventh overall last season. The rest of the top teams in the NFC such as the Tampa Bay Buccaneers (offensive line injuries), Green Bay Packers (Devante Adams departing), Los Angeles Rams (Matt Stafford coming in injured), and Dallas Cowboys (they're the Dallas Cowboys) aren't inspiring much confidence for me this season. Take the value with the San Francisco 49ers to hoist the Lombardi Trophy.
Author: Anthony Elio
Denver Broncos (+1800 DraftKings)
Forgive me if you've heard this story before: a future Hall of Fame quarterback joins a ready-made Super Bowl caliber roster that was just missing that key piece under center to put them over the top. Matthew Stafford did it last year with the Rams, Tom Brady the year before that with the Buccaneers, and Peyton Manning did it with the Broncos in 2015. For years now the Broncos have felt like they were just a quarterback away from being legitimate Super Bowl contenders, and now they have a bona fide signal caller in Russell Wilson.
Wilson joins an offense with solid weapons around him in wide receivers Courtland Sutton and Jerry Jeudy and a potent 1-2 punch in the backfield with second-year breakout candidate Javonte Williams and veteran Melvin Gordon III. The Broncos' offensive line is also a much stronger unit than Wilson has had over the last few years in Seattle.
The Broncos also boast one of the strongest defenses in the NFL, led by standout edge rusher Bradley Chubb and shutdown corner Patrick Surtain II. They also bolstered their pass rush in the offseason with the additions of Randy Gregory and rookie Nik Bonitto.
The Broncos face a tough challenge playing in the stacked AFC West division, but if they can emerge from the best division in football, they will be one of the scariest teams entering the playoffs with as good a chance as any to bring home the Lombardi Trophy.
Author: Noah Rosenstein
Cincinnati Bengals (+2200 FanDuel)
Results from most seasons this century will tell you the Super Bowl hangover can be real – both for the winner and the loser. The Panthers and Falcons are two teams who couldn't recapture that success after a breakthrough trip to the Super Bowl. Aside from the idea of a hangover, what's keeping the Bengals with more distant Super Bowl odds than a third of the league?
Cincinnati played like a championship-caliber team from Week 16 into February last season. Joe Burrow isn't going to suddenly forget how to play quarterback, especially with a much-improved offensive line. That Burrow and Ja'Marr Chase/Tee Higgins is still going to be lethal, and the defense should be in for another strong year with all major pieces returning.
Defensive coordinator Lou Anarumo proved he was among the NFL's best defensive minds when he adjusted the gameplan during the middle of the AFC Championship Game and kept Patrick Mahomes in check throughout the second half and overtime – his return should keep that momentum alive.
Maybe the heights the Bengals reached in January were closer to a flash in the pan than the new normal, but isn't +2200 worth that risk for a team that was one drive away from hoisting the Lombardi Trophy?
Author: Dan Treacy
Minnesota Vikings (+4000 FanDuel)
While there are a handful of AFC teams in the mix and a couple of NFC frontrunners, I can't get past the value on Minnesota. The AFC is going to be a bloodbath, where the NFC has an easier path to the Super Bowl. Minnesota ranked 15th in overall DVOA last season and lost eight one-score games. With Mike Zimmer gone and Kevin O'Connell now in the driver's seat, the offense will be better and this group is more than capable for putting up points.
Defensively they should be improved this year with a healthy Danielle Hunter and the additions of Za'Darius Smith and Jordan Hicks. The NFC North is also very winnable for them to lock up a home game, as Green Bay's offense took a hit and both Chicago and Detroit are fighting for third place.
The offensive line is the only question mark here but they are in a better spot than last season. If they can find consistency and just produce at an average level, the core of Cousins, Cook, Thielen, and Jefferson is about as good as it gets in the NFC. From a value standpoint, the Vikings are very intriguing.
Author: Jason Guilbault