Joe Burrow Super Bowl 56 MVP Odds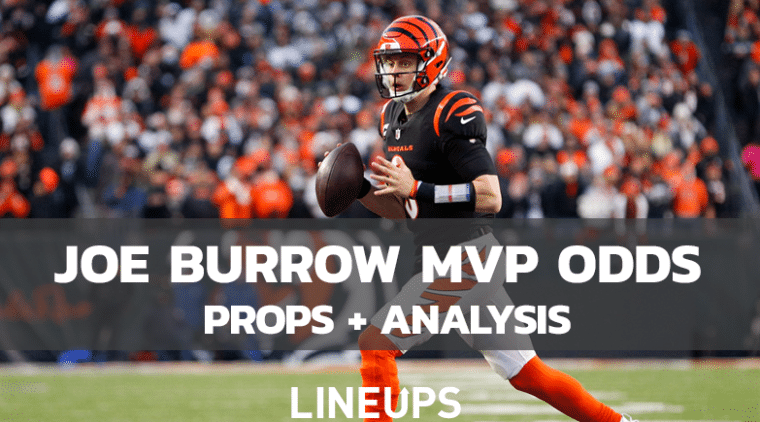 The Cincinnati Bengals will take on the Los Angeles Rams in Super Bowl LVI on Sunday, February 13, 2022, at SoFi Stadium.  The Bengals are a 4.5-point underdog with their money line at +165.  For historical perspective, the Bengals were a one-point underdog to the 49ers in Super Bowl XVI, losing 26-21.  In that loss Cincinnati quarterback, Ken Anderson completed 25 of 34 passes for 300 yards and accounted for three touchdowns (two passing and one rushing).  In their second Super Bowl appearance, once again against San Francisco they were a six-point underdog in Super Bowl XXIII and ultimately losing 20-16.  Boomer Esiason, the 1988 NFL MVP did not have the best game as the threw for 144 yards and an interception.
Joe Burrow Super Bowl 56 MVP Odds
Cincinnati quarterback, Joe Burrow has been phenomenal this season in leading the Bengals to the AFC North title and now one win away from a Super Bowl championship.  It's almost been forgotten that he was coming off a catastrophic knee injury last season.  In his "comeback" season, after suffering a torn ACL and MCL, as well as PCL and meniscus damage that ended his 2020 season, the Bengals second year signal caller has set the Cincinnati single-season franchise record for passing yards (4,616), touchdowns (34) and passer rating (108.3).  At 70.4, the first overall pick in 2020, led the NFL in completion percentage.  Dating back to his days at LSU, the young quarterback is 7-0 in his career in postseason games.  With 842 passing yards these playoffs, Burrow passes Ken Anderson (653 in 1981) with the most passing yards in a single postseason in Cincinnati's history.  Including the playoffs, Burrow has thrown at least two touchdown passes in 13 games this year, the most in a season in Cincinnati Bengals history.  The Bengals number 9 is +225 to win the Super Bowl MVP, if Cincinnati pulls the upset, I'd be stunned if he wasn't the MVP of the game.  While his numbers in the playoffs aren't as impressive as Stafford, Burrow has thrown for either 300 yards or two touchdowns in each of his three playoff games this year.
Due to a porous offensive line, he has been sacked 51 times in the regular season; 12 times during the three playoff games this campaign.  The Rams' defense was third in the NFL during the regular season with 50 quarterback sacks.  The Bengals must keep Burrow upright and keep him off his back.  Cincinnati is 7-0 when their star quarterback is sacked fewer than three times in a game including playoffs.  While the Bengals field general has managed to get himself off the ground, focus on the next play and stay calm in the pocket, the constant hits can catch up with a quarterback quickly.  I think of Super Bowl XLII, when the New York Giants relentlessly hit Tom Brady and how those hits wore down one of the "coolest" quarterbacks of all-time and Super Bowl 50, in which Von Miller and the Broncos bruised and battered the league MVP Cam Newton.  Cincinnati would be smart to play empty sets, going five-wide and having Burrow get rid of the ball quickly.  The Bengals don't want to play with fire when it comes to the Rams pass rush led by Aaron Donald and Von Miller, MVP of Super Bowl 50.
At 25 years old, Joe Burrow is looking to become one of the youngest quarterbacks to ever win a Super Bowl, behind just Ben Roethlisberger who was 23 when he won Super Bowl XL, Patrick Mahomes beat the San Francisco 49ers in Super Bowl LIV as a 24-year-old and Tom Brady winning his first title over the St. Louis Rams at 24 years old in Super Bowl XXXVI.  If the Bengals do capture their first Super Bowl championship in franchise history, Joe Burrow would be the first number one overall pick to win the Heisman Trophy, National Championship and Super Bowl.
Los Angeles Rams Vs. Cincinnati Bengals Betting Odds