Jake Paul Launching New Micro-Betting Platform Aimed at Gen Z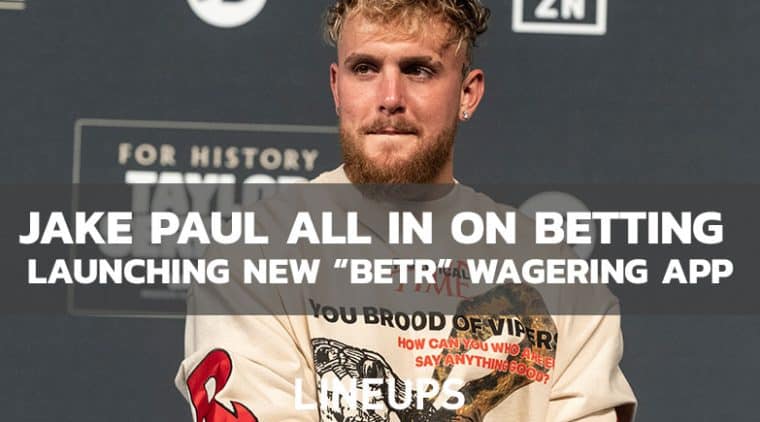 With sports betting becoming much more than just a curiosity in the U.S., plenty of major online sportsbooks have launched in recent years. In addition to some of the big names such as DraftKings Sportsbook and Caesars Sportsbook, plenty of other online betting options have emerged, such as SI Sportsbook, Maxim Bet, and Bally Bet Sportsbook. Well, it looks like that's not going to slow down anytime soon, as another sports betting app with some major backing is planning a big launch in the future. Let's check out the potential for the unique wagering platform Betr.
Jake Paul and Joe Levy Teaming Up For New Online Sportsbook
A new sports betting platform with a new vision is coming soon courtesy of internet celebrity Jake Paul and Simplebet co-founder Joe Levy. Betr Sportsbook will focus more on "micro-betting" than some of the standard full-game wagers you'd expect to see on a mobile sportsbook. Basically, the new betting app will feature wagers on instant outcomes, such as the next play in a football game or the next pitch in a baseball matchup. The platform will utilize Simplebet's technology, which was previously only available business-to-business.
In addition to sports betting, the company will also have its own media releases, such as the new program "BS w/ Jake Paul", which just showcased a preview of the upcoming wagering platform. In a new video posted on the Betr Twitter account, Paul also mentioned the platform will feature online casino gaming. Expect Paul to heavily promote Betr on his various social media accounts, such as his YouTube channel (20.4 million subscribers), Twitter account (4.4 million followers), and TikTok account (16.6 million followers).
WELCOME TO BETR ⚡️ pic.twitter.com/fgijAh3QX8

— betr (@betr) August 8, 2022
When Will Betr Launch?
While "Episode 0" of Jake Paul's show is currently available online, the Betr app is not fully available. You can sign up for early access to the Betr mobile app, which is currently in its beta version. According to Sportico, Betr will begin as a completely free-to-play platform, with plans to be available in every U.S. state.
Currently, no dates have been given for the rollout of either the free-to-play version of Betr or the full online sportsbook. With more states confirming legal betting, such as Ohio (which launches on New Year's Day), Kansas, and now Massachusetts, Betr has the opportunity to compete with some of the top sports betting sites.
I am so excited to publicly announce @betr with @jakepaul today. This company feels like the culmination of my life's work to date — and the beginning of an incredible journey with some amazing people. I wrote about it here. LFG!!!https://t.co/75AWZqyr4X

— Joey Levy (@joeyslevy) August 8, 2022
Betr Attracting Some Big Names
In addition to Jake Paul and Joe Levy, plenty of other major names are involved with the launch of Betr. The Head of Product for the company is Alex Ursa, who previously worked with the majorly successful FanDuel Sportsbook. Additionally, Mike Denevi (formerly of Bleacher Report) is the new Head of Media for the company. And that's not to mention some of the investors that are involved with Betr.
The company has raised a total of $50 million from a variety of current and former athletes such as Ezekiel Elliott, Richard Sherman, Dez Bryant, and Desean Jackson. Additionally, celebrities such as Travis Scott and co-owners of teams like the Mimi Marlins, Boston Celtics, and San Francisco 49ers have invested in the betting company.