Iowa Posts 44.7% Year-Over-Year Growth in Sports Betting in March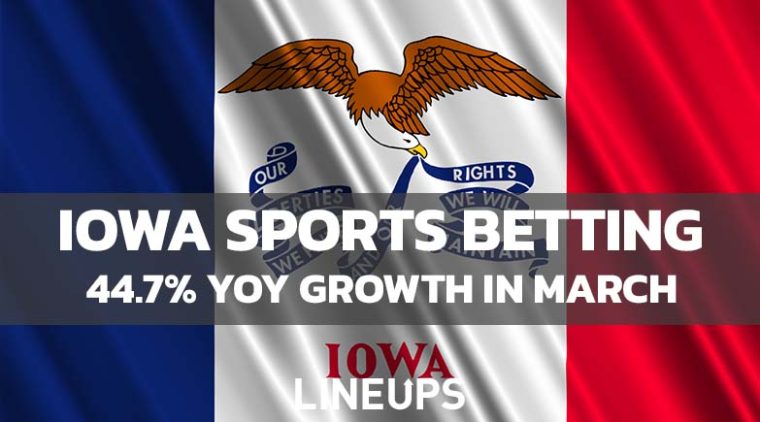 The annual NCAA Men's Basketball Tournament generated tons of sports betting interest this year as it became the most wagered-upon March Madness event of all time. Iowa is one of the first states to report its sports betting financial results from March, and the numbers are highly encouraging as the overall handle grew by a whopping 44.7% year-over-year. As the sports betting landscape continues to shift across the country, Iowa appears to have solidified itself as one of the major markets to watch.
Iowa's March Madness Success
While Iowa's men's basketball program wasn't highly successful in the tournament this year – they lost in the first round to Richmond – that didn't stop sports bettors in the state from continuing to place wagers throughout the tournament. Iowa sports bettors wagered a total of $233.5 million in March, which was an 8.2% increase from $215.9 million in February and a 44.7% increase year-over-year from $161.4 million in March 2021.
Sports betting revenue increased in Iowa as operators collected $14.4 million in gross gaming revenue (GGR). That represented a massive 67.4% increase from February's $8.6 million. Operators saw their hold rate increase from 4.0% in February to 6.2% in March to allow the state to post its second-highest revenue total since the market opened. This past month's revenue was up from $13.5 million in March, which was a record at the time.
Online Far Outpaces Retail Sports Betting
All 19 casinos in Iowa allow retail sports betting in collaboration with a mobile operator, but mobile sports betting still far outpaced retail activity. Iowa's operators collected $208.3 million in wagers online (89.2%) compared to $25.3 million at retail books (10.8%). Sportsbooks generated $12.6 million in GGR from online bets (87.5%) and $1.8 million (12.5%) from retail activity.
DraftKings Leads the Way for the First Time
For the first time since the Iowa market launched, a mobile operator other than William Hill or Caesars generated the most significant handle in a month. DraftKings handled $64.9 million in total wagers (31.1% online market share). DraftKings finished second in revenue with $2.8 million, good for a 4.3% hold rate. Caesars was a distant second in the handle at $49 million.
FanDuel set its all-time high in handle for the state at $47.5 million, pulling close to Caesars, and had the most revenue at over $3.7 million on an impressive 7.8% hold rate. BetMGM topped Caesars in revenue with a 10% hold rate to generate $2.3 million in GGR, narrowly beating Caesars by $90,000.
Caesars had been the leader for quite some time due to the prevalence of its retail locations, as in-person registration had been mandatory through the end of 2020. Caesars is still the only mobile operator in Iowa to surpass $1 billion in total handle, but it handled just $111 million in February and March combined compared to $112.7 million in January.
Diamond Jo Sportsbooks Bounce Back
FanDuel, the mobile operator partnered with Diamond Jo, saw its retail sportsbook in Worth post almost $8 million in wagers for the second time since launch. Meanwhile, the Dubuque location posted a massive 22.7% hold rate to generate $175,000 in GGR on just under $775,000 in bets.
In February, both Diamond Jo Sportsbook locations in Worth and Dubuque posted losses of more than $180,000, primarily due to the Super Bowl. However, both locations bounced back with almost $530,000 in profit in March to help FanDuel generate $3.9 million in revenue from $48.8 million in wagers placed across its mobile and retail books.
Wild Rose Casino Jefferson, partnered with DraftKings, trailed behind Diamond Jo with $1.4 million in GGR on $31.3 million in total handle (4.4% hold rate). Prairie Meadows came in third with $1.09 million in revenue on a $22 million handle.