Iowa Gets a New Sportsbook! ClutchBet Heading To The Hawkeye State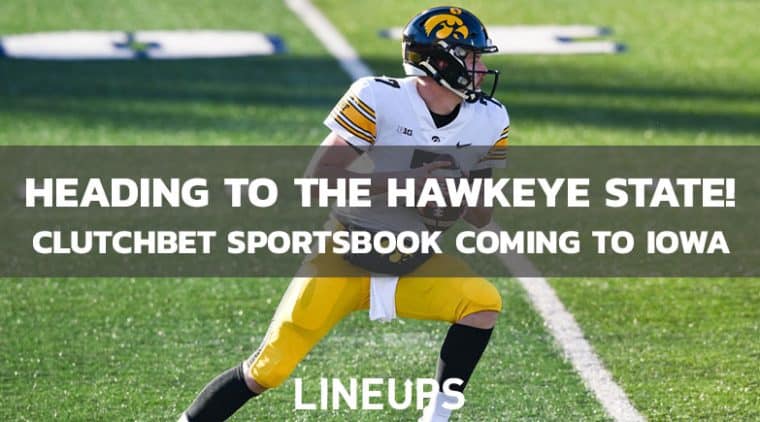 The Iowa sports betting market has been around for years now, and it's been quite popular since launch. The state's sports betting market rolled out in August of 2019, meaning that NFL fans in the state have had three NFL seasons of online sports wagering available. In addition to mobile sports betting, retail sports betting is available at popular casinos such as Hard Rock Sioux City, Wild Rose Jefferson, Isle Casino Waterloo, and Horseshoe Council Bluffs.
Iowa online betting got a major boost beginning in 2021, when in-person sportsbook registration was no longer required. This led to a major $2 billion handle for the year, and with football season kicking off, those numbers should only increase. While Iowa sports bettors already have plenty of sports betting operators available, they just got a brand new betting app available. Here's what you need to know about the upcoming release of Clutchbet Iowa.
ClutchBet Gets The Green Light in Iowa
ClutchBet Sportsbook just found a brand new market. The online sports betting site from BlueBet, an Australian sports betting operator, has been officially approved by the Iowa Racing and Gaming Commission. The process for ClutchBet expanding into the Iowa market started as early as April 2022, when plans were set in motion for BlueBet to unveil its online sportsbook to Iowa bettors.
In addition to Iowa, ClutchBet Sportsbook is also available in Colorado, Indiana, and Louisiana. But, according to Gambling Industry News, the plans for ClutchBet Iowa are a bit different, as the strategy incorporates bringing in partners on the B2B side.
This has been dubbed as the sports betting platform's "Capital Lite" strategy. ClutchBet Sportsbook also has plans to become available in more states, such as Tennessee, Virginia, and Maryland.
ClutchBet, a subsidiary of Australian-based BlueBet, has been approved to launch sports betting in Iowa, joining 17 sportsbooks live now:

Bally Bet
Barstool
Betfred
BetMGM
BetRivers
Betway
Caesars
Circa
DraftKings
DRF
Elite
FanDuel
Fubo
Hard Rock
PointsBet
Q Sportsbook
Unibet

— Ryan Butler (@ButlerBets) August 29, 2022
What Does ClutchBet Sportsbook Bring To The Table?
While it might not have the name recognition of DraftKings or FanDuel, ClutchBet Sportsbook has all the features you'd need from a sports betting app. The layout is on the simpler side, which might be ideal for new users that would prefer not to be overwhelmed with promotions and popups when they open the app.
However, as the app is designed right now, it might not appeal to more experienced sports bettors. The overall list of available sporting events is much smaller than competitors, and there aren't as many options for choices such as the NFL futures market. That being said, sports bettors will likely gravitate towards the ClutchPicks section, which offers unique pre-determined bets every day.
If ClutchBet Sportsbook continues to expand across the U.S., expect the platform to continue adding features and developing its interface.
The countdown is on… ⏳

Sign-up to be notified when ClutchBet launches in your state and to receive the latest news, exclusive offers, promotions and more: https://t.co/ViTU6TvJnn#betting #bettingtwitter #sportsbetting #sportsbettingpicks #iowasports #iowa #smsports pic.twitter.com/PIiVi38mSD

— ClutchBet (@ClutchBetSB) August 11, 2022
Can ClutchBet Sportsbook Iowa Compete?
Time will tell how many sports bettors sign up for ClutchBet Sportsbook once it rolls out in the Hawkeye State. There is definitely plenty of competition, such as DraftKings Sportsbook Iowa, Caesars Sportsbook Iowa, FanDuel Sportsbook Iowa, BetRivers Sportsbook Iowa, and BetMGM Sportsbook Iowa.
However, if the new sports betting site offers a user-friendly welcome bonus around launch, Iowa sports bettors will likely check out ClutchBet Sportsbook, especially as the Iowa Hawkeyes and Iowa State Cyclones kick off their seasons.