Indiana's February Sports Betting Revenue Declines by Over 50%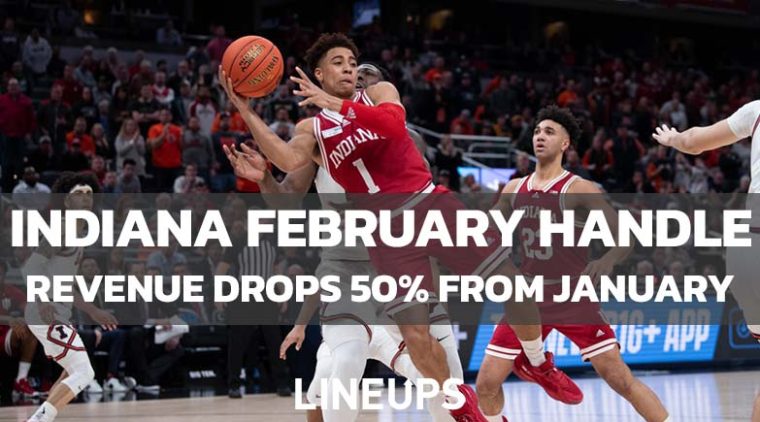 On Friday, the Indiana Gaming Commission (IGC) reported the state's sports betting numbers, and they came in significantly lower than expected. The state's sports betting revenue of about $17 million was just over half of the revenue generated in January. As revenue declines, should sportsbooks be concerned about the long-term volatility of the Indiana market?
Overall Volume Sees Precipitous Drop
In February, Indiana sportsbooks collected just over $409 million in total wagers, a decline of 18.2% from the record-breaking January total of over $500 million. That decline in the handle was partially responsible for the 52.3% loss in February sports betting revenue, as was the fact that January had five full weekends of NFL games.
Indiana's decline in sports betting revenue resulted in just over $1.6 million in taxes, down from $3.38 million in January. Still, Indiana became the eighth state in the post-PASPA era to generate over $50 million in taxes from sports betting, joining Pennsylvania, New Jersey, Illinois, New York, Nevada, Oregon, and Tennessee.
Hold Rate Much Lower – Bengals to Blame?
Indiana's hold rate was curiously much lower than in prior months as sportsbooks held just 4.1% of the total handle, the lowest rate the state has posted since launching its legal online sports betting market. With over $5 million in promotional spending, Indiana's hold rate is now 5.78% for 2022 as a whole, down from 7.44% over 2021.
Indiana's sportsbooks collected $30 million in wagers in football in February, an overwhelming amount of which were on Super Bowl LVI. A large chunk of those wagers was presumably placed on the Cincinnati Bengals, who lost the game but covered the spread. There has been speculation that a high number of Bengals fans from Ohio and Kentucky traveled to neighboring Indiana to place legal bets on the game.
Year-Over-Year Growth Still Impressive
While February was defined by a decline in numbers from January, it's worth noting that the state has still seen impressive growth over the past year. In February 2021, Indiana posted a handle of $273.9 million, almost 50% less than the February 2022 total. However, February 2021 saw the state's operators post an impressive 6.2% hold rate compared to 4.1% in February 2022, so the collected revenue and total state taxes were about the same year-over-year.
DraftKings Takes First Place Again
After losing out to FanDuel for first place in the Indiana market in each of the final months of 2021, DraftKings has now posted back-to-back months to start 2022, in which it has been the highest-volume sportsbook. DraftKings collected $127.4 million in total wagers in February and posted $7.35 million in gross revenue. FanDuel trailed behind with $108 million in total handle and $4.9 million in gross revenue. DraftKings and FanDuel represented over 57% of the state's total handle and over 55% of the state's total gross revenue.
What to Expect From March Numbers
March Madness is right around the corner, and basketball is a highly popular sport to bet on in Indiana, with the highest total handle in the state of any sport since December. In February, basketball represented $201.9 million in wagers, just under half of the total volume. March is expected to be a huge month for basketball in Indiana. Programs such as Indiana University, Notre Dame, and Purdue are set for successful runs in the NCAA Tournament, and Indiana's sports betting market should benefit tremendously.
In March 2021, Indiana generated $316.7 million in total handle, but with a stellar 8.3% hold rate, it generated $26.3 million in revenue and $2.5 million in taxes. The market has grown tremendously since that point, and the March Madness boom should help Indiana post great sports betting numbers this month despite the loss of football as a key piece of the market.