Indiana March Handle Hits $476 Million As FanDuel Beats DraftKings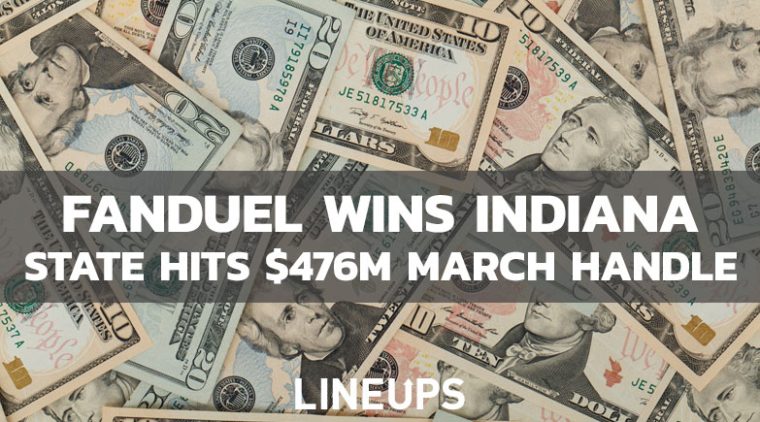 There is no shortage of competition in the world of sports betting. In recent years, BetMGM Sportsbook, Caesars Sportsbook, BetRivers Sportsbook, and PointsBet Sportsbook have all gained a wide variety of fans across the U.S. and now Ontario. And those are just a few of the available sports betting platforms, as SI Sportsbook, WynnBET Sportsbook, MaximBet Sportsbook, and many more have entered the crowded wagering market. However, two of the most popular betting platforms have been DraftKings Sportsbook and FanDuel Sportsbook for years. Both names originated in daily fantasy sports, although have since grown into massive sportsbooks as well as online casinos available in numerous states. Well, the fierce competition between the two is still going strong as evidenced by the Indiana betting handle for March. Here's what you need to know about the new top sportsbook in Indiana.
Indiana Sports Betting Handles Hits $476 Million
March was a great month for sports bettors. Between the final full month of the NBA season, the ongoing action in the NHL, and of course March Madness, the month is an absolute treat for sports bettors. Well, Indiana bettors certainly kept up with the different events, as seen by the massive handle. According to Gambling.com, March saw Indiana bettors place a total of $476.8 million. This was a big jump from the relatively disappointing February number, with a 16.5% increase from February's $316.7 million handle.
As you'd expect, online sports betting was the big focus for bettors in the state. March saw a total of $446.7 million in online sports bets, another sharp increase from February. Additionally, this is over 50% more than March 2021's online sports betting numbers, which saw Indiana bettors place $286.8 million online. However, the revenue numbers might be the most interesting jump. March 2022 showed a total $32.3 million in sports betting revenue, up a massive 90.3% from the previous month.
FanDuel Wins March, Ending DraftKings' Winning Streak
While we now know the big Indiana sports betting numbers, who was taking the most money over March? Well, according to SportsHandle, FanDuel won the month, ending a major streak by rival DraftKings. Indiana sports betting had been dominated by DraftKings Sportsbook for 30 straight months, with the sportsbook seeing the highest handle each month. However, that streak has been finally ended by FanDuel Indiana, with a $143.2 million handle beating out DraftKings at $139.6 million.
Quick History of Indiana Sports Betting
Indiana sports betting officially launched on September 1st, 2019. One of the big supporters of legal wagering, Governor Eric Holcomb, placed the very first bets in the state. Before long, tons of different sportsbooks were available in the Hoosier State. Some of the first to expand into Indiana were the top competitors in FanDuel Sportsbook and DraftKings Sportsbook, as well as BetRivers Sportsbook. However, BetMGM, Caesars, PointsBet, Betway, and Unibet have also moved into the state, giving bettors plenty of different options.