Illinois Sports Betting Handle Nearly Eclipses That of NJ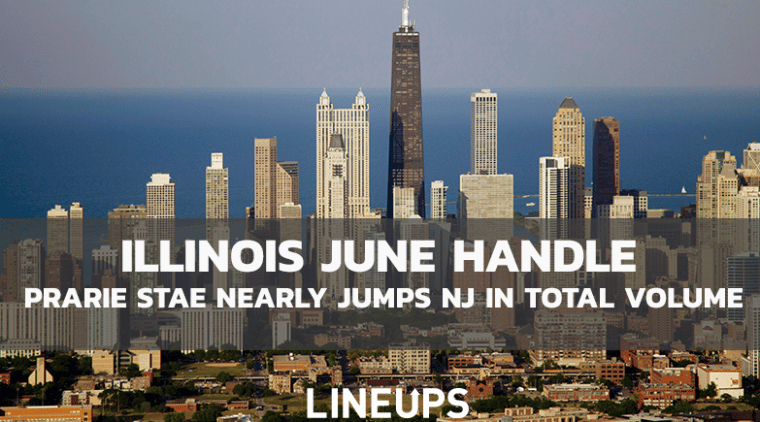 June Revenue Reports
The Illinois Gaming Board released June's sports wagering revenue reports, which revealed a $628.5 million handle for the month, narrowly missing the second place spot for highest handle, nationally. It fell behind New York, which is in a league of its own at $1.06 billion for June, and New Jersey at $633.2 million. Still, it widened the gap between itself and the next highest handle that came from Nevada and fell around $490.4 million for the month of June. So far in 2022, Illinois is fourth in total handle with Nevada narrowly ahead of them. 
The overall handle is down from the month of May, which posted an impressive $764.6 million handle, just $1.8 million behind New Jersey. However, compared with last year's June revenue reports, this year showed a 70.3% increase in its monthly handle. 
Of the $628.5 million in total handle, $604.65 million was from mobile wagering and $23.69 million came from retail sportsbooks. Operators took home about $40.9 million in revenue, equating to a 6.5% hold rate, which is quite a dip for the state as the last two months have produced hold rates of at least 8.4% for Illinois operators.
Concurrently, operators retained about $40.9 million in revenue,  roughly $26.6 million less than they took home in May. All of this left the state with about $6.1 million in tax revenue in the month of June, contributing to its 2022 total of around $51 million. Interestingly enough, the state has collected $26 million of that $51 million in tax money from parlay bets alone. 
FanDuel Stays First
FanDuel led the pack in June for both mobile sports wagering, having totaled a $201.64 million handle which led to $16.62 million in revenue and the highest win rate of all operators at 8.24%. It hit a memorable milestone as it became the second operator in Illinois to break the $4 billion all-time handle threshold, alongside DraftKings.
DraftKings, the state's second biggest operator, took $183.19 million in bets in June and took home just shy of $9 million in revenue. There is a large jump between the first and second place and the third spot, as BetRivers came in third with a $60.88 million handle for June. Following BetRivers was PointsBet who broke the $1 billion all-time handle barrier, BetMGM, Barstool, then Caesars. 
By The Sport
Unsurprisingly, baseball was the most popular sport to bet on in June as $222.45 million of the total handle was bet on baseball. There's a very large gap in between baseball and the next most-popular sports to bet on, which was tennis in June. Tennis wagers tallied a handle of about $86.8 million followed by basketball at $68.63 million.
The state's parlay handle was quite impressive as well, accounting for $140.2 million of the state's total handle. FanDuel covered nearly half of that as the operator posted a $62.2 million parlay handle. 
Illinois, which permits betting on college sports, took in just $3.37 million on college sports in June compared to their professional sports betting handle which unsurprisingly made up the lion's share of the handle at $624 million. However, this gap will likely shrink at least a little bit in the coming months as college football is just around the corner.