Illinois Sets New Record with $78.2 Million in November Sports Betting Revenue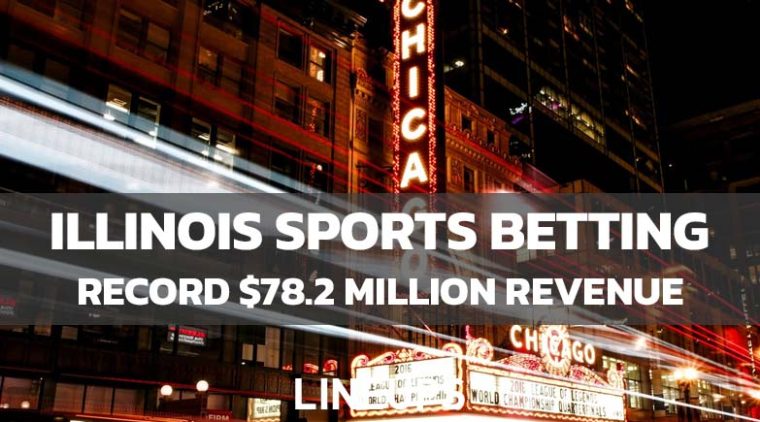 Illinois sports teams may not be on top of the world at the moment, but that hasn't mattered for the state's sports betting industry's continued growth. Illinois shattered its revenue record in November with $779.8 million in total wagers generating $78.2 million in revenue, according to a report from the Illinois Gaming Board. The 10% hold rate reported in November was close to an all-time high for the state – it had a 10.1% hold rate in June and July 2021 – but it was the first time the state had surpassed $50 million in revenue. There are strong indicators that growth in the sports betting market in Illinois may not be done.
Trends Suggest Further Growth on the Horizon
Illinois saw its handle decrease by about 7.2% from October's record-setting $840.4 million in total sports bets, but revenue increased by about 61.9% compared to $48.3 million in October. Year-over-year, Illinois saw its handle increase by about 72.9%, from $451 million in November 2020. Illinois also collected a record-high $12.7 million in tax receipts from sports betting – that's almost twice the $6.6 million collected in taxes in November 2020.
Illinois is planning to suspend its current in-person registration requirement for sportsbooks in March, which would open the market to a wide range of people who don't currently have access. The added convenience of not needing to drive multiple hours to set up an account with a particular sportsbook will help boost further growth in the state.
Most Popular Sports and Types of Wagers
The Illinois Gaming Board splits up its wagers into two tiers; tier one bets include wagers on final match results, including the spread or money line, while tier two bets include prop bets or the over/under. Tier one bets represented $466.4 million in total wagers, while Illinois generated $313.4 million in tier two bets in November.
Parlays were expectedly the most profitable type of wager for sportsbooks as over $44 million of November's revenue (56%) came from parlay bets. Bettors wagered over $166 million on parlays, and sportsbooks had an incredible 26.5% hold rate on those bets. Football was the most popular sport, accounting for over $21 million in revenue.
Most Popular Sportsbooks
Despite the burdensome in-person registration requirement, online sports betting far outpaced retail sports betting in Illinois, and online betting revenue amounted to $74.3 million compared to about $4 million for retail revenue. DraftKings led the online market with a staggering $288.7 million handle (37% market share) and $21.9 million in revenue on a 7.6% hold rate. However, FanDuel outpaced DraftKings in terms of revenue as it generated $30.2 million in profit on the strength of a 14% hold rate.
What Comes Next for Illinois?
As mentioned, Governor JB Pritzker has signed legislation that will allow the in-person registration requirement to end on March 5, which will likely foster further growth in the state's sports betting market. In addition, that legislation allows individuals in Illinois to place wagers on in-state colleges, which is not currently available. The Chicago City Council also voted on December 10 to allow professional sports stadiums to launch their own sportsbooks – the Chicago Cubs are "ready to go," according to Chairman Rob Ricketts.
It's an exciting time for Illinois sports bettors, and we have you covered with the latest news and updates on which sportsbooks are available, and the best sign-up bonus offers in the market. Check out our official Illinois sports betting page for more information.