Illinois Joins Top Three States in Sports Betting Handle Through April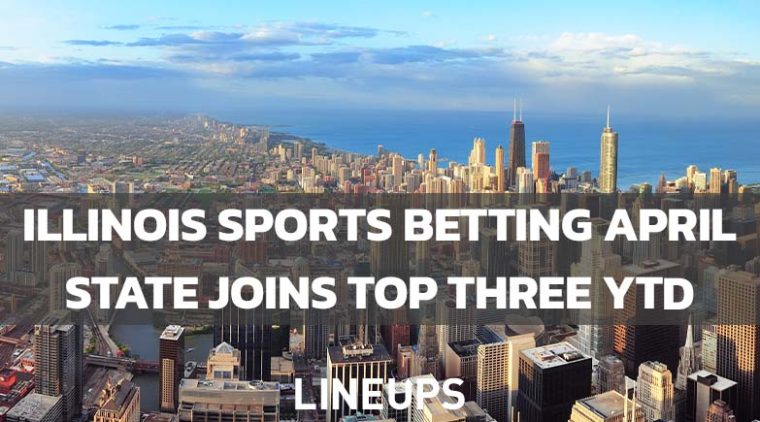 On Wednesday, Illinois finally became the last state to report sports betting numbers for the month of April. The state saw its bettors wager over $839 million on sports through April, an impressive total but still a 14% drop from the record-breaking $971 million handle in March. While betting across the country will slow down until the NFL returns in the fall, Illinois is maintaining an incredible pace in its year-to-date numbers.
Illinois April Handle
Illinois saw a vast majority of its wagering activity come from online bets as online sportsbooks collected $810 million in bets for the month, representing over 96% of the total handle. That handle generated about $68 million in revenue and $11 million in taxes for the month. Illinois generated $60.6 million in revenue overall in March, so April generated more revenue despite the smaller overall handle. April's hold rate came in at 8.1%, the largest since November 2021.
Illinois saw its total 2022 year-to-date sports betting handle reach $3.36 billion as of April, putting it inside the country's top three. New York is at $6.26 billion, and New Jersey is at $4.38 billion in total sports bets through April, but no other state has more than Illinois as it surpassed Nevada's $3.33 billion. Pennsylvania rounds out the top five with $2.68 billion.
Running Top 10 #SportsBetting handles 2022 YTD by state (April in CAPS): 👀👀👀

1 NEW YORK $6.26B
2 NEW JERSEY $4.38B
3 ILLINOIS $3.36B <—NEW
4 NEVADA $3.33B
5 PENNSYLVANIA $2.68B
6 COLORADO $1.91B
7 MICHIGAN $1.83B
8 VIRGINIA $1.76B
9 INDIANA $1.75B
10 TENNESSEE $1.362B

— Chris Altruda (@AlTruda73) June 8, 2022
FanDuel and DraftKings Dominate the Market
In April, FanDuel continued to extend its lead in the state as its Fairmont Park license generated $287.9 million in total wagers and $33.4 million in revenue on an 11.6% hold rate, all of which led the market. DraftKings came in second through its Casino Queen East St. Louis license with $217.7 million in total wagers accounting for $14.2 million in revenue on a 6.5% hold rate. DraftKings accounted for $2.4 million in taxes.
FanDuel and DraftKings accounted for over $500 million in wagers, 60% of the total handle in Illinois, and about 69% of the total revenue. The two sportsbooks paid a combined $7.8 million in taxes for the month, while only two other operators were over the $1 million threshold. BetRivers was the only other sportsbook in the nine-figure threshold for the handle, with $105.9 million in total wagers in April.
Basketball Leads April Betting
Basketball was by far the most popular sport for wagering in April, with the NCAA Championship and the NBA Playoffs among the biggest attractions of the month. Bettors totaled almost $300 million in wagers on basketball in April, with baseball the next popular sport at under $136 million. The following is the breakdown of where the handle was split among various sports:
Basketball: $291.6 million
Parlays: $190.2 million
Baseball: $135.5 million
Tennis: $64.8 million
Hockey: $39.9 million
End of In-Person Requirement Changes Market
On March 5, Illinois ended its previous in-person registration requirement, which was unique in the country. Governor J.B. Pritzker had lifted the requirement during the summer of 2020 during the peak of COVID-19 with an emergency order, but it was later reinstated. On October 28, 2021, House Bill 3136 was passed in the Illinois General Assembly with amendments and updates regarding the beginning of remote registration, among other things.
While the market still won't reach peak levels until the fall when football returns, the introduction of remote registration has made online sports betting much more accessible across the state. Illinois isn't going anywhere as one of the top sports betting markets in the country, and it looks poised to break state records later this year.