Illinois Generates $286.2 Million in March Madness Sports Betting, Up 62% Year-Over-Year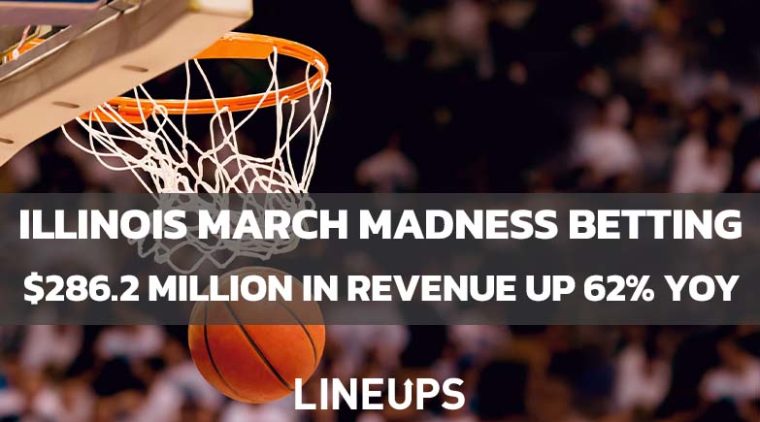 March was an eventful month of sports betting across the country as this year's men's and women's NCAA Basketball tournaments garnered more wagers than ever before. That was true in Illinois, as the tournaments represented one of the most prominent sports betting events ever in the state. With remote registration also in full force as of early March, Illinois had a very successful sports betting month.
Remote Registration Begins in Illinois
On March 5, Illinois lifted its restriction that required prospective bettors to register for new accounts with operators at in-person sportsbooks. With some brick-and-mortar locations several hours of driving distance away, bettors were limited to certain sportsbooks with nearby retail locations. The COVID-19 pandemic allowed Governor JB Pritzker to issue emergency orders allowing for remote registration from June 2020 to March 2021, and legislation passed late in 2021 to set March 5, 2022, as the start of full remote registration.
March Madness Betting Surges
As sports betting becomes more universal across the country, interest has spiked in betting on the March Madness tournaments. The Illinois Gaming Board reported a handle of $286.2 million across the NCAA men's and women's basketball tournaments, representing a massive 61.9% increase year-over-year from $177 million (including five of the state's six mobile operators at the time).
Bettors performed much better this year than last as they limited operators to a 5.2% win rate with $14.3 million in revenue. In 2021, operators collected $14.8 million in revenue on that $177 handle, representing an 8.3% win rate. Illinois taxes adjusted revenue at a 15% rate, so it collected $2.1 million in taxes this year compared to over $2.2 million last year.
Breakdown of Betting by Operator
The following is a breakdown of the NCAA basketball handle and revenue by operator via IGB:
DraftKings Sportsbook: $102.76 million handle, $1.78 million revenue, 1.7% hold rate
FanDuel Sportsbook: $71.78 million handle, $3.13 million revenue, 4.3% hold rate
PointsBet Sportsbook: $26.82 million handle, $5.69 million revenue, 21.2% hold rate
BetRivers Sportsbook: $25.7 million handle, $2.03 million revenue, 7.9% hold rate
Barstool Sportsbook: $22.48 million handle, -$6,829 revenue
BetMGM Sportsbook: $13.42 million handle, $704,000 revenue, 3.1% hold rate
Caesars Sportsbook: $11.44 million handle, $701,100 revenue, 6.1% hold rate
PointsBet's Massive Success
As you can see from that list above, PointsBet generated more revenue than any other sportsbook in Illinois on March Madness wagering. It did so on a notably smaller handle than the top two operators in FanDuel and DraftKings. For comparison, a 21.2% hold rate is almost three times as large as Illinois's statewide all-time hold rate of 7.2% on sports betting.
DraftKings was the only mobile operator to clear $100 million in handle, while FanDuel trailed behind in second place with $71.8 million in total wagers. Rivers Casino in Des Plaines, the retail sportsbook partnered with BetRivers, led all retail books with $3 million in wagers. Barstool Sportsbook was the fifth operator to clear $20 million in online handle, but it lost money overall in tournament wagering.
BetMGM Joins the Party
On March 5, BetMGM made its debut in Illinois, the same day that remote registration went live. While it didn't gain on the top operators in the state, BetMGM's debut was successful, and it should emerge as one of the top platforms for sports betting in due time. In its first month of operation, the sportsbook generated $13.42 million across the men's and women's tournaments.