Illegal Sports Betting Ring Busted in California, former MLB Players Implicated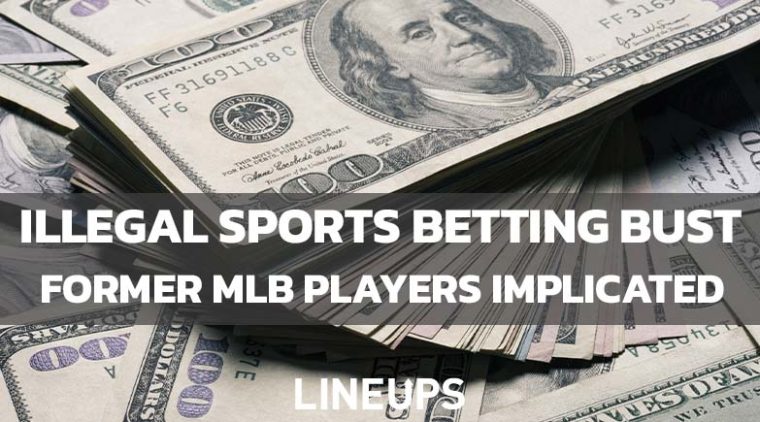 On Wednesday, federal authorities released details of a multimillion-dollar illegal sports betting ring with several current and former professional athletes and a sports broadcaster implicated. The sports betting ring was located in California and Costa Rica and had been operational for over 20 years. The sports betting ring operated through the online website Sand Island Sports.
Former Athletes Plead Guilty
According to the federal documents, the following men pleaded guilty to multiple federal charges:
Wayne Nix, 45, Newport Coast
Edon Kagasoff, 44, Lake Forest
Howard Miller, 63, Gardena
Kenneth Arsenian, 52, Newport Beach
Joseph Castelao, 56, Rancho Palos Verdes
The following is a list of the charges that the defendants are facing in their plea agreements:
Conspiring to operate an illegal sports gambling business
Aiding and abetting the operation of an illegal sports gambling business
Operating an illegal sports gambling business
Accepting a financial instrument for unlawful internet gambling
Filing a false tax return
Money laundering
Failing to maintain an effective money laundering program
Celebrity Financial LLC Implicated in Laundering
Celebrity Financial LLC, a check-cashing business in Sheman Oaks, California, was also implicated in the illegal activity. Celebrity Financial LLC operated as Sherman Oaks Check Cashing and had failed to implement its anti-money laundering program. It had cashed at least $18 million in bets from the illegal gambling business.
According to the DOJ press release, the company "admitted it encouraged customers to bring large business checks – far in excess of the $10,000 that normally triggers a Currency Transaction Report (CTR) to federal authorities – and employees of the company told customers it would not file CTRs."
Wayne Nix Faces 8 Years in Jail
Wayne Nix, a former minor league pitcher for Oakland Athletics farm teams, plead guilty to multiple federal charges, including conspiracy to operate an illegal gambling business. According to federal prosecutors, Nix began operating Sand Island Sports in 2002 and used his Major League Baseball connections to recruit three former MLB players and a former professional football player as bookies and agents who recruited bettors to the shop.
In 2016, a professional football player paid Nix $245,000 for gambling losses, and an MLB coach paid $4,000 for losses. In 2019, Nix agreed to reactivate the sports betting account of a sports broadcaster who owed significant debts and had refinanced his home mortgage to pay off those outstanding debts. Also, in 2019, Nix took a $5 million bet on the Super Bowl and negotiated $25,000 limits for the business manager of a professional NBA player who wagered on NBA games.
As part of his guilty plea, Nix admitted to gross revenue of "well over $2,000 per day" through the sports betting ring. His financial penalties will include over $1.2 million in back taxes and $1.3 million in forfeited assets from previous federal seizures. The federal documents show that Nix filed false tax returns in 2017 and 2018, leaving out almost $1.5 million in income.
Future Implications
With such a large volume of illegal sports betting activity in California, it's worth wondering whether or not this ring being busted will put any more pressure on California legislators. While states across the country have begun progressing toward the legalization of sports betting markets, California has been behind the 8-ball without much in the way of concrete progress. With a population of almost 40 million, the most in the country, California has the potential to quickly become the most lucrative legal sports betting market in the coming years.
The news of this sports betting ring being busted open comes just a few weeks after Falcons' wide receiver Calvin Ridley was suspended from the NFL for a year for placing wagers on NFL games, including his own team's games. As sports betting becomes more available across the United States, there will continue to be significant pressure on professional leagues to monitor their own former and current players in potential illegal gambling activity.
In this case, the MLB was reportedly unaware of this matter before the federal report on Wednesday, and their own ability to monitor these issues may fall into question. With professional leagues expanding partnerships with sports betting brands, there has never been more risk of problems with integrity, cheating, and illegal activity. We likely continue to see stories like this one break as a result.