How Twitter Is Driving U.S. Sports Betting Growth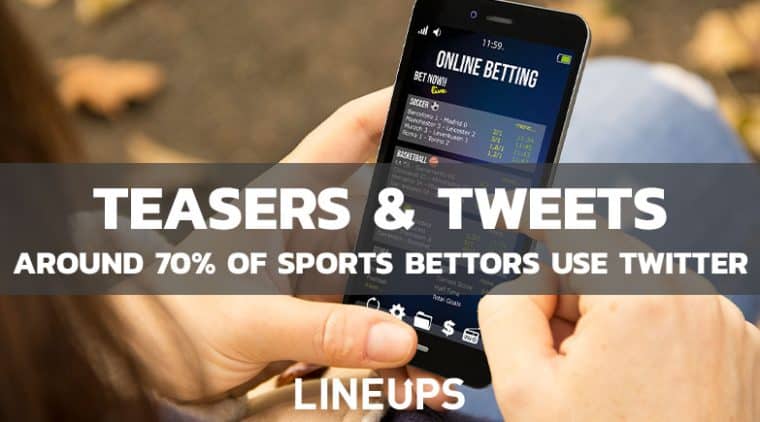 Although many factors have contributed to the growth of sports betting in the United States, Twitter has emerged as one of the most interesting components. The social media platform has always been major for the sports media world as a way to track breaking news and interact with fellow fans.
However, with sports betting legalization growing across the country, Twitter has also become a major tool for bettors. Let's take a look at just how involved sports bettors are with the social media site.
New Study Suggests Sports Betting Twitter Is Massive
While it shouldn't come as a surprise that Twitter is popular with the sports gambling community, the data on the subject is quite interesting. Thanks to some new data released by Twitter Insider Studies, we now know that the majority of sports bettors engage with Twitter in one way or another.
According to the data, 70% of sports gamblers actively use the social media app in order to keep up with news or follow different users for additional tips and information. In fact, the study also reveals that four out of ten sports bettors use the site as a main source for sports betting information.
The reported data also revealed that only 15% of sports bettors have absolutely no engagement with Twitter. With the availability of sports betting increasing across the country, as well as the kickoff of the ever-popular football season, it will be interesting to see how these numbers change in the coming months.
Twitter is the home of sports betting conversation — featuring the latest info, player insights, and game analysis.

Football season is here, so learn how sports bettors rely on Twitter to (hopefully) win big — and how you can engage these valuable bettors on the timeline. 🧵 pic.twitter.com/asj48WRxqM

— Twitter Marketing (@TwitterMktg) September 8, 2022
Social Media Engagement Also Increases Betting Action
Just as Twitter users actively use the platform to stay informed, more casual users see it as extra motivation to place wagers. In fact, 65% of bettors from the Twitter Insider Studies data admit to placing wagers after seeing the social media hype on certain games. This isn't terribly surprising, as major events such as the Super Bowl and NBA Finals are commonly discussed on Twitter and other major social media sites.
According to Gambling News, this is also a factor in different sportsbooks increasing social media presence, as seen with big names such as FanDuel Sportsbook, BetMGM Sportsbook, DraftKings Sportsbook, and Barstool Sportsbook.
The NFL to everyone today: pic.twitter.com/z5sxt9V3NF

— BetMGM 🦁 (@BetMGM) September 8, 2022
Sports Betting Legislation Continues Expansion
Considering Twitter has approximately 400 million users, it comes as no shock that it's so commonly used in the sports wagering community. However, legal sports betting isn't available all across the country, although more and more areas are beginning to legalize.
In the past year alone, New York, Louisiana, Kansas, and Ontario all launched sports wagering markets, bringing in some of the biggest names in mobile sports betting. Additionally, Arizona rolled out legal sports betting on the day of last year's NFL season kickoff game between the Tampa Bay Buccaneers and Dallas Cowboys.
Plus, even more states are going to have sports betting available sooner rather than later. Ohio is the next area prepared to fully allow online sports betting, with the state launching on January 1st, 2023.
Maryland is hoping to have fully available online sports betting soon as the state has just begun accepting license applications from different entities. And Massachusetts just legalized sports wagering last year with a signature from Governor Charlie Baker, with hopes that the launch process can be expedited.