How to Get Free FuboTV: Full Month Free + More (April Update)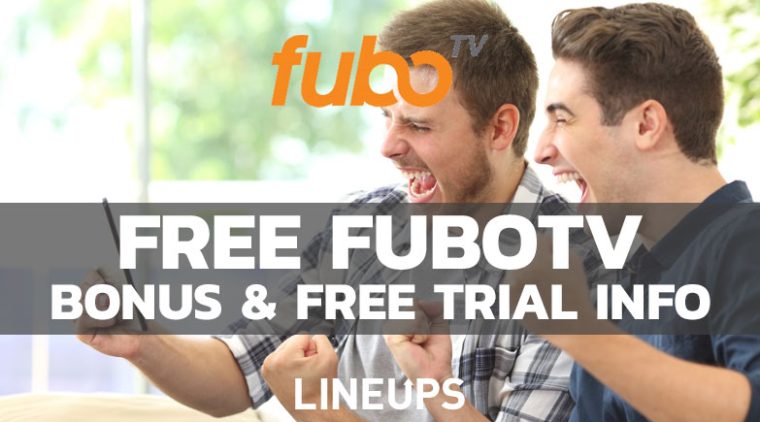 How to Get FuboTV Month Free
FuboTV is one of the best live TV streaming platforms for sports fans with 100+ channels including several sports options live and on-demand. FuboTV also has 4K streaming options which provide some of the highest-quality viewing opportunities. Sports channels range across NFL, MLB, PGA, NASCAR, and tons of international soccer. With the perfect mix of sports and entertainment, FuboTV is consistently one of the best options available for streaming.
You can access a free month of access to FuboTV by signing up for the Fubo Sportsbook with the Fubo Sportsbook promo code . In addition to a month free, you receive a $1000 risk-free bet for the sportsbook. Fubo Sportsbook is now available in Arizona & Iowa, with more markets on the way. The integration between live streaming and sports betting makes Fubo an incredibly unique platform. With the $1,000+ welcome offer in addition to free live streaming for a month across tons of sports channels, the Fubo Sportsbook Bonus may be the best in the industry.
FuboTV Offers Non-Sportsbook States
Fubo Sportsbook is currently only available in Arizona and Iowa, but FuboTV is available across the country. While you can't utilize the Fubo Sportsbook Bonus Code to sign up for FuboTV outside of those states, you can still access a one-week free trial for the FuboTV platform. FuboTV offers an immersive membership-based streaming service with customizable options for access to a wide range of sports events. Noted as the "best streaming service for sports" by Reviews.org in 2021, we highly recommend FuboTV to any sports fan looking to boost their live streaming experience.
FuboTV Offerings
FuboTV is a highly customizable platform with tons of great options whether you're a massive sports fan or looking to enjoy other types of live entertainment. The FuboTV app is easily downloadable for free across all of your devices, allowing you to watch what you want when you want. Currently, the devices with compatibility with FuboTV include Amazon Fire, Apple TV, Chromecast, Roku, Xbox, and various Smart TVs.
FuboTV offers a wide range of sports including domestic professional leagues like the NBA, NFL, NHL, and MLB as well as a wide range of international sports, specifically soccer. If you're a big fan of international soccer, FuboTV will likely be one of the best options for you to consider. FuboTV networks broadcast La Liga, Premier League, UEFA Champions League, MLS, Ligue 1, Liga MX, Serie A, and many other leagues and tournaments.
In addition to FuboTV's expansive sports offerings, you can also watch a wide range of entertainment live and on-demand. FuboTV offers some of the most popular shows on television currently including 60 Minutes, Yellowstone, The Voice, The Walking Dead, NCIS, The Masked Singer, Dancing With The Stars, Saturday Night Live, Keeping up with the Kardashians, Chopped, The Simpsons, and much much more.
Fubo Sportsbook Overview
Fubo Sportsbook has consistently garnered some of the best reviews in the sports betting industry despite being relatively new to the space. The mobile application currently has an average rating of 4.4 out of 5 stars on the Apple Store. Customers have raved about the intuitiveness of the user interface and the integration between sports betting and live streaming. The Fubo Sportsbook platform makes the entire process easy from signing up to depositing money to placing your first bet.
The Fubo Sportsbook mobile application feels like a seamless extension of the user-friendly desktop site. It's incredibly easy to access the menu on both platforms and find the sport and market you'd like to wager on. Fubo Sportsbook also makes it easy to locate live betting options for games currently taking place as well as the most popular wagers for the biggest events. The cross-compatibility between the mobile application and desktop platform is highly beneficial for new users.
Fubo Sportsbook offers a wide range of options for the big four sports in North America including football, basketball, baseball, and hockey. It also offers some of the most immersive wagering options for international sports such as soccer. With a wide range of soccer leagues and tournaments available for streaming, the live betting options for soccer are a huge plus.
While Fubo doesn't quite measure up to more popular national sportsbooks in terms of ongoing promotions, it has consistently been rolling out more options in this regard. Fubo's $2 MLB Mondays are highly popular as users can receive $2 in bonus funds for every home run hit in a Monday MLB game after they make an over/under bet worth $20. Partnerships with the NBA will also allow for unique promotions.
Fubo Sportsbook FAQ
What is the best sign-up offer for FuboTV?
What devices can I watch FuboTV on?
Does FuboTV offer recording for live programs?
How much does FuboTV cost per month?
Can I watch live soccer with FuboTV?
What is the best sign-up offer for FuboTV?
Using our Fubo Sportsbook Promo Code "LINEUPS", you can access a full month for free with FuboTV when you sign up for an account with Fubo Sportsbook. That offer comes in addition to the $1,000 risk-free bet at sign-up. If you are in a market where Fubo Sportsbook has not been launched, you can access a free week with FuboTV.
What devices can I watch FuboTV on?
FuboTV is available across a wide range of devices, allowing you to watch your favorite sports and entertainment programs from anywhere. If you have a Smart TV, you will likely be able to access FuboTV, or you can do so through an Apple TV, Amazon Fire TV, Chromecast, Roku, and more.
Does FuboTV offer recording for live programs?
Yes, every FuboTV account comes with up to 250 hours of Cloud DVR space at no extra charge which allows you to record and watch your favorite programs from any device. Your recordings will never expire. You can also access a wide range of shows On Demand.
How much does FuboTV cost per month?
FuboTV is very affordable compared to the other live streaming options available in the market. The Pro plan costs $69.99 per month with 115 channels. From there, you can add channels and jump to the Elite Plan for $79.99 per month. You can also sign up for Latino channels for $32.99 per month.
Can I watch live soccer with FuboTV?
Yes, FuboTV is arguably the best live streaming platform for soccer fans with a huge selection of leagues and tournaments. FuboTV offers live streaming of La Liga, Premier League, UEFA Champions League, MLS, Ligue 1, Liga MX, and Serie A games along with many other events.