Home Run Derby Odds 2022: Alonso & Schwarber Heavy Favorites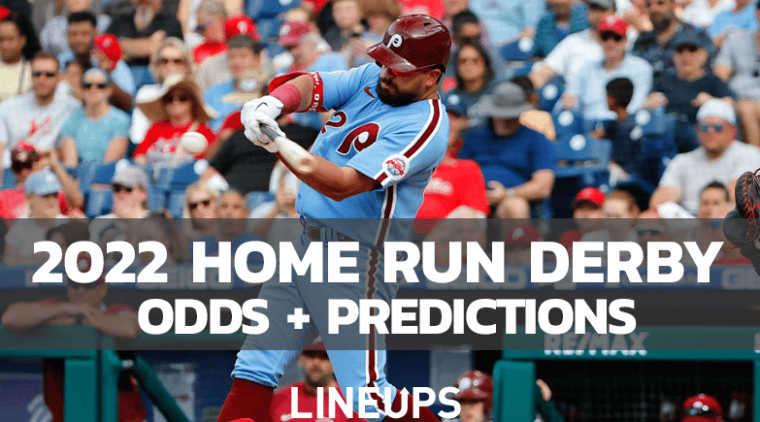 The Home Run Derby is the highlight of the annual all-star festivities for some, and this year the event could see something it's never seen before: a three-peat. Mets first baseman Pete Alonso is aiming to win his third consecutive derby and enters with the best odds to win at +185. Let's take a look at how oddsmakers view the eight hitters heading to LA on Monday.
Home Run Derby Odds
Pete Alonso +200
Kyle Schwarber +330
Juan Soto +600
Ronald Acuna +600
Corey Seager +900
Julio Rodriguez +1000
Jose Ramirez +1600
Albert Pujols +2200
Odds From DraftKings Sportsbook
Alonso leads the way at +185, but Kyle Schwarber isn't far behind. Schwarber, who leads the NL with 29 home runs and nearly won the derby over Bryce Harper in 2018, enters at +290. Juan Soto sits at +650, and winning a Home Run Derby crown might be the best way to divert attention away from his contract situation. Close behind Soto is Ronald Acuna Jr., who is +700 to win after reaching the semifinals of the 2019 Derby.
The most attractive pick outside of the favorites will probably be Mariners rookie Julio Rodriguez. Rodriguez is +950 to win but has been one of baseball's most valuable players since about mid-May. Texas' Corey Seager was the last participant added to the field and sits at +1000 in his former home stadium. Jose Ramirez is +1500 to win despite being an MVP contender. Though he's much more than a home run hitter, he hit two blasts on Saturday.
Albert Pujols has the most distant odds at +2300. The 42-year-old legend is getting a fifth and final chance to win a Home Run Derby, but if he hits anything like he has this season, his chances of winning are even more distant than the odds indicate.
Home Run Derby Round 1 Winner Odds
Pete Alonso -185 Vs. Ronald Acuna +155
Kyle Schwarber -265 Vs. Albert Pujols +220
Juan Soto -180 Vs. Jose Ramirez ++145
Julio Rodriguez -115 Vs. Corey Seager -110
Odds From DraftKings Sportsbook
Player To Hit Longest Home Run Odds
Ronald Acuna +200
Kyle Schwarber +340
Juan Soto +500
Pete Alonso +650
Julio Rodriguez +800
Corey Seager +900
Albert Pujols +1200
Jose Ramirez +1500
Odds From DraftKings Sportsbook
Average Home Run Distance In 2022
(437 ft) Ronald Acuna Jr.
(413 ft) Kyle Schwarber
(410 ft) Juan Soto
(403 ft) Corey Seager
(403 ft) Albert Pujols
(401 ft) Pete Alonso
(400 ft) Julio Rodriguez
(388 ft) Jose Ramirez
Who Has Best Chance To Win The Home Run Derby?
The power duo of Alonso and now-former Mets bench coach Dave Jauss looked unstoppable in last year's Derby. This historically isn't an easy event to predict, but some of the recent outcomes – Aaron Judge winning in 2017, Bryce Harper winning at home in 2018 – have been easy to forecast. Maybe we shouldn't overthink Pete Alonso.
But we will. We have to, because Kyle Schwarber has 18 home runs since the start of June. Schwarber proved in 2018 that he can perform on this stage, and his swing is more geared toward home runs than anyone in this field. Contact isn't Schwarber's strength, but that goes out the window in an event like this.
Does recent performance correlate with Derby performance? Alonso hit 6 home runs in his last 14 games of the first half last year, though he did so while hitting just .200. When he won in 2019, Alonso hit .308 with 11 home runs from June through the all-star break. Aaron Judge was electric throughout the first half before he won in 2017.
If a hot bat has any correlation with the Home Run Derby, it's worth taking a long look at Corey Seager. Seager doesn't have the power hitter reputation Alonso and Schwarber do, but he played parts of seven seasons at Dodger Stadium and just hit 7 home runs in a span of 10 games. With an OPS north of 1.000 over his last 30 games, there's reason to believe in Seager. He also has Derby experience, finishing with the third-highest total in the first round back in 2016 but ultimately losing to Mark Trumbo.
Alonso won as a rookie in 2019. Judge won as a rookie in 2017. That's enough reason to believe Mariners sensation Julio Rodriguez can do it this year. The moment shouldn't be too big for J-Rod, who is hitting .295 with 15 home runs and a .920 OPS since May 15. After failing to hit a home run in April, Rodriguez has 8 home runs in his last 23 games. He's done the homework and figured out major-league pitching, so glorified batting practice might allow him to put on a show.
Take a look at this group's average home run distances if you're wondering why Ronald Acuna Jr. is closer to Alonso than Jose Ramirez at +700 to win. He's only hit 8 home runs in his first 58 games back from a torn ACL, but his blasts haven't been cheap ones. At an average of 437 feet, Acuna's homers have dwarfed even Schwarber's mark. Acuna is also right there alongside Alonso and Rodriguez with a barrel percentage in the 9% range, though all three are far behind Schwarber's 12%. Jose Ramirez has the lowest barrel percentage in the field at 4.9%.
This will be the first Home Run Derby at Dodger Stadium, which is hosting its first All-Star Game since 1980.
My Prediction: Pete Alonso +200 or Ronald Acuna +600
Favorite Longshot: Corey Seager +900