Hard Rock Arizona App Should Be Launching Soon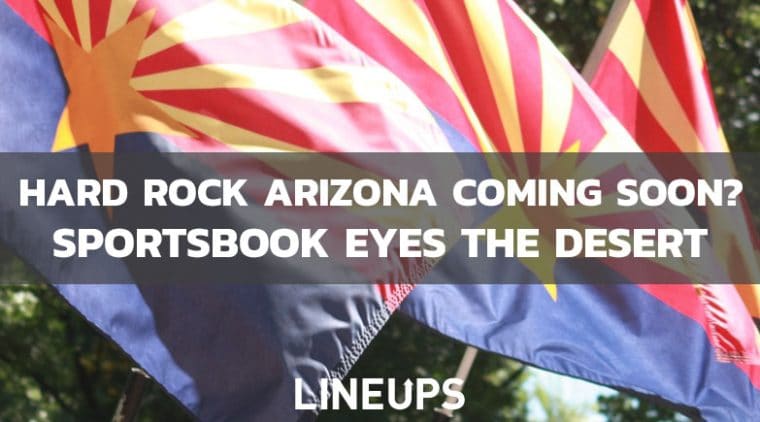 As someone that monitored the launch of Arizona sports betting from the start, it's been extremely interesting to watch the betting market blossom in the state. The fact that legal betting in the Grand Canyon State rolled out on the same day as the kickoff of the NFL season was brilliant, and has led to some major betting handles already. In shortened availability for September of 2021, Arizona saw $291.2 million in betting handle, followed by over $450 million in the following months. Over $1 billion in a handle so soon is definitely something to celebrate. It hasn't hurt that the state is home to numerous sportsbooks, such as DraftKings, FanDuel, BetMGM, BetRivers, and more. Well, you should expect another name to be added to that list soon. Here's everything you need to know about the possible launch of Hard Rock Arizona and the state's sports wagering market.
Hard Rock Arizona App Should Be Coming Soon
If you're looking to try out a new sportsbook in Arizona, you should definitely keep an eye on the launch of the Hard Rock sportsbook. According to GlobalNewsWire, Hard Rock Digital has recently teamed up with the Navajo Nation Gaming Enterprise, meaning the Hard Rock Sportsbook app should be coming soon. The app is already active in both Iowa and New Jersey, two major sports wagering markets. The Navajo Nation Gaming Enterprise (NNGE) is already active in the state, with five total hospitality and gaming locations across Arizona as well as New Mexico.
A Look At The Arizona Sports Betting Market
Considering Arizona has already seen $1 billion in total sports wagering handle thus far, Hard Rock Sportsbook should be able to get some fans immediately. Arizona's big November handle ranked seventh in all of the United States, and four more sportsbooks have entered the lucrative market in the past couple of months.
However, Hard Rock Arizona should expect plenty of competition once it launches. Online sports betting is huge in Arizona, with 98.4% of all bets placed online. DraftKings Arizona and FanDuel Arizona are the two biggest in the market, combining for a 57.2% stake in the Arizona sports wagering market. And that's just the tip of the iceberg, as Barstool Sportsbook, BetMGM Sportsbook, Caesars Sportsbook, and more have made their way to the desert.
Hard Rock Hoping For Better Expansion After Hard Rock Florida
Although the potential for Hard Rock Arizona is definitely exciting, it's tough not to think about what happened with the temporary launch of Hard Rock Florida. The sportsbook had one of the strangest rollouts in the Sunshine State, with a launch in November of 2021. That availability was short-lived, as a Seminole Tribe compact was officially ruled to be in violation of the Indian Gaming Regulatory Act. Now, Florida sports wagering is in an odd spot and it was reportedly looking possible that anyone that used the temporarily available Hard Rock Florida app could be able to get refunds. Since Arizona sports wagering has been running smoothly, you should expect a much smoother launch of Hard Rock Arizona.