Genius Sports and The Mid-American Conference Announce Historic Partnership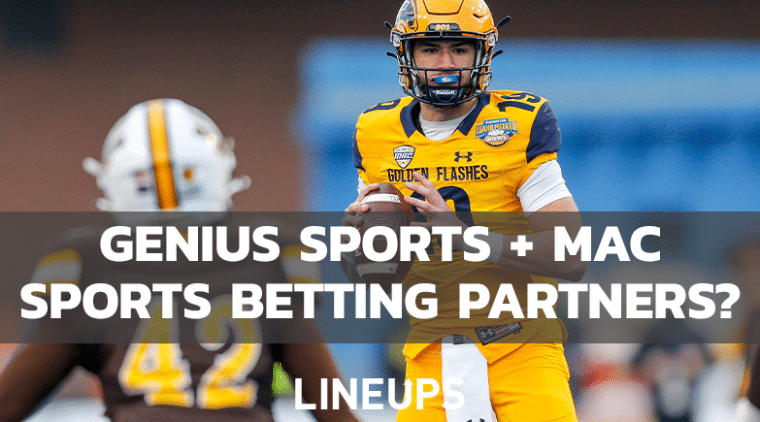 Genius Sports Set to Manage MAC Data
It's been a big week for Genius Sports – after uncovering Calvin Ridley's involvement in NFL sports betting, just days later, they are partnering with the Mid-American Conference (MAC) in a five-year statistical data and sponsorship deal. 
In an announcement released on March 9, the MAC will be licensing its statistical data rights to Genius Sports in an effort that will manage and market their data. Genius Sports is set to enhance fan engagement through live data and tools that will be available to viewers to enhance their betting and watching experience. This marks the first partnership of this nature in college sports history and marks the growing focus on control of sports data. 
"This partnership will permit us to exert greater control of our statistics, provide increased oversight over events through the utilization of integrity services and provide support and financial benefits for the Conference and its membership," said MAC Commissioner Dr. Jon A. Steinbrecher. 
"We have the responsibility to manage our assets and leverage those assets for the benefit of the student-athletes and our member institutions. The partnership with Genius Sports will assist us in those efforts."
Sports Betting Component
The deal also included a sponsorship aspect that may result in Genius Sports selling the MAC's sports data to sports betting operators. Though Steinbrecher is adamant that this is not the sole reason for the partnership, it may be a beneficial byproduct that Steinbrecher is not opposed to. It's likely not a coincidence that in all of the states where MAC-schools are present, sports betting is legal. This includes Ohio, New York, Indiana, Michigan and Illinois. 
"As a global company that sits at the intersection between sports, betting and media, Genius Sports is uniquely positioned to help conferences deliver immersive fan experiences that include real-time opportunities," said Mark Locke, Genius Sports CEO.
Genius Sports has garnered an impressive reputation in providing data programs and services for over 400 sports organizations including teams from the NFL, NCAA, NASCAR, PGA, and more. Genius Sports also has partnerships with several sports betting operators, from big players like DraftKings and FanDuel, to smaller players like Bet365 and BetWay. These relationships will come in handy if they do decide to sell MAC data. 
Sports betting operators are keen on access to official data like this because it is faster and more reliable than unofficial databases. In fact, laws in both Illinois (a participating MAC state) and Tennessee require that sportsbooks use official data in live and in-game betting odds. 
The Future of Sports Betting in The NCAA
While this marks the first NCAA deal surrounding the control of sports data, the NCAA's interest in the integrity of sports data is a part of a bigger message: the support of sports gambling in college sports. 
Since PointsBet partnered with University of Colorado in 2020 and became the first sportsbook operator to collaborate with an NCAA program, tons of NCAA schools and sportsbooks have followed suit. Caesars Sportsbook is among the most recent, having just been named the official sports betting partner for all Michigan State University athletics. It seems the years-long practice of college sports programs evading sportsbook operators is certainly making a turnaround, and now Genius Sports is helping the cause.