Gambling Stocks Rally on Positive U.S. Census Bureau Report Amidst Concerns over Growing Inflation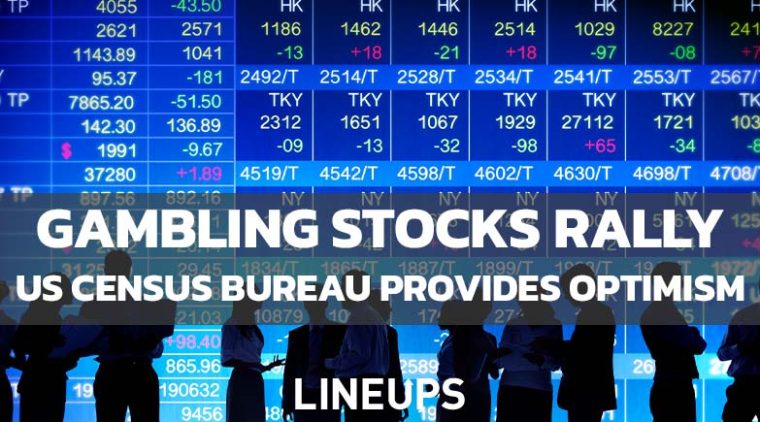 On Friday, the United States Census Bureau released a new retail sales report for June that provided optimism for the overall economy. There were $680.6 billion in retail and food service sales in June, an increase of 1% from May and 8.4% year-over-year from June 2021. This information led to optimism in sports betting as gambling stocks rallied on Friday.
Census Bureau Release Details
According to the Census Bureau report, core retail sales excluding automobiles and gasoline increased 0.7% from the previous month and 6.6% year-over-year. Online and other non-store sales were up 2.2% over the prior month and 9.6% year-over-year. The increased discretionary spending helps provide some optimism for growth in an inflationary economy, although the signals that we are in a recessionary period haven't disappeared overnight.
National Retail Federation president and CEO Matthew Shay said, "June retail sales data shows that consumers remain on solid footing despite rising prices and an active Fed raising interest rates to combat it. Inflation has consumers modifying their spending behavior and prioritizing essentials like food, energy, and back-to-school items."
Inflation Could Hurt Sports Betting Bottom Line
In June, inflation hit another 40+ year high at a 9.1% rate, up from 8.6% last month. According to a recent poll from Fox News, a whopping 93% of American voters are concerned with the level of inflation, and slightly more than half fear the economy will only get worse a year from now. 67% of those voters are "extremely" concerned, and 25% are "very" concerned.
While sports betting continues to be legalized in more states, individuals have less discretionary income right now due to the significant rises in inflation. If we enter a recessionary period, as some fear, iGaming companies could struggle to maintain positive EBITA standing as they suffer from reduced consumer willingness to spend.
93% of Americans 'concerned' with inflation, most fear economy will get worse: poll https://t.co/MOR51v9Fq5 pic.twitter.com/Wzai4AKDEF

— New York Post (@nypost) July 17, 2022
Gambling Stocks Rally
The Dow Jones Industrial Average has climbed over 600 points or 2.2% due to the U.S. Census Bureau report, while the S&P 500 and Nasdaq Composite rose by 1.9% and 1.8%, respectively. Gambling stocks have also increased – the Roundhill Sports Betting & iGaming ETF BETZ, a tier-weighted index of global sports betting and iGaming companies, was up over 2% on Monday after an increase of about 2.2% on Friday.
DraftKings was the most responsive to the U.S. Census Bureau report on Friday as its stock (NASDAQ: DKNG) jumped 14.6% between market open and ended at $12.86 per share. DraftKings is set to have its Q2 2022 earnings report on August 5, which could lead to further increases in its stock valuation. DraftKings shares are still down about 80% from their 52-week high of $64.58.
Rush Street Interactive also experienced a significant increase on Friday, with an 8.8% rise in stock valuation. Penn National Gaming (7.7%) and Caesars Entertainment (6.4%) also reaped the benefits of the promising U.S. Census Bureau report.
US gambling stocks
Infogram
*Graphic from iGaming Next
Bounce Back from Troubling June Results
The increase from the U.S. Census Bureau Report was quite promising, but it's on the heels of significant stock decreases across the gambling industry in June. BETZ, the iGaming ETF, was down 15.68% in June and 52.69% over the past 12 months.
DraftKings shares (DKNG) dropped 18.16% in June, while the S&P 500 was down 9.37% over the same period. DraftKings is also down 77.47% over the past 12 months. JMP analyst Jordan Bender issued a Market Outperform Rating to DraftKings on June 28. Its involvement in the November California sports betting ballot initiative could be a boon to its stock value moving forward.
Caesars shares (CZR) plummeted 26.16% in June despite being one of the top platforms in the massive New York market. Caesars stock is down 62.78% over the past twelve months, and B. Riley slashed the price target from $149 to $128 on June 28.
Penn National shares (PENN) were also down 9.68% in June and 60.17% over the past 12 months, but Bender touted the prospects of Penn National as he cited the acquired assets of Barstool Sports and theScore as means to lower the company's customer acquisition costs.
While these bounce-backs from the U.S. Census Bureau are positive steps in the right direction, the U.S. economy isn't out of the woods yet, and gambling companies will need to keep a watchful eye over the economic trends to plan for the coming years properly.