Gambling Sponsorship Bans On The Horizon For UK Sports Teams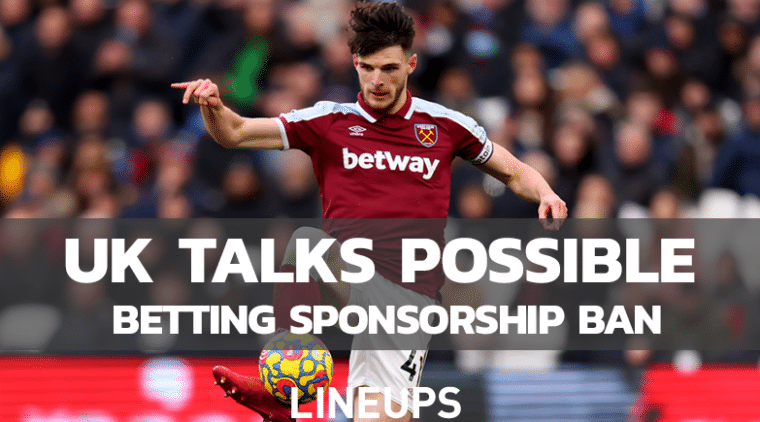 Parliament Seeking Change 
English Premier League (EPL) teams may soon be losing the rights to gambling-related sponsors on their uniforms, pending parliamentary and regulatory decisions. A government white paper that is set to be released by the end of May, allegedly contains such amendments. 
The UK's Department for Digital, Culture, Media and Sport (DCMS) are consistently updating its legislation, which includes gambling reforms. If this ban is implemented, it will likely go into effect for the 2023-24 season. 
Currently half of the 20 active premier league teams, including Crystal Palace and West Ham, have betting company logos somewhere on their uniforms. This has developed over the last few years concurrently with the growth in acceptance of the sports betting industry. 
Different Points of View
Gambling advertisements and sponsorships within UK sports organizations have proved to produce differing views. While some deem it necessary for monetary reasons, others don't believe the risk outweighs the reward. Some believe that banning shirt sponsorships without banning on-field advertisements defeats the purpose of the amendment in general. 
In 2020, EPL CEO Richard Masters was quoted as saying "The Premier League has never had a betting relationship, but it's our clubs that enter into shirt sponsorship. The whole area does need, I think, probably, slightly firmer regulation, particularly around the most vulnerable. But I don't necessarily think that the answer should be that clubs should no longer have betting partnerships."
The Premier League has also stated that "a self-regulatory approach would provide a practical and flexible alternative to legislation or outright prohibition."
According to the European Football League (EFL), they estimate that banning shirt sponsorships would cost clubs around €40 million ($50.21 million USD) in annual revenue. This does not include the millions that operators and clubs pay to support problem gambling and addiction initiatives. 
Gambling Picture in The UK
The UK Gambling Commission (UKGC) is in charge of regulating, advising, licensing and guiding individuals and businesses in the gambling industry in Great Britain. As part of their efforts to regulate a safe gambling market, the UKGC has implemented controls to keep problem gambling at bay. Every quarter, the UKGC conducts a phone survey to understand the severity and popularity of gamblig in the UK. In their most recent survey, they found that a mere 0.2% of the gambling population would classify themselves as having a gambling problem. This is a decrease from the prior year. 
The UK was one of the first countries to start regulating gambling all the way back in 2005 and currently there are no prohibitions as far as the type of gambling available. They offer anything from sports betting to poker to lotteries. Unsurprisingly, soccer is the most popular sport for UK sports fans to bet on as London alone is home to five EPL teams. Some of the most popular betting sites the UK bettors use are also relevant in the U.S. – bet365, BetWay, William Hill, and 888.