Fubo Gaming President Scott Butera on the Future of Fubo Sportsbook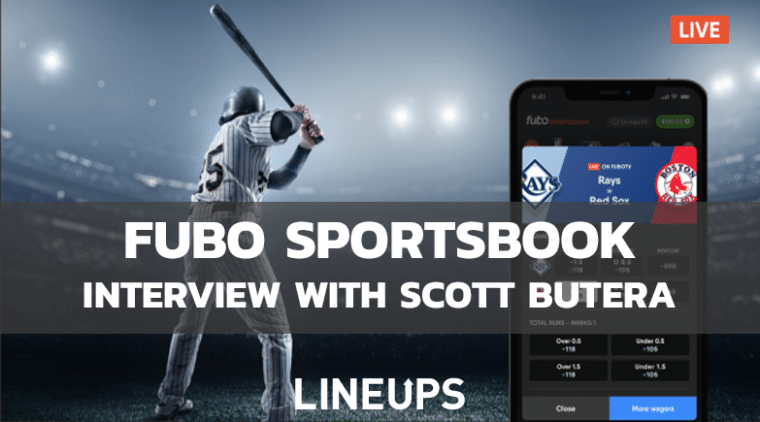 FuboTV is a leading sports-focused live TV streaming service with a channel lineup built for devoted sports fans. Fubo Gaming, the gaming subsidiary division of FuboTV, is working on adding sports betting to the company's product offerings. In Q4 2021, Fubo Sportsbook launched in Arizona and Iowa, bringing the product to sports bettors for the first time. On February 2, I spoke with Fubo Gaming president Scott Butera regarding the future of Fubo Sportsbook and the different product offerings that the company plans on developing. The following is a transcript of that conversation.
What Should People Know About Fubo Gaming?
It's an exciting time for Fubo Gaming as we have been able to launch what is really the first truly owned and operated, fully integrated sports wagering and streaming platform. Our media company was willing to undergo the gaming licensing process, so we were able to fully integrate our platform from a marketing and technology standpoint. We have been able to develop a sportsbook that is completely synced up to what is happening on the TV streaming platform.
FuboTV is one of the leading sports-minded streaming platforms as we cover over 50,000 sporting events per year. If you're watching a match on FuboTV and you pull up our sportsbook, everything that is happening on screen is being tracked and followed on the sportsbook app. The offers and wagering lines are following whatever you are watching, and if you change channels, you will see different offers on your sportsbook app. It's a very unique experience, and we're very excited about it.
We were just able to get live in the past few months in Iowa and Arizona, as you mentioned, and the results have been very good. We're seeing a lot of people enjoying that integration. They enjoy the ability to watch an event and see their wagers happening in real time as the event is going along. Because of that, we are going to be able to create some unique product offerings throughout the year.
How Does FuboTV Help Boost Customer Acquisition for Fubo Sportsbook?
Fubo now has over one million subscribers, and the whole idea is to draw from that pool and get them into wagering. Since we're a sports-first streaming company, a lot of our customers are sports-minded and enjoy wagering and other things that relate to sports. The initial results show that there is great crossover between people who are watching sports on Fubo and wagering on our platform.
We aren't a traditional sportsbook that's trying to compete with FanDuel or DraftKings. We're a very unique product based on the idea of a dynamic global sports and entertainment experience. When we think about our product, we believe we offer a uniquely multi-faceted sports viewing experience. We want to focus on that pool of customers and offer them real-money and free-to-play wagering to provide interactive viewing experiences.
We will do some traditional marketing as well through affiliate programs and social media. Part of the benefit of being a media company is we have our own network so we can produce our own content, which is a very efficient way of getting our brand out there. However, it's a critical element is drawing from that pool of streamers to offer wagering. It actually works vice-versa, as well, as we expect wagering will encourage people to sign up for FuboTV and as we get more consumers on the streaming side we can sell more advertising.
How Does Fubo Gaming Plan to Address the Time-Delay Issues that Arrive with Streaming and Wagering?
At this point, we are creating products that engage people throughout the course of the game. Latency issues impact micro-betting, but that's still a very small percentage of the way customers are playing. Our customers tend to be very focused on the quality of the stream, and the offers we present are designed to engage them throughout the course of the contest. Along with the rest of the industry, we're definitely working on decreasing our video latency. As we do that, we will be able to create more products like micro-betting, and we should see some significant movement on that in the upcoming year.
Right now, though, it doesn't impact us greatly as our offers are more focused on Moneylines and point spreads and the ability to place a wager and then watch the results in real time allow us to create engaging products even with the time-delay issues that affect our customers. Our current offers aren't necessarily catered to pitch-by-pitch or play-by-play betting, but we aren't far from developing that and as the technology evolves we will be able to evolve with it.
How Important are Partnerships to Business Development?
Our goal in working with partners like the Jets, Cavaliers, and the Houston Dynamo, which we have recently announced, is to find partners who have a strong interest in sports betting, a strong presence in their market, and a strong database of customers who align well with our product offering of an interactive sports wagering experience.
In the case of the Cavaliers, we are very hopeful that Ohio will soon allow for sports wagering, and the Cavaliers have a very strong presence in that market. I have worked with them in prior jobs and can tell you they are an outstanding organization. The Jets have an incredible presence in the New Jersey market, and when I was at MGM, I worked closely with them in developing the MGM brand in that market. We're hopeful the same will happen with Fubo.
How Does NASCAR Differ from other Sports From a Betting Perspective?
NASCAR is a growing brand that presents the opportunity to develop some unique gaming offers. It's hard to say what the biggest difference is from a customer standpoint as several bettors place wagers on multiple different sports, but NASCAR is unique in a number of ways. NASCAR has an incredibly loyal, enthusiastic, and energetic crowd that lines up perfectly for us. They love to bet and will consistently watch the races from start to finish, and they're very loyal to specific teams within the organization. Each NASCAR event is like a Super Bowl with tons of engaging experiences for fans before and after the event. NASCAR drivers, crew members, and owners are very engaging, accessible people. We're looking forward to the upcoming season.
Did the 51% Tax Rate in New York Make the Market a Non-Starter for Fubo?
In terms of the New York market, we didn't get involved initially due to the heavy up-front costs and tax burden. We're waiting to see how that market unfolds, but our plans are to be a national company, and we've announced six market access deals in addition to our existing markets. We also have a strong pipeline coming up after that. New York is one of the few markets that we haven't pursued yet, and we're waiting to see how things unfold in that market.
Does Fubo Plan to Explore Peer-to-Peer Gaming Options in the Future?
We definitely like peer-to-peer gaming. We think because of our communities that can be a very important part of our development. It's almost like a video game – you get on the video game, you put on a headset, you compete against your friends or people you don't know. We think we can create similarly engaging peer-to-peer contests. Maybe it's one team's fan base competing against another team's fan base or the left side of the street betting against the right side of the street. You see all of the things that happen in social networks in general, and we think that if we can add a contest element to that it can be very powerful.
What is the Most Exciting Part of Fubo's Plans for 2022?
We're excited to develop this product and to create more features that enhance the immersive watching and wagering experience. We hope to bring in new elements of wagering, including peer-to-peer betting, social gaming, and contests to increase engagement and fun. We're creating something that gives sports fans a way to watch the games and really feel like they are a part of the action and participate as the game progresses.