Fubo Gaming and Cleveland Cavaliers Agree to Ohio Market Access Partnership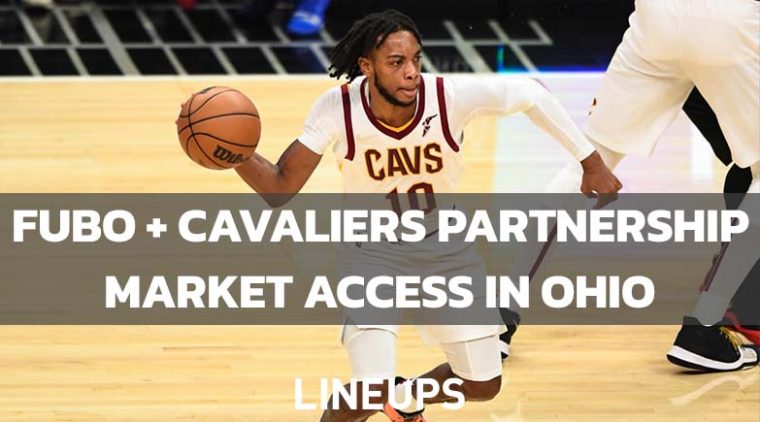 On Tuesday, February 8, Fubo Gaming announced a market access agreement with the Cleveland Cavaliers, making Fubo Sportsbook an official mobile sports betting partner of the team. Fubo Gaming previously established a marketing partnership with the Cavaliers in October 2021, but with legislation being signed in Ohio, Fubo is now preparing for a 2022 sports betting launch. In a recent interview, Scott Butera, President of Fubo Gaming, told Lineups about Fubo's excitement regarding the Cavaliers partnership, saying they are an "outstanding organization" with a "very strong presence" in the Ohio market.
Fubo Sportsbook Growing its Presence
Fubo Gaming launched Fubo Sportsbook in Q4 2021 in Arizona and Iowa, bringing the innovative sports betting platform to bettors for the first time. In addition to those two states, Fubo now has market access deals in Ohio, Indiana, New Jersey, Pennsylvania, and Texas. Indiana, New Jersey, and Pennsylvania have live sports betting markets, while Ohio and Texas are expected to launch in the near future.
fuboTV, the primary branch of the company, is a leading sports-focused TV streaming service with a lineup of channels built for sports fans. Fubo Sportsbook leverages that streaming presence by building a fully integrated sports streaming and wagering experience. fuboTV covers over 50,000 sporting events per year, and with over one million subscribers, the pre-existing customer base provides Fubo Sportsbook with a huge advantage as it begins to dive into the sports betting market.
What Will the Partnership Entail?
The legislation that was signed in Ohio sets forth the ability for various entities to receive licenses for sports betting, including the state's ten professional sports teams. The Cavaliers will afford Fubo Gaming the opportunity to gain market access in Ohio, and licenses are expected to begin to be issued on April 1, 2022. With over 14 million followers across Twitter and Instagram, the Cavs have a devoted following that will provide an excellent potential consumer base for Fubo Sportsbook.
Fubo Gaming is planning to open a 3,000 square foot sports lounge inside Rocket Mortgage FieldHouse that will provide a unique game-day destination for fans with an interest in sports betting. The lounge will provide a premier viewing experience of Cavaliers games and present bettors with exciting incentives and bonus offers. Sports betting is becoming a bigger part of the in-person sports viewing experience, and Fubo Gaming will have plenty of opportunity to leverage this aspect of the partnership.
In a press release, Butera said that the market access partnership with the Cavaliers is a "major step forward for Fubo." He also spoke about how the "passionate fan base" in Ohio would enjoy the "uniquely integrated streaming and wagering sports betting experience" that Fubo provides. Len Komorski, CEO of the Cavaliers and Rocket Mortgage FieldHouse, said that Fubo Sportsbook "aligns perfectly with our commitment to innovation and engagement across every aspect of the fan experience."
Ohio Sports Betting Timeline
In December, Ohio passed its sports betting bill through the state House and Senate by a staggering margin, and Governor Mike DeWine signed the bill on December 22. The Ohio Casino Control Commission will supervise the regulation of both brick-and-mortar and online sportsbooks, both of which are expected to be in the Ohio market at some point in 2022. Sports betting will be taxed at a 10% rate in Ohio, a very manageable number compared to some other states, but the state is still expected to generate as much as $90 million per year in tax revenue.
Be sure to check out our official Ohio sports betting page, where will have you covered with all of the latest news as we get closer to a 2022 launch.