Frequent Bovada Issues Underscore Need for Legal Sports Betting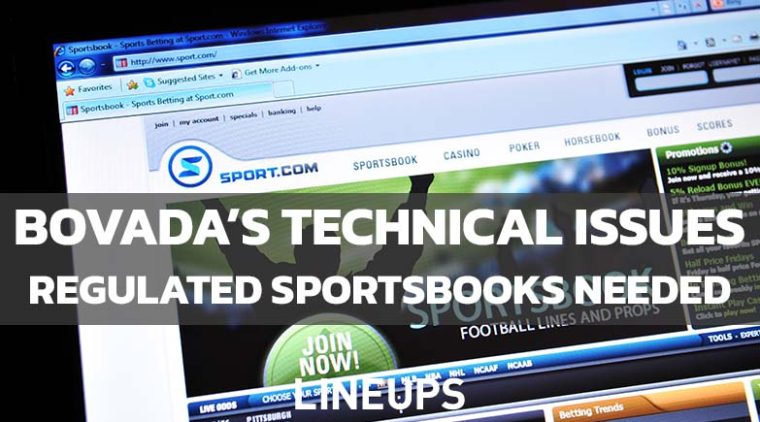 As with any unregulated market, black market activity has long been a significant issue in the sports betting industry. Thirty-two states have now launched legal sports betting, but offshore operators such as Bovada, MyBookie, and BetOnline are prevalent in the states without regulated options. Recent issues with Bovada, in particular, have underscored the need for regulated options in more states.
Prevalence of Black Market Gaming
According to a 2020 American Gaming Association (AGA) study, 52% of United States sports bettors participated in the illegal market, and 82% of those bettors were surprised to learn they were using illicit websites. The unclear delineation between regulated and unregulated operators is a significant issue for novice bettors.
The AGA report also estimated that global illegal sports betting is around $1.7 trillion per year, and up to $140 billion is laundered through sports betting annually. Google data suggests that offshore sportsbooks draw three times as much search activity as legal books across the United States, even with more than half of the country offering legal, regulated sports betting.
Bovada a Leading Offshore Sportsbook
Bovada, established in 2011, is a leader in sports betting despite not being regulated in the United States. After its previous domain, bodog.com, was confiscated by the United States Department of Homeland Security in 2012, Bovada shifted to a .lv domain with full offshore operations through Latvia.
With its offshore domain, Bovada is free to operate throughout the United States outside of the scope of the newly regulated online sports betting market. That standing has allowed it to become one of the most used platforms, especially in states such as California, Florida, and Texas, which haven't yet launched regulated sports betting.
Bovada's Technical Issues
As of late, Bovada has experienced several technical issues, including prolonged website shutdowns, with bettors experiencing an inability to place wagers or make deposits and withdrawals. On Monday, Bovada addressed the current issues on the website with hopes of making progress by Thursday 6 PM EST.
Thank you for your patience as we work to fix issues that some players have experienced on our site. We have identified a potential solution and will update you on our progress by Thursday 6pm ET.

— Bovada (@BovadaOfficial) May 23, 2022
Despite the repeated technical issues and lack of regulations, many sports bettors keep returning to Bovada as the easiest and most accessible sports betting option in their market. According to the AGA, Bovada accounted for 50% of all sports betting searches in states such as Florida.
In addition to those technical issues, Bovada suffers from limited bonuses and promotions compared to regulated sportsbooks and a poor user interface. The site also offers much worse odds than regulated sportsbooks, particularly for player prop wagers, and it charges a whopping 6% fee on credit card deposits. Overall, there are very few reasons to continue to utilize Bovada and other offshore books in regulated markets.
Crackdown on Offshore Books
Last week, BetMGM CEO Adam Greenblatt said the black market would likely dissipate over time due to "product superiority" and continued marketing by legal operators. Greenblatt, however, asked for ongoing help from regulators to fight offshore books.
Greenblatt added that "as an industry, we have captured a good proportion, but certainly not all of the U.S.-based sports bettors who were active before PASPA fell. One only needs to review search and traffic volumes for sites still serving the U.S. from offshore to build a fact base supporting this."
The AGA has highlighted the problem of black market sports betting and called on the Department of Justice to crack down on those operators. In April, AGA President and CEO Bill Miller urged "the Department to make it a priority to act … to protect American consumers, crack down on illegal operators, and enforce federal regulations."