Fantasy & Betting Analyst Liz Loza Hired To Boost ESPN Wagering Content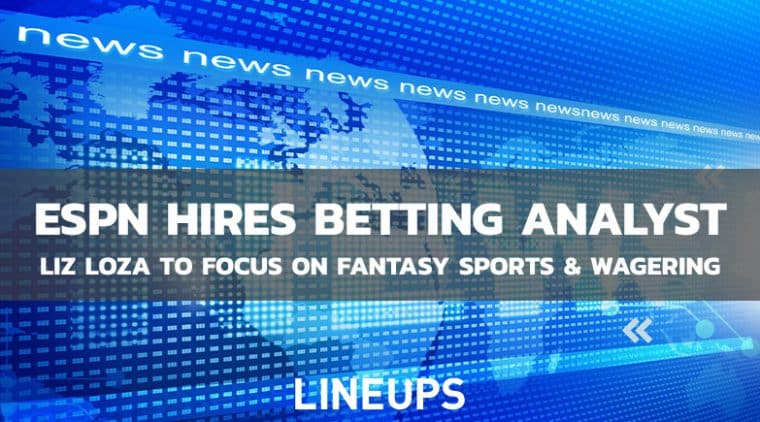 It's taken quite some time, but the media has started to embrace sports betting. While it seemed unheard of years ago, major networks have dedicated shows focused on wagering, even flashing point spreads and odds on the news ticker.
The podcast world alone has tons of different sports betting shows, with some focused on specific sports and others keyed in on tackling the betting news of the day. This makes it no surprise that arguably the most popular sports media network ESPN has begun incorporating sports betting content. Let's take a look at how the network's latest hire will continue the growth of ESPN sports betting talk.
Betting and Fantasy Sports Analyst Liz Loza Joins ESPN
ESPN has just announced that they've hired fantasy sports and sports betting analyst Liz Loza. The experienced sports wagering personality has focused heavily on fantasy sports in the past, with primary attention on football.
Her sports media resume includes seven years of working on Fantasy Football Live. Additionally, Loza has co-hosted Ekeler's Edge, a program with Austin Ekeler of the Los Angeles Chargers. With ESPN, she will contribute to the channel's growing collection of sports betting programs.
Loza's fantasy football experience will be a major benefit for the network as she makes her debut on the ESPN Fantasy Football Marathon. Additionally, Loza will appear on the Fantasy Football Draft and Fantasy Football Now next week. The NFL season is kicking off on September 8th, and betting strategies and fantasy football drafts will be on everyone's minds in the coming weeks. With Loza on board, ESPN will be able to help both casual and experienced bettors alike prepare for the season.
ESPN signs fantasy & sports betting analyst @LizLoza_FF

Loza will create fantasy & sports betting content across a variety of ESPN programs & platforms

More: https://t.co/jv6biN7I5K pic.twitter.com/nU6JtHAb4W

— ESPN PR (@ESPNPR) August 10, 2022
ESPN's Betting Focus Continues
The hiring of Loza emphasizes the popular sports network's embrace of sports wagering. Daily Wager has become a popular program on ESPN as host Doug Kezerian discusses various topics in the world of wagering. Back in 2020, ESPN rolled out Bet, an online show hosted by Tyler Fulghum and Joe Fortenbaugh with daily YouTube videos. The following year, the channel hired Erin Dolan as a sports betting analyst.
Scott Van Pelt even has his own wagering segment on SportsCenter with "Bad Beats," which discusses the near misses of the day for sports bettors. Additionally, the network has its own dedicated section for sports gambling news and articles with ESPN Chalk.
Welcome aboard to @LizLoza_FF! Important to add another fantasy detective to the team 🔍 pic.twitter.com/kQNlyEJzOa

— Fantasy Focus Live (@fantasyfocus) August 10, 2022
Competitors Following Suit
While maybe not as much as ESPN, other top sports networks have started to key in on the world of sports betting. CBS Sports has The Early Edge, a daily sports betting podcast hosted by John Coachman. NBC Sports has The Daily Line, a show that dives into a wide range of different betting topics. And Yahoo Sports has no shortage of sports betting content, with Yahoo Sportsbook Daily, The Yahoo Fantasy Football Forecast, and plenty of articles from betting analysts.
With states such as Ohio and Kansas launching legal sports betting soon and football season kicking off, don't expect to see a slump in the amount of sports betting videos, articles, and podcasts anytime soon.