FanDuel Super Bowl Showdown Picks + Strategy For Rams Vs. Bengals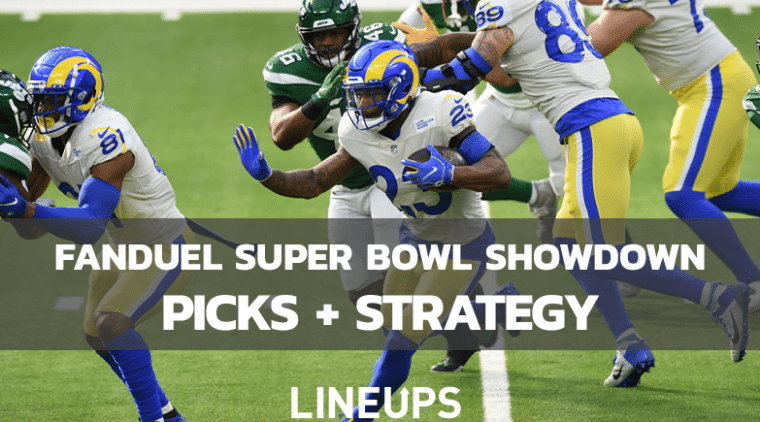 If 2021 wasn't your year for Fantasy Football, FanDuel is offering one last shot at redemption via Super Bowl Showdown contests. With the sports world preparing to turn their attention to the NBA and NHL in the coming weeks, the showdown contest is the last thing standing between a year's worth of NFL knowledge and a 6 month fantasy offseason. In a matchup that features both household names and highly effective role players, we took a deep dive into where there's value to be had, and where the market is overpriced on FanDuel's Super Bowl Showdown contests.
What Is A Super Bowl Showdown Contest?
Essentially, it's a chance for Fantasy players to act as a GM with the object of building the best combination of players in the Super Bowl. Each participant is allotted a $60,000 budget that they can spend on any player with the only major stipulations being that you must (1) choose at least one player from each team, and (2) must assign an MVP who's points will be multiplied by 1.5 at the end.
Contestants can enter their selections into large tournaments with guaranteed prize pools, head-to-head showdowns, mid-sized tournaments, and more — all of which are clearly labeled on the FanDuel app.
How Does Scoring Work?
FanDuel Showdown contests are scored as follows:
– Default scoring is half-point PPR and four-point passing TDs
– Point totals for the MVP position are multiplied by 1.5
– The MVP does not cost any extra money (like the Captain position in DraftKings does)
– No bonuses for 100/300 yard games
Mock Lineup
MVP: Cooper Kupp ($16,000)
Don't overthink it. Kupp is an all-time great receiver on a team that's going to have to throw the ball to win on Sunday. He's just 59 yards away from catapulting into second place on the NFL's list for most receiving yards in a single postseason, and has been a guaranteed reception on multiple crucial downs this postseason.
Flex: Matthew Stafford ($15,500)
Stafford and Burrow are both priced around $15,000 though it's much easier to envision Stafford having a monster night than burrow. While Burrow could lead the Bengals to victory on Sunday, the likely reality is that he's going to have to do it under constant duress from the Rams defensive front. Stafford, meanwhile, is likely going to have consistent time to throw and the luxury of playing in his home stadium.
Flex: Ja'Marr Chase ($12,000)
Good receivers are such cash cows in these fantasy contests that if you can fit a generational talent into your budget you have to take them on the chance they have a breakout game. Chase has averaged 93 yards and 6.7 receptions a game in these playoffs, including two 100+ yard performances. The Bengals are always one play away from striking and Chase is a big reason for this. One 70 yard catch and run to the end zone could easily be the difference in the contest.
Flex: Samaje Perine ($7,000)
The Bengals have really leaned into the screen game with Mixon and Perine as an outlet for when things break down at the line of scrimmage. Given how dominant the Rams defensive front has been this postseason, expect the pocket to break down early and often on Sunday.
Flex: Evan McPherson ($9,000)
McPherson has been money this postseason, going 12/12 on field goal attempts in 3 games — including two game winners and two from 50 plus. If the Bengals struggle to move the ball deep into the Rams territory on Sunday, McPherson's golden leg could be the difference in an otherwise low scoring affair.
Best QB/WR Stacks
Matt Stafford and Cooper Kupp ($15,500 and $16,000)
This is one of the rare Super Bowls where both quarterbacks have a clear number 1 target. For Matt Stafford, that guy is Cooper Kupp. This season, Kupp became just the fourth player in NFL history, and the first since 2005, to lead the league in receiving yards, receiving touchdowns, and catches, breaking the Rams' single-season record for yards and receptions in the process. He's followed up this record breaking regular season with a highly efficient postseason that's seen him amass 386 yards in 3 games.
Joe Burrow and Ja'Marr Chase ($15,000 and $12,000)
Similarly, the duo of Joe Burrow and Ja'Marr Chase has emerged as not only a nice, young QB/WR tandem but also a legitimate force to be reckoned with by the best secondaries in the NFL. With Tee Higgins likely to get more attention after putting up over 100 yards in the Conference Championship against the Rams, look for Chase to get some space every now and again in the open field.
Joe Burrow and Tyler Boyd ($15,000 and $8,500)
This is the clear value pick. For the same reason Higgins' breakout performance in the Conference Championship round may give Chase some more opportunities, Boyd will likely benefit from being the third most attended-to receiver this weekend. Burrow has hit Boyd on multiple downfield strikes this season, and isn't afraid to throw it up for grabs to him.
Overall Strategy
Strong wide receiver play is disproportionately rewarded by PPR and this game will feature plenty of it. Build your team around the WR/QB combination that you think is going to have the most success, and follow it with pieces that reflect each team's favored scheme. For the Bengals, this means a RB for the screen game and for the Rams this may mean another downfield threat at WR.