FanDuel Reports $1.9 Billion in 2021 Earnings, Leads US Sports Betting Market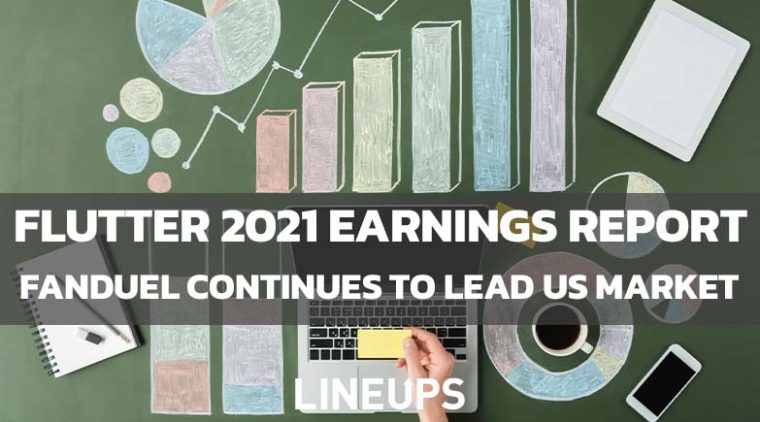 Flutter became the latest sports betting giant to report fourth-quarter financial results, with its earnings call taking place on Tuesday. Flutter's group revenue grew 37% year-over-year to $8.1 billion, with an increase in average monthly players of 23% to 7.6 million. FanDuel continues to be the driving force behind Flutter's success in the United States, and FanDuel's revenue grew by 113% year-over-year to $1.9 billion in 2021.
FanDuel Leading the United States Market
FanDuel's 2021 revenue of $1.9 billion far outpaced all its competitors. The second-most profitable sportsbook for the year was DraftKings at $1.3 billion in revenue. During the fourth-quarter earnings call, Flutter stated that its 2021 market share for sports betting hit 40%, and FanDuel was the top platform in nine states.
Recent data from Deutsche Bank's iGaming Monthly report for seven states (Indiana, Illinois, Iowa, Michigan, New Jersey, Pennsylvania, and Tennessee) shows FanDuel gained 46.7% of market share in mobile sports betting gross gaming revenue in January. Top competitors fell short, with DraftKings at 20.6% and BetMGM at 16.8%.
Flutter Entertainment CEO Peter Jackson stated that "the business has terrific momentum," and said he's "delighted" by the market share even though Flutter isn't targeting any specific number in that respect. With market share continuing to consolidate to the to platforms in the market, FanDuel should only be able to further assert its dominance over the competition.
Continued Consolidation in Sports Betting
Per analysts at Jefferies, an investment bank and financial services firm, the top five sportsbooks in the United States market have maintained a combined market share of around 90% over the past 12 months. The sports betting market favors first movers in the space, and it's difficult for newer brands to unseat their market share.
The early results in New York provide an excellent case study for how the top sportsbooks will dominate market share. After online sports betting launched on January 8, the top three sportsbooks in FanDuel, Caesars, and DraftKings combined for $1.48 billion in total wagers, over 91% of the state's total handle of $1.62 billion for the month.
FanDuel's Competitive Edge in Marketing
One of the significant discussions with the current state of the sports betting industry has surrounded the necessity of advertising expenditure. FanDuel isn't alone in its lofty expenses in this arena, and its share of TV ad spending was 28% in states where it is currently live compared to 22% for its closest rival in that respect.
Flutter reported an EBITDA loss of $277 million, but that's far less than DraftKings at -$676 million or BetMGM at -$430 million. Almost all top sportsbooks have spent massive amounts of money over the past year, and Flutter CEO Peter Jackson called it the "most aggressive start to NFL season we've ever seen" in terms of spending.
Jackson has suggested that the aggressive spending nature of FanDuel's competitors hasn't worked as customers "may take other competitors' free money, but they come back to the FanDuel app." Jackson described how competitors are now decreasing their spending, but FanDuel continues to lean in as it identifies substantial investment opportunities in customer acquisition costs to lifetime values.
Consider the following graph, which shows early results from New York. Caesars led the New York market with a handle of $615.5 million for January compared to $501.8 million for FanDuel. However, that handle share has quickly decreased for Caesars as the platform has aggressively cut its spending.
Flutter Continues to Improve the Product
FanDuel recently topped all United States sportsbooks in Eilers & Krejcik testing, meaning the research company identified FanDuel's brand identification and customer loyalty as the strongest in the industry. With FanDuel's leading status, Flutter doesn't have to spend as much on marketing as its competitors do.
Flutter CFO Jonathan Hill still said the company has to be "paranoid," so they "keep investing in the product." Some of the recent improvements have been a fully enhanced Same Game Parlay product available for new markets like college football. In addition, Flutter has continued to invest in its own odds origination, with 80% of college basketball odds priced in-house.
When Will FanDuel be Contribution Positive?
Flutter was excited to report that it already has four states which were positive contributors in 2021, including New Jersey, Pennsylvania, Illinois, and Indiana. FanDuel's market share is far less dependent on advertising spending than its competitors, so its standing as the top sportsbook in the market appears highly sustainable.
During the earnings call, Flutter also stated that customers acquired before 2021 were worth a positive EBITDA of $388 million, which was offset by the $374 million loss from players acquired in 2021. Customers acquired before 2021 make up just 38% of the current base, and as the number of loyal, existing customers increases, FanDuel is expected to be able to boost its profitability. For the time being, pre-2021 customers are "funding further customer acquisition."
FanDuel now expects to be contribution positive across the board within 12-24 months, which is faster than the previous estimate of 18-30 months. FanDuel's market share should only grow in individual states as its top competitors slash their advertising spending. The sportsbook appears to be taking all of the necessary steps to assert itself as the leader in the rapidly growing sports betting industry.